Aluminum Sheet
As for the CHAL aluminum sheet, the thickness is from 0.2mm to 6mm. It is thinner than aluminum plates and thicker than aluminum foil. It comes in many forms, including diamond, expanded, mirror, and mill-finished aluminum sheet, perforated and painted aluminum sheet. Also, our aluminum sheet can be clad and bare. Surface treatment includes color coated and anodized. The shapes of aluminum sheets include coil rolled sheets, stripe sheets, square sheets, rectangular sheets, round circles/discs. The aluminum raw material is available from 1xxx series to 8xxx series.
With an outstanding strength-to-weight ratio and natural corrosion resistance, aluminum sheet metal is popular for a broad range of applications. Aluminum sheets and plates are used in everything from aerospace and aircraft manufacturing to beverage packaging, cryogenic storage applications to siding, gutters, tooling & mold applications, and roofing for homes. CHAL offers a variety of alloys in a range of standard sizes and thicknesses, and we can provide custom cut-to-size aluminum sheets to meet your exact requirements.
CHAL Aluminium Corporation is a fully integrated aluminum company that provides all kinds of Aluminium products and technical solutions. We are fully committed to being the premier supplier of aluminum plate, cast tooling aluminum plate, aluminum sheet(clad or bare), aluminum foil(clad or bare), aluminum strip, and aluminum circle.


Typical Products of Aluminum Sheet
Other Aluminum Sheet Products
Marine Aluminum Sheet
Aluminum Mirror Sheet
Aluminum Mill Finish Sheet
Polished aluminum Mirror Sheet
Aluminum Expanded Sheet
Aluminum Perforated Sheet
AluminumTextured Sheet
Aluminum Tread Sheet
Anodized Aluminum Sheet
Brushed Aluminum Sheet


Aluminum & Aluminum Alloy Grade
Alloy Grade
1xxx, 2xxx, 3xxx, 4xxx, 5xxx, 6xxx, 7xxx, 8xxx
Alloy Series
Alloy
Temper
Thickness(mm)
Width(mm)
Major alloying element
1*** Series
1050 1060 1100
F, HO, H12, H14, H16,
H18, H22, H24, H26,
H32,H111, H112,T4,T6, T351, T651
1.0-500mm
≤3000(max)
Pure aluminium (99.0% and greater)
2*** Series
2A12 2024 2017
Copper is major addition
3*** Series
3003 3105
Manganese is major addition
4*** Series
4045, 4047, 4343
Silicon is major addition
5*** Series
5052 5A02 5A03 5A05
5754 5083 5086
Magnesium is major addition
6*** Series
6061 6063 6082
Magnesium and silicon are major additions
7*** Series
7075 7A04 7050 7175
Zinc is the major addition
8*** Series
8006, 8011, 8079
Other Alloys
This is for reference only, product details to the actual subject.
Features of Aluminum Sheet
Lightweight– It's approximately 1/3 the weight of iron and copper
Low Melting Point– It has a good casting property.
Excellent Ductility– It's easy to work into new shapes and can undergo specific treatments.
Conductive– It has a higher thermal and electrical conductivity.
Resistant to corrosion– This characteristic can be improved with special coatings.
Recyclable– It can be indefinitely recycled without losing any of its fundamental properties.
Applications of Aluminum Sheet
Sheet, the most widely used form of aluminum, is found in all of the aluminum industry's major markets.
In packaging, it is used to manufacture cans and packages.
In transportation, it is used to manufacture panels for automobile bodies and tractor-trailers.
In daily life, it is used in home appliances and cookware.
In building and construction, it is formed into products including siding, gutters, roofing, awnings and carports.
Aluminum sheet can be color-anodized to black, gold, red, blue and hundreds of other colors. It can be etched to a matte finish, polished to a sparkling brightness or textured to resemble wood and painted.
Processing of Aluminum Sheet
With so many potential uses, aluminum should be processed in a way that complements its future application. CHAL offers a variety of metal processing services including:
| | |
| --- | --- |
| Cut to Length | Enhance efficiency and reduces processing time |
| Plasma Cutting | Minimize machining while obtaining greater accuracy and tighter tolerances |
| Plate Laser | Offer tighter tolerances and the best cut surface |
| Plate Saw | Produce square cuts with tight tolerances |
| Super Square | Precision-milled and available in 2, 4, or 6 sides |
| Press Brake | Bend thicker plates for custom angles, channels, and more |
| Precision Sawing | Lower your cost of doing business with tighter tolerances and reduced machining clean-up |
| Saw Cutting | Cut materials to a specified length, or within your specified tolerance |
| Shearing | Sheared to your exact specifications |
| Tube Cutting | ID /OD chamfers BOTH ends for quick and accurate finished pieces |
| Tube Laser | Dramatically reduces your assembly time with high quality cuts |
| Waterjet Processing | Eliminate the need for drilling and punching, with more accurate cutting and no mechanical stress |
Aluminum sheet processing options vary by grade. CHAL has a team of experienced staff with decades of hands-on experience in the processing and handling of metals. We are happy to assist you in determining the best options that can help you save both time and money.
How Much Does a 4×8 Sheet of Aluminum Weigh?
What's the weight of a 4×8 aluminium sheet? First of all, you need to know the calculation formula of the weight of the aluminum sheet: Weight = density × volume. The density of aluminum is 2.7g / cm³. Assuming that the thickness of the 4×8 aluminum sheet metal is 1/5 ", the volume is 921 cubic inches or 15092 cm³, multiplied by the density of 2.7 g / cm³, and the resulting weight is 41 kg or 90 lbs. Note that this is the weight of each piece if there are 1000 tablets, the total weight is 41 tons or 90388 pounds.
The Price of Aluminum Sheet
To know the specific aluminium sheet price, you need to sort out some issues first.
In theory, aluminum sheet price has nothing to do with the thickness, because we usually quote in metric tons. However, the smaller the thickness, the higher the price, but this is not absolute.
Generally speaking, 1xxx aluminum sheet is the cheapest, while 2xxx, 3xxx, 4xxx, 5xxx, 6xxx, 7xxx, and 8xxx are more expensive in turn, because they are related to different processes and tempers.
Aluminum sheet price will be affected by 3 factors
The price of aluminum ingots. The price of aluminum ingots is a direct factor affecting the price of aluminum sheet. The price of non-ferrous aluminum ingots in the Yangtze River is changing every day and is unpredictable. This directly affects the price of aluminum sheets.
Alloy. The price of aluminum sheet of each alloy series is different, for example, the price of 1 series and 6 series alloys will be much different.
Specifications. The aluminum sheet price of ordinary thickness specifications is not high, but the ultra-wide specifications are not necessarily. The wider the aluminium sheet, the higher the price, so if there are no special requirements, it is recommended to choose the regular width.
Besides, temper, surface treatment methods and delivery costs are also affecting the price of aluminium sheet. Therefore, if you want the aluminum sheet price, please send the sheet's complete details to your supplier.
Share with you how to judge the quality of aluminum sheet
Aluminum sheet is a very important industrial raw material, so the quality requirements are stringent. When we want to buy aluminium sheet, we should first judge the quality and strength of aluminum sheet.
The first is chemical composition. If a large amount of aluminum or scrap aluminum is mixed into the aluminum sheet, its cost will be greatly reduced, but the chemical composition is not qualified, also the quality will not be qualified.
The second is processing technology. The inferior aluminum sheet greatly reduces the processing steps and the loss of chemical reagents. This can reduce costs, but the corrosion resistance is greatly reduced.
We need to pay attention to the oxide film on the surface of the aluminum sheet when buying. For aluminium sheets with a thickness of less than 3mm, if the oxide film is thin and the thickness is insufficient, the aluminum surface is prone to rust and corrosion.
Order Process of Aluminum Sheet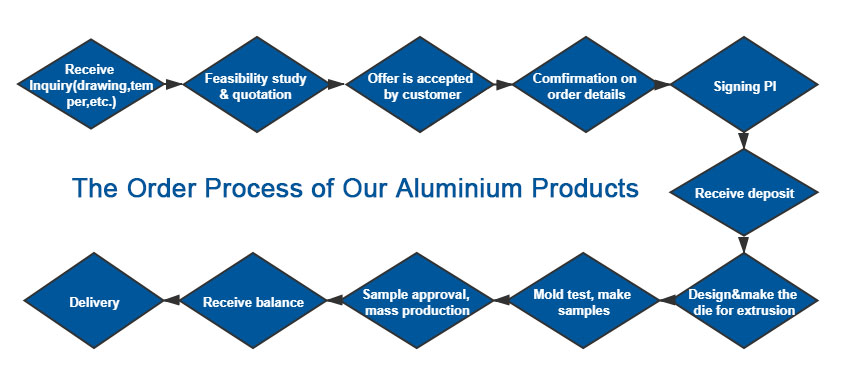 About Company
Central Laboratory of CHAL Aluminium Co., Ltd., is a full-time analysis and testing division that is responsible for the testing of raw and auxiliary materials, high precise finished and semi-finished aluminum plate, sheets, strips, and foil products. In the spirit of science, impartiality, independence, and honesty, Central Laboratory could work for tests of wrought aluminum alloy, aluminum plate, sheets and strip products, inspection of raw and auxiliary materials, and production process control, based on advanced detection methods and strong technical ability.
Central Laboratory's test items include oil performance analysis, chemical and physical properties analysis, metallographic analysis, and conventional analysis. There are about 100 sets of world-first-class equipment in the lab. In order to ensure its integrity, reliability and experimental accuracy, all types of equipment are made regular measurements and calibration strictly according to standards.