3004 Aluminium Sheet
3004 aluminium sheet also belongs to the Al-Mn rustproof alloy series. Its strength is not high (slightly higher than that of industrial pure aluminium), but higher than that of 3003 aluminium sheet. Similarly, 3004 aluminium sheet is a non-heat-treated alloy, and its mechanical properties are improved by cold processing. Also, 3004 aluminium sheet properties are characterized by good formability, dissolves resistance, corrosion resistance, etc., are often used to need good formability, high corrosion resistance, good weldability parts processing, or both require this performance and need to have more than 1000 series oxidation surface treatment effect of 3004 aluminium sheet is amazing, which is a good choice for colour coated aluminium substrate.
With decades of aluminium sheet production experience, CHAL is able to produce and supply high-quality 3004 aluminium sheet of different sizes and tempers.
Specifications of 3004 Aluminium Sheet
| | |
| --- | --- |
| Alloy | 3004 |
| Material temper | F, H112, O, H111, H12, H22, H32, H14, H24, H34, H16, H26, H18, H28, H38 |
| Thickness (mm) | 0.2-400 |
| Width (mm) | 100-2650 |
| Length (mm) | Customized |
| Typical product | Molds, High strength parts, Thick plate, etc. |
Chemical Composition of 3004 Aluminium Sheet
| | | | | | | | | | | |
| --- | --- | --- | --- | --- | --- | --- | --- | --- | --- | --- |
| Elements | Si | Fe | Cu | Mn | Mg | Cr | Zn | Ti | Others | Al |
| Content (max) | 0.30 | 0.70 | 0.25 | 1.0-1.5 | 0.8-1.3 | – | 0.25 | 0.23 | 0.15 | 95.6-98.2 |

The Features of 3004 Aluminium Sheet
3004 aluminium alloy is an alloy in the wrought aluminum-manganese family (3000 or 3xxx series). It is similar to the 3003 alloys, except for the addition of approximately 1% magnesium. It can be cold worked (but unlike some other types of aluminium alloys, heat-treated) to produce tempers with a higher strength but a lower ductility. Like most other aluminium-manganese alloys, 3003 is a general-purpose alloy with moderate strength, good workability, and good corrosion resistance.
1. High Plasticity. 3004 aluminium sheet has high plasticity in annealing state, good plasticity in semi-cold hardening and low plasticity in cold hardening.
2. Finish Well. It can adapt to the maximum speed that most machine tools can achieve so as to milling, boring, planning and other mechanical processing. In addition, 3004 aluminum sheet has good weldability but poor machinability.
3. Slightly Higher Intensity. With the addition of the alloy component Mn, while maintaining the excellent workability and corrosion resistance of pure aluminium, the strength of the 3004 aluminium sheet is slightly increased, higher than that of the 3003 aluminum sheet, and 10% higher than that of the 1100 series.
4. Good Anodic Oxidation. The surface of the 3004 aluminum sheet after anodized has enhanced corrosion resistance and can also present colourful colours.
Applications of 3004 Aluminium Sheet
Main applications of 3004 aluminium sheet: various lamp parts, shutter materials, wide-width curtain wall panels, LCD backing materials, color coated aluminium substrate. It can also be used for the processing and storage equipment of chemical products, sheet processing, some construction tools, etc.
In addition, 3004 aluminum sheet can also be used in the sheet processing of various pressure vessels and pipes general utensils, cable pipes, sewers, kitchen utensils, heat sink, cosmetic board, etc.
3004 Aluminium Sheet Order Process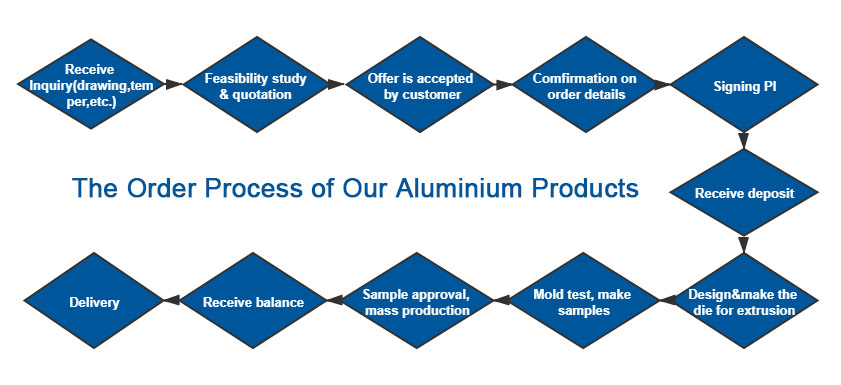 Packing Detail of 3004 Aluminium Sheet
The standard export packaging, plastic film or craft paper covered at customers' requirements. Wooden case or wooden pallet is adopted to protect products from damage during the delivery.

3004 Aluminium Sheet Manufacturer and Supplier in China
As a professional aluminium sheet manufacturer and supplier in China, CHAL is one of the TOP5 aluminium sheet factories. We are one of the biggest Chinese aluminium sheet suppliers of 3004 aluminium sheet. We also produce aluminium slit coil, aluminium strip, coated aluminium coil, aluminium plate, aluminium sheet metal, anodized aluminium sheet, embossed aluminium sheet, etc.
CHAL Aluminium provides you with first-rate quality, attractive and reasonable prices. Excellent surface quality and package, fast delivery. If you are looking for a 3004 aluminium sheet supplier in China, CHAL is your best choice. We promise you the best price and excellent service. For more detailed information, please feel free to contact us directly.