Aluminum Finned Tube
Aluminum finned tube refers to a kind of heat exchange device. To improve heat exchange efficiency, fins are usually added to the surface of the core tube to increase the outer surface area (or inner surface area).
The aluminium finned tube is a new, wear-resistant and efficient heat exchange material. It is a high-efficiency and energy-saving heat exchange element, which has the characteristics of high heat exchange efficiency, large heat dissipation area, long service life, wide temperature range and high-pressure adaption.
CHAL provides a full range of finned tubes for heat exchangers with reliable quality, high performance, complete designs and competitive prices.
Specifications of Aluminum Finned Tube
Fin Material
Aluminum 1050/1060/1070/1100/5052/6063
Fin Type
Solid or serrated or as per your drawing
Fin Pitch
Min. 1.5mm
Fins Per Pitch(Density)
4-12
Fin Segments
12, 16, 24 fins or as per your design
Fin Height
Max. 16.5mm
Fin Thickness
0.4mm Average
Core Tube Material
Aluminum alloy (Core tube with extremely thin wall materials can be applied)
Base Tube OD
Max 2"(50.8mm)
Tube Wall Thickness
No Limit
Tube length
No limit
Accessories
Tube Support Box, Clamp & Spacer Box
Packaging Details
(1) Steel frame case sealed by plywood with each end capped.
(2) Solid fumigated wooden box with each end capped.
All dimensions of aluminum finned tube in inches and specifications upon your request.
| | | | |
| --- | --- | --- | --- |
| Tube OD | Fin Height | Fin Thickness | Fins per Pitch(Density) |
| 5/8 | 3/8, 1/2 | .015/.016/.020 | 4, 5, 6, 7, 8, 9, 10, 11, 12 |
| 3/4 | 3/8, 1/2, 5/8 | .015/.016/.020 | 4, 5, 6, 7, 8, 9, 10, 11, 12 |
| 1 | 3/8, 1/2, 5/8 | .015/.016/.020 | 4, 5, 6, 7, 8, 9, 10, 11 |
| 1 1/4 | 3/8, 1/2, 5/8 | .015/.016/.020 | 4, 5, 6, 7, 8, 9, 10, |
| 1 1/2 | 3/8, 1/2, 5/8 | .015/.016/.020 | 4, 5, 6, 7, 8, 9, 10, 11 |
| 1 3/4 | 3/8, 1/2, 5/8 | .015/.016/.020 | 4, 5, 6, 7, 8, 9, 10 |
| 2 | 3/8, 1/2, 5/8 | .015/.016/.020 | 4, 5, 6, 7, 8, 9, 10 |

Features of Aluminum Finned Tube
1. Good Corrosion Resistance
Under serious conditions, the oxide materials from aluminum are non-toxic. For heat exchange, no need to worry that air or liquid inside will be destructed by oxide even for a long time.
2. Low Density
By treatment as alloying or heat, it can be used as the structure of construction steel. Feasible for various transportation, especially for small vehicles to reduce weight and consumption.
3. High Yielding and Resistance to Die-cutting
It is easy to process and form.
4. Good Thermal Conductivity
Specially compatible with radiating fins, heat transfer condensers and evaporators.
As a professional finned tube manufacturer, one of our leading products is aluminum finned tube. If you are interested in our products, please do not hesitate to contact us.
Advantages of Aluminum Finned Tube
Finned tube has compact structure, easy and economical to install. It reduces the joints compared to bare tubes, making installation more quick and cost-saving, reducing the possibility of water leaking at the connection.
Simple for maintenance, you basically don't need to maintain finned tubes after installation.
High efficiency, the finned tube is in full contact with the fin and aluminum pipe, the heat dissipation area is more than 7-8 times that of the bare tube, the inside is smoother, and the internal water flow resistance is small.
Long service life, the high mechanical strength of the combination of fins and pipes. The tensile strength is above 200Mpa.
Stable heat transfer performance. It has few temperature fluctuations, and reduces the high-temperature corrosion and over-temperature damage to the metal surface.
Widely adaptable for heat exchange between air-air, air-liquid, liquid-liquid and various fluids.
Categories of aluminum finned tubes in different process technology and shapes
High frequency welded finned tube (high frequency welded open-tooth finned tube)
Square-finned tube (H-type finned tube)
Needle tube (nailhead tube)
Laser welded finned tubes
Inlaid finned tube
1) G-type finned tube(Embedded finned tube)
2) KL embossed wound finned tube
3) L wound finned tube
DR extruded high finned tube (solid and serrated fins)
Low-finned tube
Threaded tube
Wave joint tube

Applications of Aluminum Finned Tube
Heat exchanger
Air conditioner
Air cooler
Condenser
Evaporators
Food processing
Refrigeration industries
Economizer
Preheater
Industrial boiler
Gas turbines
Refining
Petrochemical industries
The Order Process of Aluminum Finned Tube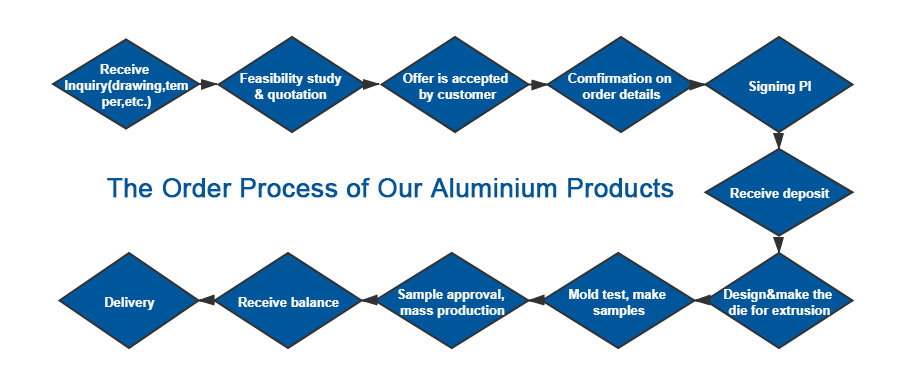 Why Use Aluminum Finned Tube?
Based on the heat exchange application, there are many kinds of materials, and which are Aluminum, Alloy, Copper, Brass, Stainless Steel, Titanium, Carbon Steel, Nickel, etc, while among them, the prominent one is aluminum, and it's commonly used.
The fundamental uses of finned tube heat exchange should be good solderability and better mechanical strength, formability, good corrosion resistance and thermal conductivity. Aside from these, aluminum and alloy also have good advantages as in extension and higher tensile strength increases under lower temperatures. All around the world, especially for places that are always at low temperatures and compact heat exchange, aluminium finned tubes are widely applied.
China Aluminum Finned Tube Supplier – CHAL
CHAL is professional in manufacturing and supplying various kinds of aluminum finned tubes with superior quality. Our products passed through third-party inspection: SGS, ABS, LLOYDS, MOODY.
CHAL has innovative technology for research and development, strong production capacity and a strict QC system, making us an industry leader.
Other Aluminum Tube Recommendations