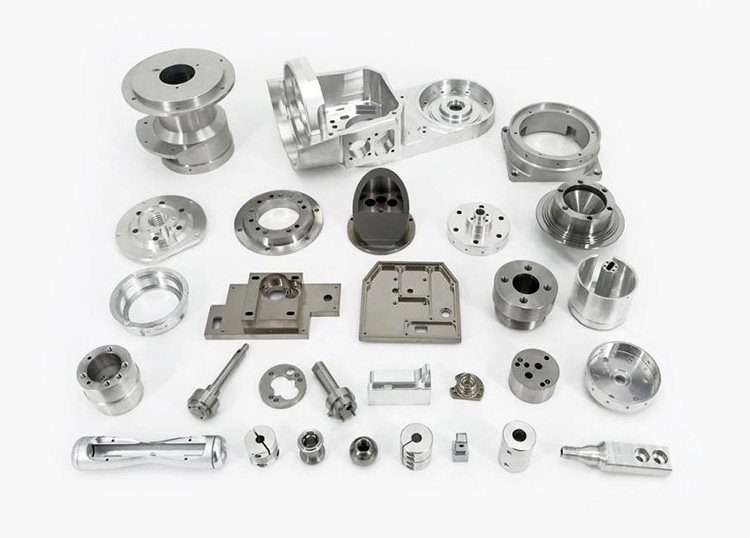 Aluminum Machining Parts
Precision aluminum machining parts are becoming a choice for many industries. Aluminum is a soft, lightweight, tractable, malleable, and durable metal. Aluminum is one of the accessible machining materials due to its excellent mechanical performance, thermal properties, and excellent maintainability. Over recent years, precision machining aluminum parts are becoming popular in aerospace, military, medical, and industrial engineering.
CHAL Aluminium Corporation is a fully integrated aluminum company that supplies all kinds of aluminum products and technical solutions. We are committed to being the leading supplier of aluminum profile, precision tubing, aluminum sheet, plate, strip, foil, aluminum machining parts, and stamping parts, aluminum die casting parts. As one of the biggest aluminum manufacturers in China, CHAL provides service to the whole aluminum industry chain, precision machining is one of our customized services and solutions.
Aluminum Machining Parts Services
As one of the professional aluminum machining parts manufacturers from China, CHAL has specialized technical experts and a management team to design according to your customized draws and samples, we have rich experience and knowledge for each type of aluminum material characteristic. At CHAL, we manufacture various aluminum parts through the following processes:
Precision machining: Our factory is equipped with various CNC machines, including CNC lathes, turning centers with movable tools, horizontal and vertical band saws, etc. This helps us produce precision aluminum machining parts.
CNC milling and turning: We have several professional 3, 4, and 5-axis machinery, which helps us provide end-to-end CNC milling and turning services.
CNC cutting: Using our high-speed CNC machine allows us to complete projects in a minimal amount of time while providing precision cuts and high yields limiting material waste.

In addition, we can provide sub-operations such as boring, drilling, grinding, shaping, planning, broaching, and sawing machining services.
Aluminum Machining Parts Specifications
| | |
| --- | --- |
| Materials: | Aluminum Alloy: 6061/6063/6082/7075/2011/2014/2024/2017, etc. |
| Dimensions: | According to the drawing or samples |
| Processing equipment: | CNC machining center, CNC turning, Grinding machine, CNC Milling machine, Drilling machine, etc. |
| Surface treatment: | Polishing, Plating, Anodized, Heat treatment, Inactivation, powder coating, etc. |
| Packing: | PE bag, Carton, Wooden box |
| Samples: | Available in 7-20 days for different items |
| Inspection equipment: | CMM (Coordinate measuring machine), Projector, Caliper, Micrometer, Roughness tester, Hardness gauges, etc. |
| Certificate | ISO9001: 2008, ISO/TS 16949 |
Grades of Aluminum Machining Parts
The types of aluminum grade you intend to use depend on your machining projects, which allow you to choose the aluminum of specific properties and shapes as per your needs.
The following are some types of the aluminum grade:
Aluminum 2024: The alloy is predominantly used in the military and aerospace sectors. This is because of its mechanical properties, like great weariness resistance, and high strength. The aluminum 2024 is terrible in corrosion resistance and not weldable.
Aluminum 6061: This grade has superb mechanical properties and excellent weldability. This is because of its good toughness, medium and high strength, excellent corrosion resistance in harsh conditions, cool anodization, and bending workability. Aluminum 6061 is commonly used for 5-axis CNC machining.
Aluminum 5052: Aluminium 5052 offers good resistance to marine, saltwater, and industrial environments. The alloy can be easily punched, bent, and sheared into desired shapes.
Aluminum 6063: The alloy has excellent mechanical properties, such as easy weldability, heat treatability, and durability. Aluminium 6063 is used for aluminum extrusion applications. This alloy is commonly used for creating complex shapes with smooth surfaces and is commonly used in applications such as door frames, window frames, sign frames, roofs, etc.
Aluminum 7075: This grade is known for its exceptional fatigue strength. This aluminum grade is not suitable for welding, it's not cost-effective. So, it is better for tough parts, such as fuselages, bicycle parts, rock climbing kits, and aircraft wings.
Why Choose Us?
1. We provide service to the whole aluminum industry chain
We are fully committed to being the leading supplier of aluminum profile, precision tubing, aluminum sheet, plate, strip, foil, aluminum machining parts, stamping parts, and aluminum die casting parts. With more than 10 years of experience in customized precision machining services, we are committed to providing high-quality products at competitive prices.
2. Various aluminum precision machining processes
We can provide aluminium CNC precision machining parts, turning parts, milling parts, surface grinding, CNC engraving, etc.
3. We offer precision aluminum machining parts services from the latest CNC machines
We have the latest machining equipment to produce aluminium machining parts from 1mm to 300mm in aluminium alloy: 6061/6063/6082/7075/2011/2014/2024/2017, etc.
Order Process of Aluminum Machining Parts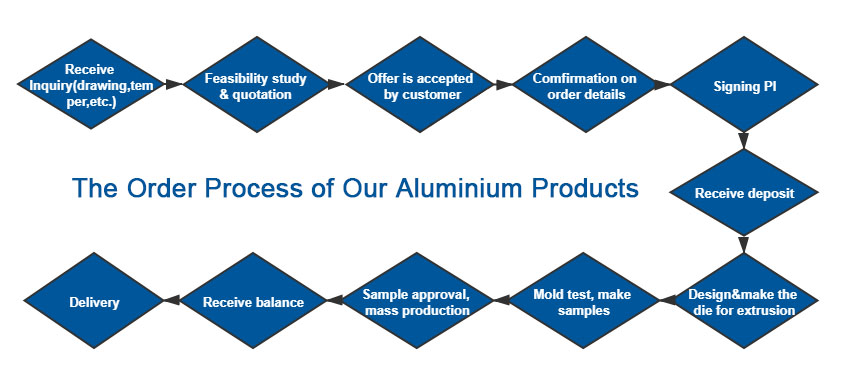 CNC Machining Aluminum Parts and Applications
Today, precision aluminum machining parts are growing in popularity in various industries. The following are some of the CNC-machined aluminium parts:
Front panels
Dowels Pins
Medical Devices
Lighting Fixtures
Spline Shafts
Worm Gears
Dials and Scales
EMI- proof Housings
Optical Reflectors
Aluminum machining parts can be applied to automotive, electrics, military, medical, aircraft, power generation, aerospace, and industrial engineering.
1. High-precision cutting
Aluminum tubing, aluminum profiles

2. CNC aluminum machining parts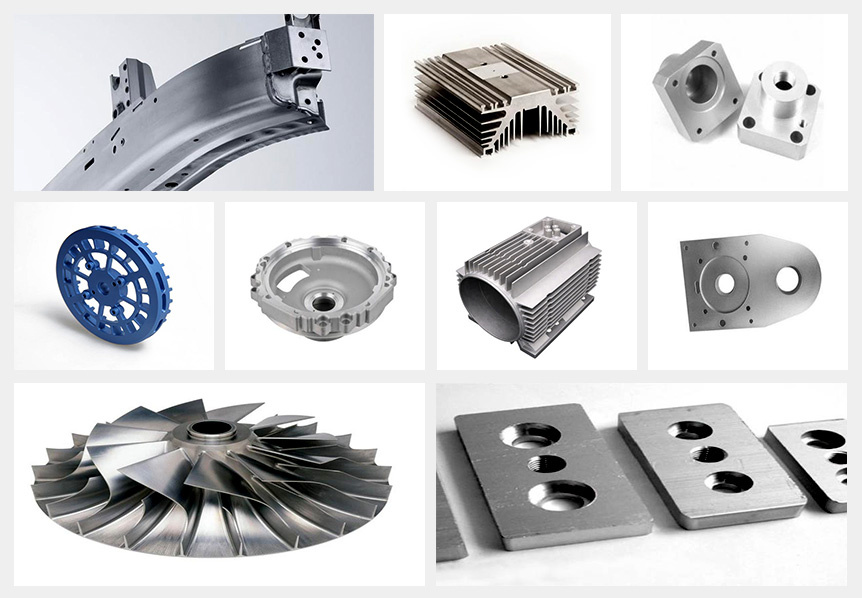 Benefits of Aluminium Machining Parts
Good Corrosion Resistance
The density of aluminum is only 2.7 g/cm3, which is about the density of steel, copper, or brass. In most conditions, (including air, water, or saltwater), petroleum chemistry, and many chemical systems, aluminum can display excellent corrosion resistance.
Resistant to Low Temperatures
Aluminum materials are resistant to low temperatures. We all know how steel can be delicate, especially in the welding section or an environment with low temperatures. Aluminum materials can be easily machined under low temperatures compared to steel materials.
The other good advantage of the aluminum CNC machining process is that materials can easily be manufactured through punching, folding, and drilling. You can use it to form various shapes of the parts as they are needed. The energy used in the machining of aluminum is much lower compared to that which is used in steel.
Good Electrical Conductivity
Aluminum machining parts, due to their good conductivity, on the basis of equal weight, the electrical conductivity of aluminum to copper twice.
High Thermal Conductivity of Rate
The thermal conductivity of aluminum alloy volume rate is about 50-60% of copper, and the manufacturing of heat exchangers, evaporators, heating appliances, cooking utensils, as well as the automobile cylinder head and radiators are favorable.
In terms of machining materials, aluminum machined parts are the most economical because they can be used for CNC machining and milling within shorter periods of time than other metals.
Machining Equipment Used for Aluminum Machining Parts
Machinery (including small-and medium-sized machines): 80 machines, crane 50 tons, and we can provide machining for various sizes of components.
| | |
| --- | --- |
| Equipment name | Machining ability |
| Horizontal Boring & Milling Machine | Spindle φ150 to φ180, X22800 Y4500 Z1200 W1200, Table square 4000 × 4000 |
| Large-sized Plano Milling Machine | X15300 Y4500 Z1000 W3000, 150 tons |
| Double Column Type Machining Center | X6500 Y3600 Z900 W2300 |
| Large-sized Vertical LatheVertical Boring Mill | Table φ5300, ram stroke 2100, maximum workpiece φ9500 × H2500, 120 tons |
| CNC Vertical Lathe | Table φ2000, ram stroke 1000, maximum workpiece φ2000 × H1150, 5 tons |
| Table Type Horizontal Boring & Milling Machine | Spindle φ110 to φ130, table 1000 to 2200 |
| Normal Lathe (including NC Lathe) | On-bed swing φ1220, center-to-center dimension 6000 |
| Lathe | On-bed swing φ1000, center-to-center dimension 9000 |
| Surface Grinding Machines | Maximum workpiece 10000 × 3000 (band-pass 3500) × 2000, 22 tons |
| Roll Grinding Machine | Maximum workpiece φ1650 × l9500 |
| Internal Cylindrical Grinding Machine | On-bed swing 1400, maximum workpiece L4500, grindable depth 1850 |
| Double Column Type Grinding Center | X3000 Y2100 Z610 W500, table 1800 × 3000, 20 tons |
| 3D Coordinate Measuring Machine | Measurable range: X1600 × Y3000 × Z1200, 1.5 tons |
| Precision Cutting Machine | L1200MM W700mm tolerance0.03-0.05 |
| Slow- feeding Wire Cut Machine | 380JP |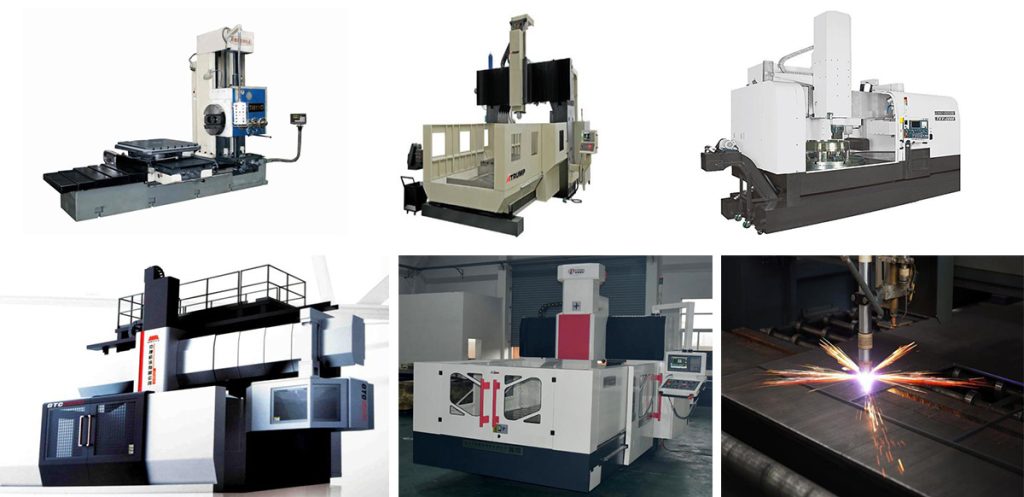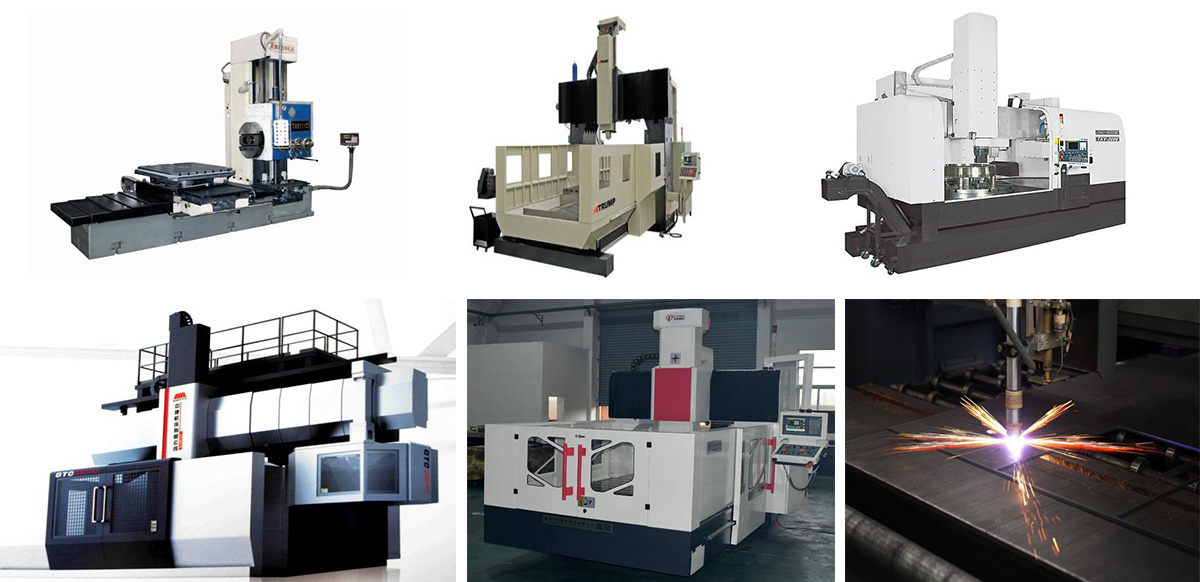 Other Aluminum Product Recommendations