Aluminum Circles/Discs
Aluminum circle is also known as aluminum disc, which is a perfect material for making aluminum round metal. It is usual with thickness from 0.3mm-10mm, and a diameter from 100mm-800mm. It is widely used in electronics, daily chemicals, medicine, culture and education, auto parts, and other industries. Mainly, 1xxx and 3xxx aluminum circles are used for making kitchen utensils, cookware such as non-stick pans, saucepans, pizza pans, pressure cookers, and other hardware such as lampshades, water heater casings, etc. Our aluminum circles are made in accordance with international standards ASTM B209, ASME SB 221, EN573, and EN485.
CHAL Aluminium Corporation focuses on the research and development of aluminum, we cooperate with famous academic institutions and industry associations. Our researchers and academic partners are involved in the business and technology development of aluminum product processing and production. We develop and design solutions to improve the performance of aluminum technically and economically. CHAL Aluminium Group has 5 R&D centers in China.
Aluminum Circles /Discs Details
Deep drawing aluminum circle/disc 1050, 1060, 1100, 1200, 3003, 3004, 3105, etc.
Aluminum Alloy
Thickness(mm)
Diameter(mm)
Temper
1050, 1060, 1100
0.3-8.0
15-1200
HO, H12, H14, H22, H24
3003, 3004, 3105
0.3-8.0
15-1200
HO, H12, H14, H22, H24
Material process
CC AND DC (DC For cookware and CC for road sign)
DC for cookware with good deep drawing and spinning
Further Fabrication
Deep Drawing, Spinning, Anodizing
Customize size
Size can be produced as per clients requirement
Surface
Mill finish, or color coated or anodized
MOQ per size
3 tons
Quality Standard
ASTM B209, EN573-1
Price terms
FOB, CRF, CIF
Payment Terms
30% deposit in advance, 70% balance payment by TT or LC
Surface
Mill Finish, Plain
Standard
GB/T, ASTM, EN
Delivery time
Within 25 days after receipt of the lc or deposit
Material Quality
Totally free from defects like roll makers, edge damage, oil stain, white rust, dents, scratches, etc. A+++ quality
Equipment
6 hot tandem rolling line, 5 cold mill production lines
Application
DC hot roll for cookware and utensils and CC for road signs
Packing
Standard export worthy wooden pallets, and standard packing is about 1 ton/pallet. Pallet weight also can be as per client's requirement, and one 20′ can be loaded about 25mts.
Loading Port
Any port of China, Shanghai & Ningbo &Qingdao
Delivery Methods
1. By sea: Any port in China
2. By train: Chongqing(Yiwu) International Railway to Middle Asia-Europe
The aluminium circles (aluminum discs) can be provided with center holes upon request.
Paper interleave and PE/PVC can be applied upon request.
Some alloys can be provided as lighting-grade and hard anodize (HA) quality upon request.
All circles are shipped with material test reports.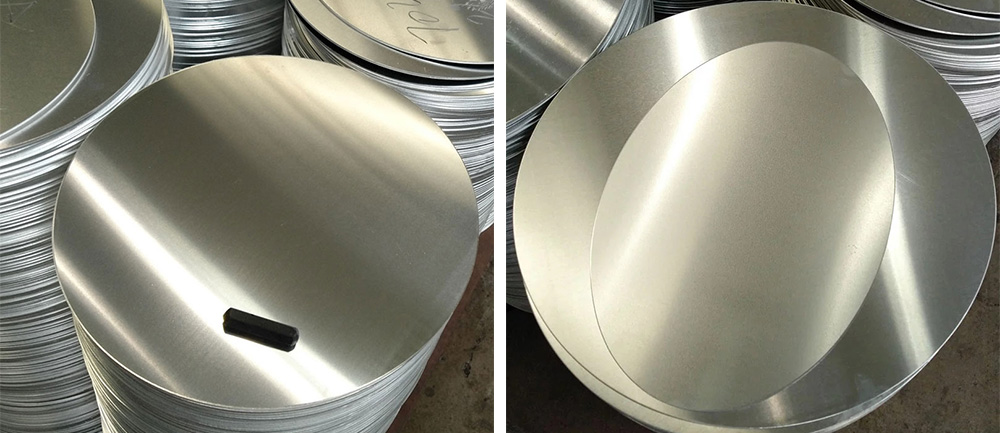 Order Process of Aluminum Circles/Discs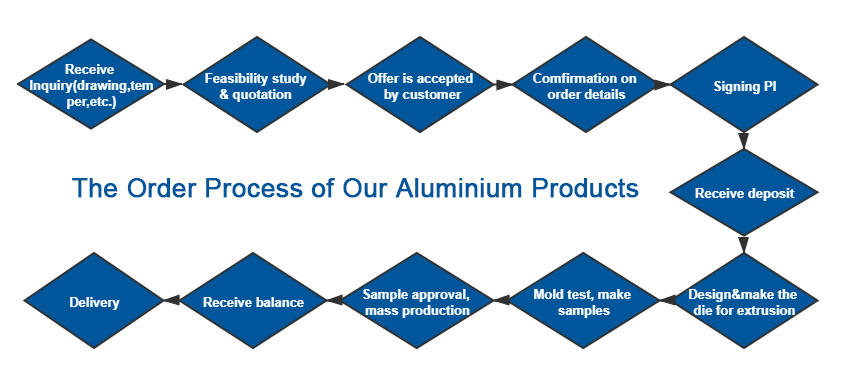 ---
DC Quality of Aluminum Circles
Deep drawing quality, less scrap.
Aluminum circle is suitable for making cookware and the following products:
● Stock pots ● Fry pans ● Tea kettles
● Pressure cookers ● Pizza pans ● Rice cookers
● Restaurant cookware ● Coffee urns ● Electric skillets
CC Quality of Aluminum Circles
Its good surface is suitable for the lighting industry.
Applications of Aluminum Circles:
● Recessed lighting ● High bay industrial lighting
● Stress lighting ● Traffic light reflectors ● Sports lighting
Chemical Composition (WT.%) of Aluminum Circles
Alloy
Si
Fe
Cu
Mn
Mg
Cr
Zn
Ti
Al
1050
0.25
0.4
0.05
0.05
0.05
–
–
0.05
0.03
1060
0.250
0.350
0.050
0.030
0.030.-
–
0.050
0.030
99.6
1070
0.200
0.250
0.040
0.030
0.030
–
0.040
0.030
99.7
1100
Si+Fe:0.95
0.05-0.2
0.050
–
–
0.100
–
99.0
3003
0.600
0.700
0.05-0.20
1.0-1.5
–
–
0.100
–
remains
5052
0.250
0.400
0.100
0.100
2.2-2.8
0.15-0.35
0.100
–
remains
8011
0.5-0.9
0.6-1.0
0.100
0.200
0.050
0.050
0.100
0.080
remains
Mechanical Properties of Aluminum Circles
Temper
Thickness(mm)
Tensile Strength
Elongation(%)
Standard
HO
0.36-6
60-100
≥ 20
GB/T91-2002
H12
0.5-6
70-120
≥ 4
H14
0.5-6
85-120
≥ 2
Grades, Characters, and Applications of Aluminum Circles
Series
Temper
Alloy
Character
Application
1 series
HO
H12 H14 H22 H24
1050
1. Aluminium content>99%, excellent formability.
2. High reflectivity.
3. Stable performance for surface anodization.
1. Ordinary cookware: extrusion pot lid, aluminium pot.
2. Lamp accessories: lampshade, downlights, laminate lights and street lights.
3. Indication signs and building materials: traffic signs, curtain walls, ceilings.
1060
1070
1100
3 series
3003
1. Excellent formability.
2. High elongation, can be used in deep drawing process.
3. High grain grade, smooth surface and high reflectivity.
1. Advanced cookware: non-stick pan, pressure cooker.
2. Lamp accessories: lampshade, downlights, laminate lights and street lights.
3. Indication signs and building materials: traffic signs, curtain walls, ceilings.
3004
3005
3105
5 series
5052
1. Low material density and low weight of finished product.
2. High tensile strength and elongation, good fatigue strength.
3. Higher grain grade and good surface finish.
1.Advanced cookware: non-stick pan, pressure cooker.
2. Pressure vessel: pressure cooker, etc.
5754
5083
8 series
8011
1. Excellent anodizing effect.
2. Stable performance and high surface quality.
Advanced cookware: can make pearl anodized cookware
Our Products Are Widely Used For Making:
| | |
| --- | --- |
| ● Stock Pots | ● Fry Pans |
| ● Tea Kettles | ● Pressure Cookers |
| ● Rice Cookers | ● Pizza Pans |
| ● Electric Skillets | ● Restaurant Cookware |
| ● Coffee Urns | ● Bakeware |
| ● Steam Irons | ● Woks |
| ● Stainless Cookware Bottom Plates | ● Bread Makers |
Advantages of Aluminum Circles
High formability
Good processing performance
Excellent elongation and tensile strength
High plasticity, conductivity, and thermal conductivity
Easy to take all kinds of pressure processing and extension or bending
Suitable for gas welding, hydrogen welding, resistance welding, and brazing
---
Manufacture Process of Aluminum Circles
Aluminium Ingot/Master Alloys — Melting Furnace — Holding Furnace — D.C. Caster — Slab — Hot Rolling Mill — Cold Rolling Mill — Blanking (punching into the circle) — Annealing Furnace (unwinding) — Final Inspection — Packing — Delivery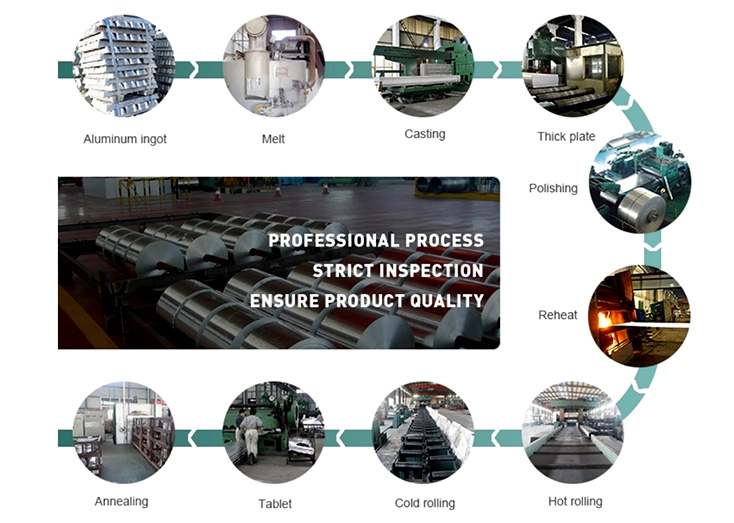 Why Choose Aluminum Circle/Disc to Make Cookware?
As for aluminum circle for cookware, it is vital to pay attention to flowing properties, 1xxx and 3xxx series aluminum circle has good tensile strength property, good formability, it is easy to bend. Good corrosion resistance properties can ensure cookware use for a long time. Furthermore, it requests the aluminum disc/circle has good flatness, no oil stain, and no scratches on the surface.
What is the Price of an Aluminum Circle/Disc?
In recent years, the use of aluminum circles/discs has increased. The demand for aluminum circles/discs in the market is relatively large. It is a kind of product obtained through deep processing of aluminum plates, the surface is bright and beautiful, and it can be shaped and do the surface treatment. So, it is not expensive.
The price of aluminum circles/discs has something to do with the thickness. Generally speaking, circles of a common thickness (between 1.0mm and 8.0mm) have similar prices under the condition that they entail similar manufacturing processes. Such aluminum circles/discs can be obtained through relatively simple processes. Nevertheless, if the thickness surpasses 8mm, the price will go higher because the circles have to go through hot rolling, which involves raw material loss and the application of extra equipment. Therefore, it makes sense to think that the aluminum circles/discs price is related to thickness. In spite of this, there are exceptions. As said above, the price of an aluminum circle is also influenced by its manufacturing process. Not all thin circles (thickness below 8.0mm) are produced through cold rolling, some entail hot rolling, which increases their cost and eventually impacts their price.
About Company
CHAL Aluminium Corporation is a fully integrated aluminum company that provides all kinds of aluminum products and technical solutions. We are committed to being the leading supplier of aluminum plate, cast tooling aluminum plate, aluminum sheet (clad or bare), aluminum foil (clad or bare), aluminum strip (slit coil), aluminum circle/disc, aluminum coil.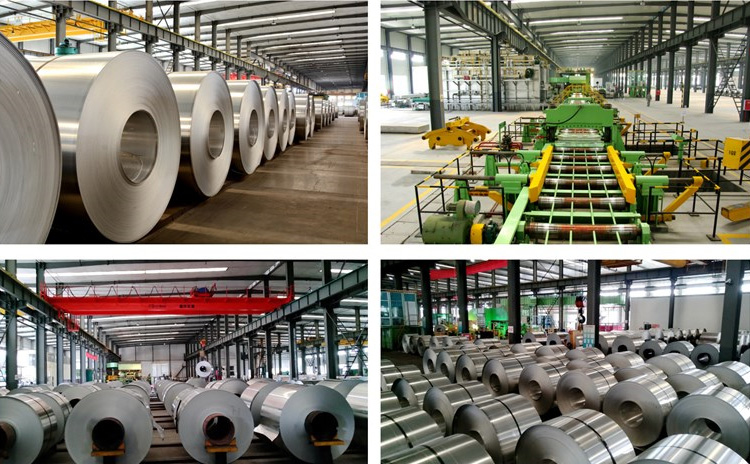 Why Choose Us For Aluminum Circle?
Pure primary ingot.
Accurate dimensions and tolerance.
Meet anodizing and deep drawing requirements.
High-quality surface, the surface free from defects, oil stains, waves, scratches, and roll marks.
Free samples are available for tests at first.
Tension-leveling, oil-washing.
Mill finish/ETD lubricant surface.
With decades of production experience.
Verified manufacturer, with quality assurance. The production process is approved by SGS and BV.
After-sales service: our company promises rapid reply and responses in two days if a quality objection occurs, then we would arrange reshipment according to actual circumstances, if necessary, in the shortest time to make sure of your delivery.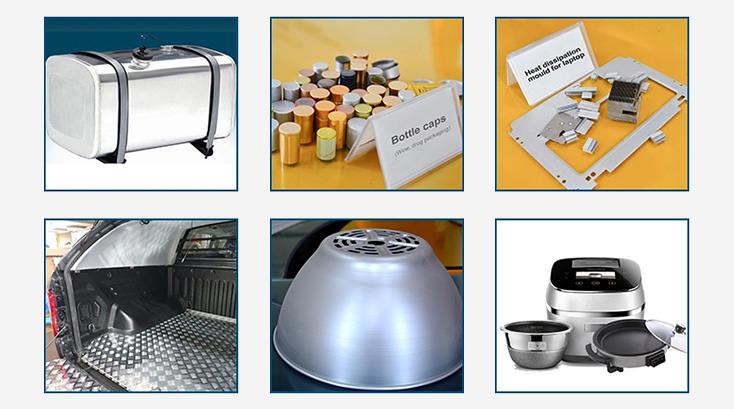 Supply Ability
800/Tons Per Month
Packaging
Our products are packed and labeled according to the regulations and customer requests. Great care is taken to avoid any damage which might be caused during storage or transportation. The standard export packaging, plastic film or craft paper covered. Wooden case or wooden pallet is adopted to protect products from damage during delivery. In addition, clear labels are tagged on the outside of the packages for easy identification of the products and quality information.
FAQ
Other Aluminum Product Recommendations