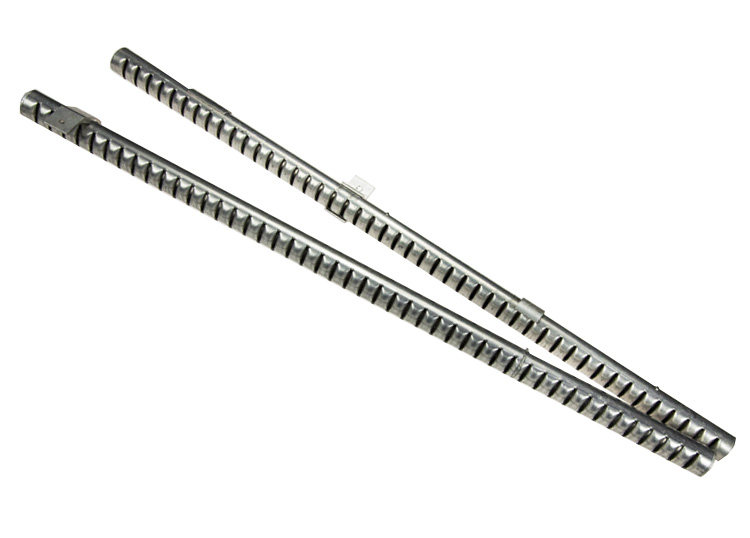 Aluminum Stamping Parts
Aluminum is the ideal metal for parts that need strength and flexibility and has a much lower weight than most other metals. Alunimun stamping parts have excellent properties such as low density, high strength-to-weight ratio, and excellent corrosion. At CHAL, we can temper aluminum to different hardnesses, improving strength, stability, and wear. Besides, aluminum stamping parts accept a variety of finishes and coatings, such as chem-film, paint, and powder coating, which can increase its corrosion resistance, and thermal and electrical properties.
What are Aluminum Stamping Parts?
Custom-made aluminum stamping is the method of creating aluminium parts according to the required sizes and shapes through a method called stamping. It involves the pressing or stamping of the aluminum in dies or press tools to make it in the right form.
Aluminum Stamping Parts Specifications
Aluminum is very ductile and malleable making it ideal for precision stamping processes. Common aluminium stamping grades and applications include:
| | | |
| --- | --- | --- |
| Aluminum Alloy | Specifications | Applications |
| Stamping 1100 Aluminum | High electrical conductivity, advanced corrosion resistance, and easy workability | Spun parts, chemical equipment, and anodized parts |
| Stamping 2024 Aluminum | High strength-to-weight ratio and strong fatigue resistance. | Aircraft & screw machine components |
| Stamping 3003 Aluminum | A general-purpose alloy commonly used in sheet metal applications | Hardware, furniture & cooking utensils |
| Stamping 5052 Aluminum | Alloyed with chromium and magnesium | Sheet metal ductwork |
| Stamping 6061 Aluminum | A precipitation-hardened alloy containing magnesium and silicon, good weld-ability | Marine hardware, architectural structures & aerospace components |
Precision Aluminum Stamping Parts
Custom aluminum stamping parts for a wide range of industries.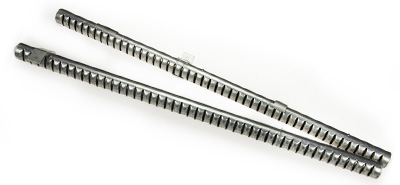 1. Header pipe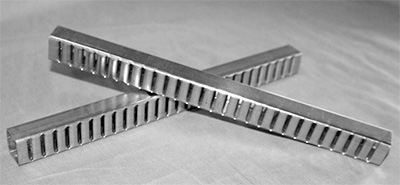 2. D Type Tondenser Collector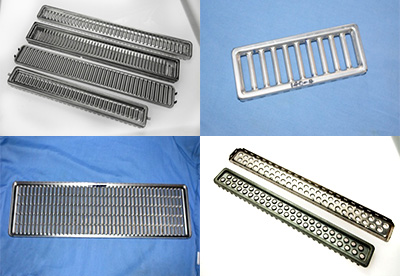 3. Header Plate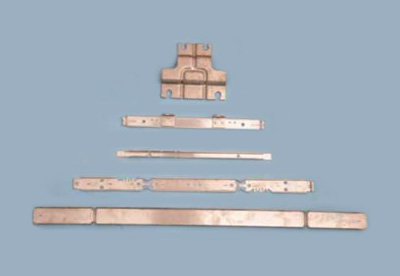 4. Side Plate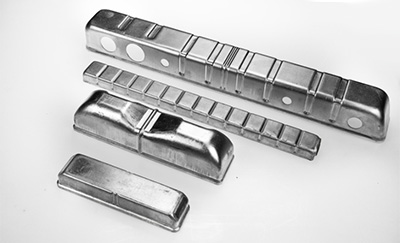 5. Tank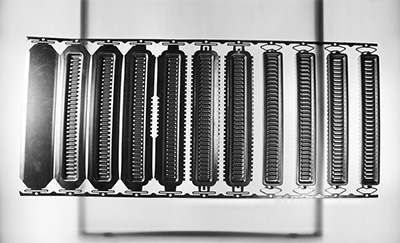 6. Progressive Mould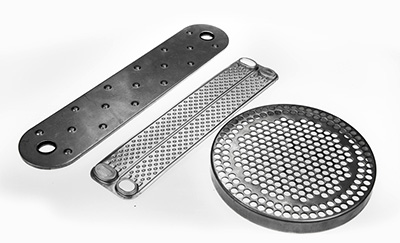 7. Oil Cooler Chip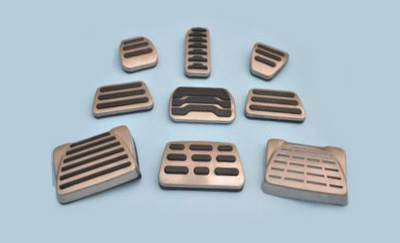 8. Pedal Pad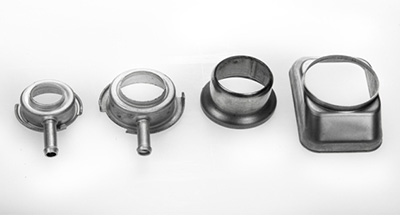 9. Filler Neck and Bracket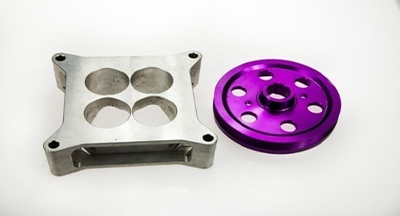 10. Other Stamping Parts as Customers' drawing
Stamped Aluminum Parts Characteristics
Fast and highly accurate process ideal for high production runs.
Punching, blanking, embossing, bending, flanging and coining.
Run stampings up to .250″ thickness.
Stamped aluminum parts have many features and benefits that make this alloy ideal for many applications.
Stamping Aluminum Parts Applications
Because aluminum stamping parts have various advantages, many industries choose aluminum for production. It is widely used in the aerospace, construction, automotive, electronics, and energy industries.
* Aerospace * Construction
* Industrial * Automotive
* Marine * Lighting
* Medical * Electronics
Aluminum Stamping Parts Processes
Our aluminum stamping services range from short-run single-hit stamping to high-volume progressive die stamping. We provide quality-driven solutions to your custom metal stamping applications.
Forming: Includes different processes where force is applied to aluminum alloy to modify its geometry and create thin, flat pieces that can then be formed into more complex shapes.
Blanking: A fabrication process where a punch and die are used to cut pieces, referred to as blanks, from aluminum alloy for further processing. It produces minimal burrs, which helps reduce finishing costs and lead time.
Piercing: Uses similar machinery as blanking and involves using a punch and die to create holes, slots, and notches in sheet metal. It forms tight tolerances, produces a cleaner cut than drilling, and is more productive than laser cutting.
Drawing: A process where tensile force is used to stretch aluminum alloy blanks over a die until the desired thickness and shape is achieved. This precision metal stamping process is used to create fluid handling, aircraft parts, electronic components, and more.
Stamping Equipment Used For Aluminum Stamping Parts
Our stamping equipment will be able to finish 500 million times of stamping processing actions annually, and the average annual capacity can reach 10, 000 tons.
1. Individual Stamping Machine
We have 60 sets of individual punch machines: specification 16-800T, including Nc plane punch, vertical four-post punch, precision punch, high-speed punch, etc.
2. Continuous Stamping Machine
12 Sets Progressive stamping machine,16 to 1000 tons of punch equipment.

CHAL Aluminium Corporation is a fully integrated aluminum company that supplies all kinds of aluminum products and technical solutions. As one of the biggest aluminum manufacturers in China, we offer a wide range of aluminum profiles, precision tubing, aluminum sheet, plate, strip, foil, aluminum machining parts, stamping parts, and aluminum die-casting parts.
Why Do People Prefer Aluminum Stamping Parts?
Now aluminum parts are applied to many industries, such as aerospace, construction, automotive, electronics, and energy industries. Most people choose aluminium stamping to form their required shapes or dimensions. The reasons as follows:
The weight of aluminum has only 1/3 density of steel.
Aluminium's strength-to-weight ratio is better than metal, which includes stainless steel.
It has better corrosion resistance than steel. Stamping aluminum surfaces will form an oxidation layer to resistant corrosion, so it makes aluminum a very low-maintenance material.
It offers outstanding durability in almost any application. It has a lower melting point than steel and can form different complicated shapes.
Aluminum exhibits high electrical and thermal conductivity. And it is non-sparking, non-magnetic, and non-combustible.
Order Process of Aluminum Stamping Parts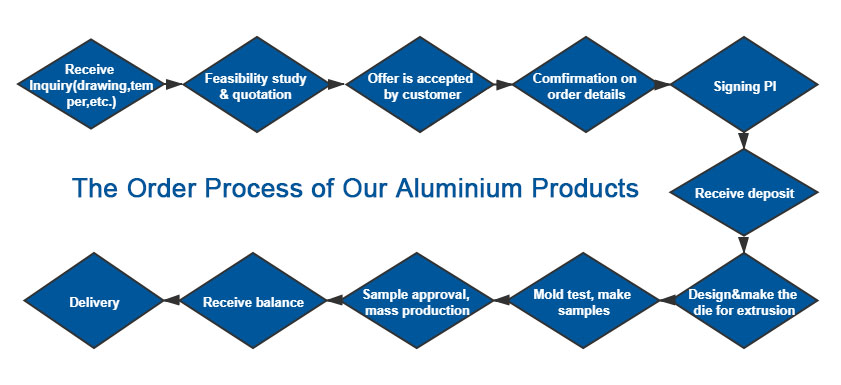 FAQ
Other Aluminum Product Recommendations