6061 Aluminium Alloy Sheet
6061 aluminium sheet is a high-quality alloy product produced by heat treatment and pre-stretching. Although its strength cannot be compared with 2000 series alloy or 7000 alloy series, the composition of 6061 aluminium alloy is mainly Mg and Si, so 6061 aluminium sheet exhibits excellent processing performance, excellent weldability and electroplating, good corrosion resistance, high toughness and other characteristics. It is worth mentioning that the dense structure of the 6061 aluminium sheet does not deform after processing. In addition, 6061 aluminium alloy can be easily polished, coloured film, etc., and its oxidation effect is excellent. Knowing this, it is not difficult to find that 6061 aluminium sheet is a suitable material for the manufacture of precision machinery, automotive wheels, 3C products, mobile phone shells, moulds, trolley cases, alloy doors and windows.
CHAL manufactures and wholesales 6061 aluminium sheet of various sizes & tempers, competitive prices and fast shipping, custom services are also available to meet different customers' requirements.
The Order Process of 6061 Aluminium Sheet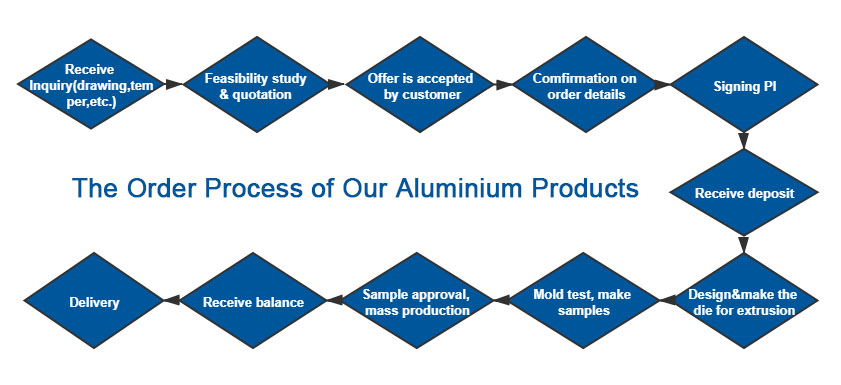 Specifications of 6061 Aluminium Sheet
| | |
| --- | --- |
| Aluminium Grade | 6061 |
| Material Temper | F, O, T4, T6, T651, H112 |
| Thickness (mm) | 0.2-500 |
| Width (mm) | 20-2650 |
| Length (mm) | Customized |
| Delivery Terms | FOB, CFR, CIF |
Hot sale thickness: 0.6mm, 0.7mm, 0.8mm, 1.2mm, 1.5mm, 1.6mm, 2mm, 3mm, 4mm, 5mm, 6mm
Hot sale size: 1220x2440mm, 1.22m x 2.44m, 1/8 inch

Chemical Composition of 6061 Aluminum Sheet
| | | | | | | | | | | |
| --- | --- | --- | --- | --- | --- | --- | --- | --- | --- | --- |
| Elements | Mg | Fe | Cu | Mn | Si | Cr | Ti | Zn | Others | Al |
| Content | 0.8-1.2 | 0.70 | 0.15-0.40 | 0.15 | 0.40-0.8 | 0.04-0.35 | 0.15 | 0.25 | 0.05 | Remains |
Mechanical Properties and Tempers of 6061 Aluminum Sheet
Typical Mechanical Properties of 6061 Aluminium Sheet
Temper
Tensile Strength
Yield Strength
Elongation
KSI
KSI
%
T451
35
21
25
T651
45
40
17
6061-T651 Aluminum Sheet
Our 6061 plate has T651 temper, indicating it has been solution heat treated followed by a minimal stretching to reduce stresses in the material. The material was then artificially aged to allow the alloying elements to precipitate out of the material, to give immediate maximum strength.
6061-T6 Aluminium Sheet
Aluminum Alloy 6061-T6 is perhaps the most common grade of Aluminum because of its good machinability and weldability

The Features of 6061 Aluminium Sheet
1. Workability. The main temper of 6061 aluminium sheet is T4, T6 and T651. Among them, the 6061-T6 aluminium sheet has large internal stress, which may cause deformation during processing, so the 6061-T651 aluminium sheet is more suitable for product processing.
2. Mechanical Characteristics. The ultimate tensile strength of 6061 aluminium sheet is more than 205 MPa, the compressive yield strength is 55.2 MPa, the elastic modulus is 68.9 GPa, the bending ultimate strength is 228 MPa, and the bending yield strength is 103 MPa, the strength is higher than 6063 alloy sheet.
3. Comprehensive Characteristics. In short, 6061 aluminium sheet has excellent characteristics such as excellent processability, good corrosion resistance, high toughness, excellent weldability and electroplating, easy coating film, and excellent oxidation effect.
Applications of 6061 Aluminium Sheet
Typical applications:
Mobile phone card slot, Mobile phone case, Mold, Automotive, Precision machining.
It is widely used in the mobile phone card slot (suitable for 5G mobile phone), buttons, computer bracket, computer shell and other 3C fields, as well as pull rod case, aluminium furniture, door/door handle, SMT, PC board solder carrier and so on. (White surface/bright surface, no milling surface required, saving cost)
Medium and Thick 6061 Aluminium Plate application
It is widely used in moulds, shoe moulds, precision machining, passenger car decorative plates/checker plates, automobile chassis protection parts, automobile four doors and two covers, automobile wheels, automobile seats, etc. (Internal stress is eliminated and cutting is not deformed.
Packing Detail of 6061 Aluminium Sheet
Our products are packed and labelled according to the regulations and customer's requests. Great care is taken to avoid any damage which might be caused during storage or transportation. The standard export packaging, plastic film or craft paper covered. wooden case or wooden pallet is adopted to protect products from damage during the delivery. Also, clear labels are tagged on the outside of the packages for
easy identification of the products and quality information.

China 6061 Aluminium Sheet Manufacturer and Supplier – CHAL
CHAL is a leading aluminium sheet factory, which can produce aluminium slit coil, aluminium strip, coated aluminium coil, aluminium plate, aluminium sheet metal, etc, providing 6061 t6 aluminium sheet with high standard and wholesale price, fast.