5086 Marine Grade Aluminium Sheet
5086 aluminium sheet is no stranger to us. It is the same as 5083 aluminium sheet and 5052 aluminium sheet. These 5 series Al-Mg alloys are the most common marine grade aluminium sheet. Similarly, the 5086 aluminium sheet is also a typical anti-rust alloy, and the content of its main alloy component Mg directly affects its anti-corrosion performance.
According to the comparison of these typical 5-series marine-grade aluminium sheets, it is not difficult to find that the Mg content of these sheets is ranked as 5083,5086,5052 aluminium sheets from high to low. Therefore, they are used differently in various ship types such as yachts, fishing boats, sand carriers, and various ship components. Besides, the 5086 alloy sheet with good weldability and moderate strength is widely used in the manufacture of fuel tank materials, coal trucks, pressure vessels and transportation equipment, etc. It is also a high-quality raw material for oxidizing materials and aluminium checker plates.
With years of aluminium sheet production experience, CHAL can produce and supply high-quality 5086 aluminium sheet with different sizes and tempers.
Specifications of 5086 Aluminium Sheet
| | |
| --- | --- |
| Aluminium alloy | 5086 |
| Material temper | F, O, H12, H16, H19, H28, H32, H34, H36, H38, H111, H112, H114, H116, H321 |
| Thickness (mm) | 0.5-550 |
| Width (mm) | 40-2650 |
| Length (mm) | Customized |
| Delivery Terms | FOB, CFR, CIF |

Chemical Composition of 5086 Aluminium Sheet
| | | | | | | | | |
| --- | --- | --- | --- | --- | --- | --- | --- | --- |
| Elements | Mg | Fe | Mn | Cr | Ti | Zn | Others | Al |
| Content | 3.5~4.5 | 0~0.5 | 0.20~0.7 | 0.05~0.25 | ≤0.15 | ≤0.25 | 0.05 | Remain |
Mechanical Properties and Tempers of 5086 Aluminum Sheet
Typical Temper
Tensile Strength(KSI)
Yield Strength(KSI)
Elongation(%)
Thickness(mm)
Width(mm)
Length(mm)
O(annealed)
42
21
14
0.2-350
500-3100
Max1600
H122
43
23
10
H116
46
33
10
H321
48
33
10

The Order Process of 5086 Aluminium Sheet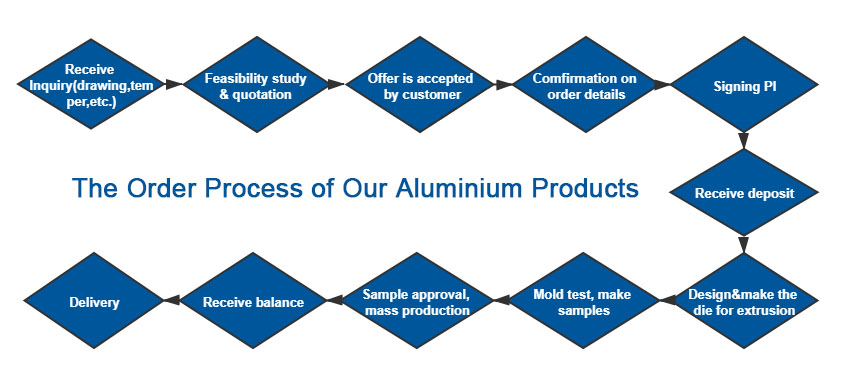 The Features of 5086 Aluminium Sheet
Corrosion Resistance. 5086 aluminium sheet has the basic anti-corrosion ability to air, water (or saltwater), petrochemical and other media. Also, it has strong corrosion resistance in extremely strong industrial and marine atmospheric environments and deep water.
No Low-Temperature Brittleness. Even below 0℃, the strength and plasticity of 5086 aluminium sheet will not decrease with the temperature but will increase, and there is no low-temperature brittleness.
Good Anodized Appearance. 5086 aluminium sheet has good surface anodizing treatment. Also, after its surface being embossed, the pattern of the 5086 aluminium checker plate is clear, smooth and bright.
Applications of 5086 Marine Grade Aluminium Sheet
Typical products: Marine aluminium, automobile, oxidizing material, fuel tank material, coal truck, weldments, etc.
At present, CHAL 5086 aluminium sheet has obtained the certification of CCS, DNV, ABS, BV, LR, from 5 international authoritative organizations, the quality is guaranteed! CHAL 5086 marine grade aluminium sheet has been widely used in the manufacturing of ships' sides, bottom and outboard, deck, etc., and is deeply favoured by shipbuilding markets in South America, North America, southeast Asia, etc.
In addition, the 5086 aluminium sheet is generally used for applications requiring high corrosion resistance, good weldability, and moderate strength. For example, the weldable parts of ships and automobiles, pressure vessels with a strictly fireproof requirement, refrigeration units, TV towers, loading and testing equipment, transportation equipment, etc.
Packing Detail of 5086 Aluminium Sheet
The standard export packaging, plastic film or craft paper covered at customers' requirements. Wooden case or wooden pallet is adopted to protect products from damage during the delivery.

China 5086 Aluminium Sheet Supplier – CHAL
CHAL provides you superior quality for 5086 aluminium sheet with the first-rate standard, attractive and reasonable prices, excellent surface quality and package guaranteed with, fast delivery. CHAL is one of the best choices for reliable 5086 aluminium sheet manufacturers and wholesalers.