7075 Aluminium Sheet
7075 aluminium sheet belongs to Al-Zn-Mg-Cu super duralumin, which is a cold-treated forging alloy with high strength and hardness, far better than soft steel. Due to the fine grain structure inside 7075 aluminium alloy, it has excellent deep drilling performance, enhanced wear resistance of tools, good mechanical properties and anode reaction. At present, 7075 aluminum sheet is the preferred metal material under the requirement of lightweight conditions with lower density and higher hardness. It is one of the most potential alloys for commercial use. And It is widely used in the manufacturing of shoe mould, high-hardness mould, high-end mobile phone shell, thick plate, heavy forging and golf components, precision parts and aircraft.
As a professional manufacturer and wholesaler of aluminium sheets, CHAL can provide 7075 aluminum sheet with various specifications, superior quality, competitive price and fast delivery. CHAL has a huge stock of common specifications, as well as the special sizes, can be customized.
Order Process of 7075 Aluminium Sheet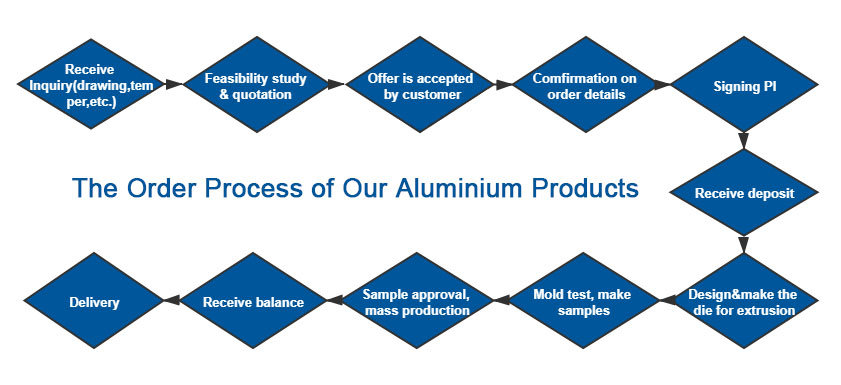 Specifications of 7075 Aluminium Sheet
| | |
| --- | --- |
| Aluminium Grade | 7075 |
| Material Temper | F, O, T6, T651, T7451, H112 |
| Thickness (mm) | 0.5-500 |
| Width (mm) | 20-2550 |
| Length (mm) | Customized |
| Delivery Terms | FOB, CFR, CIF |
Chemical Composition of 7075 Aluminium Sheet
| | | | | | | | | | | |
| --- | --- | --- | --- | --- | --- | --- | --- | --- | --- | --- |
| Elements | Mg | Fe | Cu | Mn | Si | Cr | Ti | Zn | Others | Al |
| Content | 2.1-2.9 | 0.50 | 1.2-2.0 | 0.30 | 0.40 | 0.18-0.28 | 0.20 | 5.1-6.1 | 0.05 | Remains |

The Features of 7075 Aluminum Sheet
1. High Intensity. 7075 aluminium sheet is stronger than mild steel. After solution treatment, the plasticity is good, with high strength below 150℃ and excellent low-temperature strength.
2. Strong Stress Corrosion. The stress corrosion performance of 7075 aluminum sheet is better than that of 7A04, especially in the temper of 7075-t651.
3. Good Heat Treatment Strengthen in Effect. Zn is the main alloy element in 7075 aluminium sheet. Mg is added to the alloy containing 3%-7.5% Zn so that the heat treatment strengthening effect of 7075 aluminium alloy is far better than that of Al-Zn binary alloy.
4. Other features. The plasticity under annealing and hardening conditions is slightly lower than 2A12 in the same state but slightly better than 7A04, etc.
Applications of 7075 Aluminium Sheet
Typical Usage: Mold, high-end mobile phone shell, precision parts, golf components.
For the manufacture of aircraft structures and other high-stress structures with high strength and corrosion resistance, such as upper and lower wing panels, trusses and spacers. 7075 aluminium sheet is also used to make high-end mobile phone casings, precision components, golf components and other products.
Medium Thick Aluminium Plate
CHAL 7075 medium-thick aluminum plate is suitable for high hardness mould & tooling, shoe mould, heavy forging, high strength parts and other fields, the products provide the original factory warranty, the global export can be assured to purchase!
Packing Detail of 7075 Aluminium Sheet
Our products are packed and labelled according to the regulations and customer's requests. Great care is taken to avoid any damage which might be caused during storage or transportation. The standard export packaging, plastic film or craft paper covered. wooden case or wooden pallet is adopted to protect products from damage during the delivery. Also, clear labels are tagged on the outside of the packages for easy identification of the product I. D. and quality information.

7075 Aluminium Sheet Manufacturer and Supplier – CHAL
CHAL is one of the top aluminum sheet manufacturers and wholesalers in China and can supply a huge stock of 7075 aluminium sheets with custom service. A wide range of aluminium products like an aluminium coil, aluminium strip, aluminum plate, aluminium anodized aluminium sheet, etc can be available for choice.
CHAL aluminium products have a high standard quality. For professional 7075 aluminum sheet manufacturer, CHAL will worth your choice.