6063 Aluminium Sheet
6063 aluminium sheet is a medium-strength heat-resistant strengthened alloy in the AL-Mg-Si series. Mg and Si are the main alloying elements. The percentages of Mg and Si are different, and the characteristics are also different. The higher the Mg content, the greater the amount of Mg2Si, and the greater the heat treatment strengthening effect; increasing the Si content, the alloy grains become finer, the metal fluidity increases, the casting performance becomes better, and the heat treatment strengthening effect increases. The aluminium 6063 has generally good mechanical properties and is heat treatable and highly weldable. The material can be re-heat-treated to restore a higher temper for the whole piece. However, it has half the strength of aluminum 6061 alloys. It is typically produced with very smooth surfaces fit for anodizing.
CHAL 6063 aluminum sheet has reliable quality, best prices with prompt delivery and excellent & professional service. Common specifications are in stock and special sizes can be customized. For any question & quote, please feel free to contact us!
The Order Process of 6063 Aluminium Sheet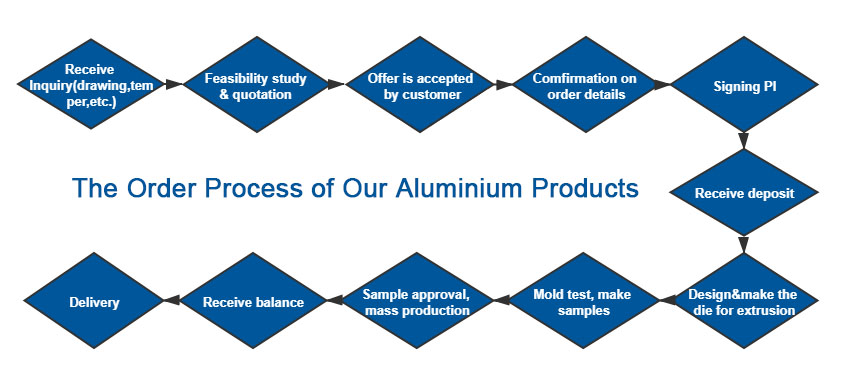 Specifications of 6063 Aluminium Sheet
| | |
| --- | --- |
| Aluminium Grade | 6063 |
| Material Temper | F, O, H112, T4, T6, T651 |
| Thickness (mm) | 0.2-500 |
| Width (mm) | 20-2650 |
| Length (mm) | Customized |
| Delivery Terms | FOB, CFR, CIF |
Chemical Composition of 6063 Aluminium Sheet
| | | | | | | | | | | |
| --- | --- | --- | --- | --- | --- | --- | --- | --- | --- | --- |
| Elements | Si | Fe | Cu | Mn | Mg | Cr | Zn | Ti | Others | Al |
| Content (max) | 0.60 | 0.35 | 0.10 | 0.10 | 0.90 | 0.10 | 0.10 | 0.10 | 0.15 | Remains |
Mechanical Properties and Tempers of 6063 Aluminium Sheet
Temper
Tensile
Hardness
Ultimate
Yield
Elongation
Brinell
KSI
MPA
KSI
MPA
%
T5, T52
27
186
21
145
12
60
T6
35
241
31
214
12
73
The Features of 6063 Aluminium Sheet
1. It has good thermoplasticity and can be extruded at high speed into complex, thin-walled, hollow profiles, or forged into complex forgings.

2. The quenching temperature range is wide and the quenching sensitivity is low. After extrusion and forging demolding, as long as the temperature is higher than the quenching temperature, it can be quenched by spraying water or passing through water. Thin-walled parts (δ <3mm) can also be air-quenched.

3. Strengthened by heat treatment, high impact toughness, not sensitive to notches.

4. Excellent welding performance and corrosion resistance, no stress corrosion cracking tendency. Among heat-treatable aluminium alloys, Al-Mg-Si series alloys such as 6061 aluminium sheet are the only alloys that have not found stress corrosion cracking.

5. Excellent surface, after processing, the surface is very smooth and easy to anodize and colour. Its disadvantage is that if it is left at room temperature for a period of time after quenching, it will adversely affect the strength in terms of aging.
Applications of 6063 Aluminum Sheet
6063 aluminum sheets are widely used for their good plasticity, moderate heat treatment strength, good welding performance, and gorgeous surface colour after anodizing. For building profiles, irrigation pipes, pipes, rods, profiles for vehicles, stands, furniture, elevators, fences, etc.
In order to ensure that doors, windows and curtain walls have high wind pressure resistance, assembly performance, corrosion resistance and decorative performance, the comprehensive performance requirements of aluminum alloy profiles are far higher than industrial profile standards.
Packing Detail of 6063 Aluminum Sheet
Our products are packed and labelled according to the regulations and customer's requests. Great care is taken to avoid any damage which might be caused during storage or transportation. The standard export packaging, plastic film or craft paper covered. wooden case or wooden pallet is adopted to protect products from damage during the delivery. Also, clear labels are tagged on the outside of the packages for easy identification of the product I. D. and quality information.

Trustworthy 6063 Aluminium Sheet Supplier & Wholesaler – CHAL
CHAL Aluminum is a manufacturer & wholesaler for the premium quality of 6063 aluminium sheet. CHAL also can offer aluminium slit coil, aluminum strip, coated aluminum coil, aluminium plate, aluminium sheet metal and more with excellent surface quality and packaging. CHAL enjoys a high reputation with first-class quality, competitive prices, professional service and fast delivery.