5182 Aluminium Sheet With Excellent Corrosion
5182 aluminium sheet belongs to Al-Mg alloy, which is also a 5 series rustproof aluminium, and its main component Mg content is up to 4%~5%. Therefore, 5182 aluminium sheet has strong corrosion resistance. In addition, a small amount of Si is added to improve its weldability, which can adapt to gas welding, argon arc welding, spot welding and other welding methods. Besides, 5182 aluminium sheet/plate also has excellent processability, which makes it widely used in automobile, shipbuilding, construction and industry
As a professional manufacturer of 5182 aluminium sheet, CHAL can provide 5182 aluminium sheets with reliable quality, competitive prices and prompt delivery. Common specifications are in stock. Special sizes can be customized according to clients' requests.
Specifications of 5182 Aluminium Sheet
| | |
| --- | --- |
| Aluminium alloy | 5182 |
| Material temper | F, O, H12, H16, H19, H28, H32, H34, H36, H38, H111, H112, H114, H116, H321 |
| Thickness (mm) | 0.1-500 |
| Width (mm) | 20-2650 |
| Length (mm) | Customized |
| Delivery Terms | FOB, CFR, CIF |

Chemical Composition of 5182 Aluminium Sheet
| | | | | | | | | |
| --- | --- | --- | --- | --- | --- | --- | --- | --- |
| Elements | Si | Fe | Cu | Mn | Mg | Zn | Others | Al |
| Content | ≤0.20 | 0~0.35 | 0.15 | 0.2~0.5 | 4.0~5.0 | ≤0.25 | 0.05 | Remain |
Mechanical Properties and Tempers of 5182 Aluminium Sheet
Aluminium/ Temper
Specified thickness
Tensile
strength (MPa)
Yield
strength (MPa)
Elongation (%)
H111-H38
0.2-50mm
173-269
66-211
4-19
The Features of 5182 Aluminium Sheet
Strong Corrosion Resistance. Similarly, the surface of 5182 aluminium sheet can form a dense oxide film, which plays a good role in rust prevention, acid resistance, alkali resistance.
Strong Weather Resistance. The 5182 aluminum sheet used for the automobile body or building exterior wall is sprayed with special paint or PVDF fluorocarbon paint. The service life up to 25 years and the colour will not fade.
High Plasticity. 5182 aluminum sheet/ plate has good forming and processing performance, which can be well adapted to milling, boring, planning and other mechanical processing at the maximum speed that can be achieved by most machine tools.
Mechanical Properties. 5182 aluminium sheet tensile strength σb(MPa)≥175, conditional yield strength σ0.2(Mpa)≥80, elongation δ5(%)≥15.
Applications of 5182 Aluminium Sheet
The 5182 aluminum sheet can be used for the car door, Hood, Shipside/bottom plate, deck, refrigeration equipment, tank car, oil tanks, various liquid containers and other low-load parts made by deep drawing. etc.
The Order Process of 5182 Aluminium Sheet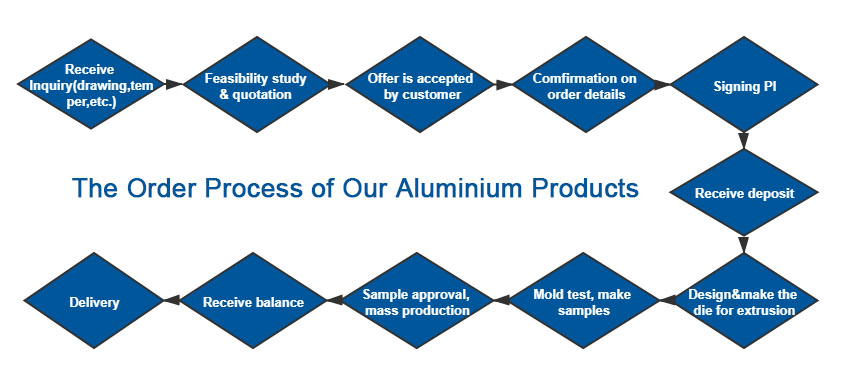 Packing Detail of 5182 Aluminium Sheet
Our products are packed and labeled according to the regulations and customer's requests. Great care is taken to avoid any damage which might be caused during storage or transportation. The standard export packaging, plastic film or craft paper covered. wooden case or wooden pallet is adopted to protect products from damage during the delivery. Also, clear labels are tagged on the outside of the packages for easy identification of the product I. D. and quality information.

Reliable 5182 Aluminium Sheet Manufacturer – CHAL
CHAL aluminium is the TOP5 aluminium sheet manufacturer in China. We also produce aluminium slit coil, aluminium strip, coated aluminium coil, aluminium plate, aluminium sheet metal, anodized aluminium sheet, embossed aluminium sheet, etc, high standard, attractive and reasonable price, excellent package, fast shipping guaranteed.