5052 Marine Grade Aluminium Sheet
The 5052 aluminium sheet is highly resistant to corrosion. It's widely used because of its formability and durability. It has high fatigue and medium static strength. It can be used in marine environments without the worry of corrosion.
5052 aluminium sheet belongs 5 series Al-Mg alloy. It is an alloy that contains 0.25 percent chromium and 2.5 percent magnesium. Mg is the main alloying element in 5052 aluminium, which enhances its corrosion resistance, so it has become the most widely used type of rust-proof aluminium. This metal also has excellent thermal conductivity and low density, which is commonly found with other aluminium alloys. In addition, Its fatigue properties and endurance limit are excellent. The endurance limit is 120 MPa in an H34 temper and 115 MPa in an H32 temper. 5052 aluminium sheet is also the most representative medium-strength alloy. Although it is a medium-strength alloy, its fatigue strength is high and its machinability is better than that of 1, 3 series alloys. At the same time, the 5052 aluminium sheet also has good weldability and formability. It is widely used in 3C products, car doors, door handles, high-end architectural curtain wall panels, etc.
Specifications of 5052 Aluminium Sheet
| | |
| --- | --- |
| Aluminium alloy | 5052 |
| Material temper | F, O, H12, H16, H19, H28, H32, H34, H36, H38, H111, H112, H114, H116, H321 |
| Thickness (mm) | 0.1-500 |
| Width (mm) | 20-2650 |
| Length (mm) | Customized |
| Delivery Terms | FOB, CFR, CIF |
Chemical Composition of 5052 Aluminum Sheet
| | | | | | | | | | | |
| --- | --- | --- | --- | --- | --- | --- | --- | --- | --- | --- |
| Elements | Si | Fe | Cu | Mn | Mg | Cr | Zn | Ti | Others | Al |
| Content | 0.25 | 0.4 | 0.1 | 0.1 | 2.2-2.8 | 0.15-0.35 | 0.1 | – | 0.15 | Remain |

Mechanical Properties and Tempers of 5052 Aluminium Sheet
Aluminium/ Temper
Specified thickness
Tensile
strength (MPa)
Yield
strength (MPa)
Elongation (%)
5052 HO/H111
0.3~0.63mm
173-213
min66
min 15
0.63~1.2mm
min 17
1.2~6.3mm
min 19
6.3~50mm
min 18
5052- H32- 5052 H22
0.4~0.63mm
214-262
min159
min 4
0.63~1.2mm
min 5
1.2~6.3mm
min 7
6.3~50mm
min 11
5052-H34 -5052-H24
0.4~0.63mm
235-282
min180
min 3
0.63~1.2mm
min 4
1.2~6.3mm
min 6
6.3~50mm
min 10
5052-H36- 5052- H26
0.1~0.32mm
256-303
min200
min 2
0.32~0.63mm
min 3
0.63~4mm
min 4
5052-H38- 5052-H28
0.15~0.32mm
min269
min221
min 2
0.32~0.63mm
min 3
0.63~3.2mm
min 4

The Order Process of 5052 Aluminum Sheet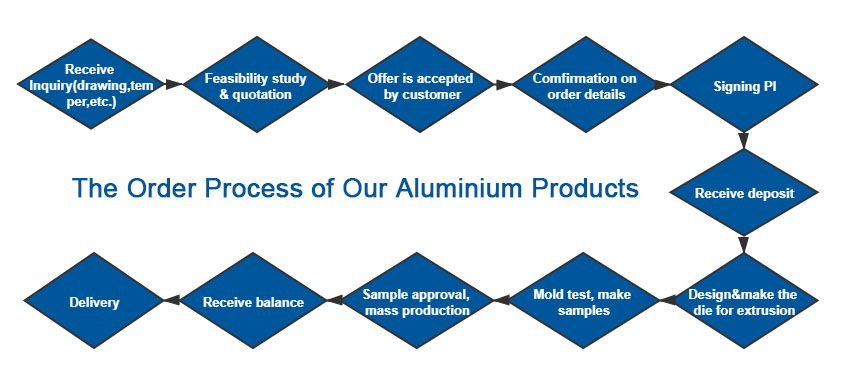 The Features of 5052 Aluminium Sheet
Good Weldability. The addition of Cr in the 5052 aluminium sheet interacts with Mn, which can increase the strength between the base metal and the weld, thereby reducing the tendency of welding cracks and meeting various welding requirements.
Corrosion Resistance. Corrosion resistance is a typical characteristic of the 5052 aluminium sheet. It has good corrosion resistance to the atmosphere, gasoline, food, organic acids, neutral inorganic salt solution, etc., and also has good corrosion resistance in dilute acids.
Good Plasticity. 5052 aluminium sheet is also a non-heat-treated alloy. Its mechanical properties are improved by cold working. And the 5052 aluminium sheet has good plasticity in semi-cold work hardening and low plasticity in cold work hardening.
Other Characteristics. In addition, the 5052 aluminium sheet also has a strong resistance to stress corrosion cracking, and can also be polished, anodized, etc.
High fatigue strength with good resistance to correction even in saltwater.
Applications of 5052 Marine Grade Aluminium Sheet
The main applications of 5052 aluminium sheet include automotive application, high-end curtain wall panels, 3C products, computer brackets, high-end oxide materials, aluminium furniture, door panels/door handles, cans/covers, shutters, decoration, trolley cases, road signs, containers, etc.
5052 Aluminium Alloy Thick Plates: Silo, flange material, GIS shell, yacht, underwear mould/shoe mould, gas cylinder, precision machining, etc.
5052 Aluminium Tread Plate for Construction.
5052-H32 Aluminium Sheet for Automotive: Automobile engine outer board, bus trunk board, bus non-slip decorative board, automobile fuel tank, etc.
5052 aluminium sheet is used for marine, chemical, petrochemical equipment, and other components.
Packing Detail of 5052 Aluminium Sheet
The standard export packaging, plastic film or craft paper covered at customers' requirements. Wooden case or wooden pallet is adopted to protect products from damage during the delivery.

Professional Manufacturer of 5052 Aluminium Sheet – CHAL
As a professional aluminium sheet manufacturer and supplier in China, CHAL is one of the TOP5 aluminium sheet factories. We are one of the biggest Chinese aluminium sheet suppliers of 5052 aluminium sheet and we also produce aluminium slit coil, aluminium strip, coated aluminium coil, aluminium plate, aluminium sheet metal, anodized aluminium sheet, embossed aluminium sheet, etc. For more detailed information, please feel free to contact us directly.