3105 Aluminium Sheet
Aluminium alloy 3105 is essentially a 98% aluminium alloy with minor additions to increase strength over that of alloy 1100 and 3003. It is not hardenable by heat treatment and it has good corrosion resistance, formability and weldability.
Typical applications include general sheet metal work requiring greater strength than is provided by 1000 series aluminium alloys, residential siding, mobile homes and sign making.
3105 aluminium sheet with 98% pure aluminium and slight alloy additions for strength. 0.3% of copper is added to 3105 aluminium sheet, so the conductivity turns out to be 41%. For its contents and processing technologies, 3105 aluminium sheet is light in weight and it has a semi-smooth surface. Besides, it is not hardened by heat treatment.
Mg, Mn and Si are added to 3105 aluminium sheet, thus, it has excellent correction resistance, formability and welding characteristics. Besides, it has average machinability and it can be increased in harder tempers than in annealed condition. Oil lubricants should be used for all machining operations. The forming characteristics of 3105 aluminium sheet are pretty good by all conventional processes regardless of temper. But 3105 aluminium sheet does not respond to heat treatment except for annealing during cold working. The cold working characteristics are very good, even in the harder cold working tempers. For all the features above, 3105 aluminium sheet has a vast of applications in many fields.
Specifications of 3015 Aluminium Sheet
| | |
| --- | --- |
| Aluminium alloy | 3015 |
| Material temper | F, O, H12, H14, H16, H18, H19, H22, H24, H26, H28, H112, H114 |
| Thickness (mm) | 0.2-400 |
| Width (mm) | 20-2650 |
| Length (mm) | Customized |
| Typical Products | Residential clapboard, Mobile house, Wine bottle cap, Beverage bottle cap, Cosmetic cap, Coating roll, etc. |
Chemical Composition of 3105 Aluminium Sheet
| | | | | | | | | | | |
| --- | --- | --- | --- | --- | --- | --- | --- | --- | --- | --- |
| Elements | Si | Fe | Cu | Mn | Mg | Cr | Zn | Ti | Others | Al |
| Content (max) | 0.6 | 0.70 | 0.30 | 0.3.-0.80 | 0.20-0.80 | 0.20 | 0.40 | 0.10 | 0.15 | remain |
Physical Properties of 3105 Aluminum Alloy
| | |
| --- | --- |
| Property | 3105 Data |
| Density, lb/in3 | 0.0983 |
| Modulus of Elasticity, psi | 10.0 x 106 |
| Coefficient of Thermal Expansion, 68-212˚F, /˚F | 12.1 x 10-6 |
| Thermal Conductivity, Btu/ft hr ˚F | 99 |
| Specific Heat, Btu/lb ˚F | 0.214 |
| Electrical Resistivity, Microohm-in | 1.504 |

The Features of 3105 Aluminium Sheet
1. Deep Draw ability. The deep drawing performance of 3105 aluminum sheet in O temper better than that of H26 temper and the deep drawing performance of 3105 aluminum alloy sheet before low-temperature treatment is better than that of 24h.
2. 3105 aluminum sheet has high plasticity in the annealed state, and its plasticity is good when it is semi-cold-work hardened, and it is low when it is cold-work hardened.
3. It is worth mentioning that the excellent weldability of 3105 aluminium sheet is applicable to all existing welding technologies, of which arc welding is the best method.
4. Other Characteristics. Good corrosion resistance, good anodic oxidation, poor machinability, etc.
The Order Process of 3015 Aluminium Sheet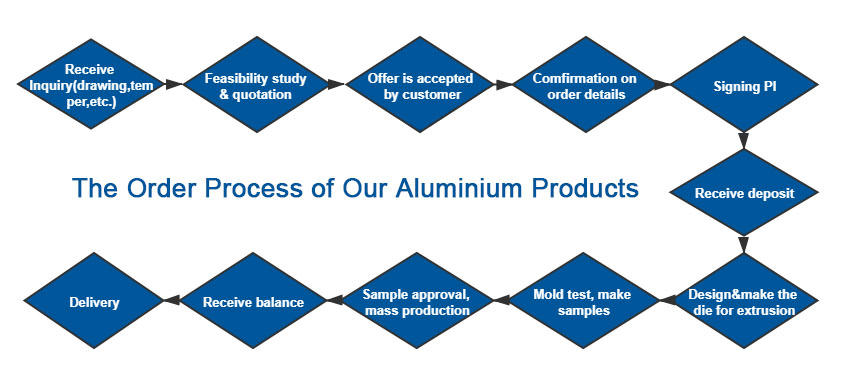 Applications of 3105 Aluminium Sheet
1. Cap Material. Due to the excellent deep-draw ability of 3105 aluminium sheet, it satisfies the design requirements of different bottle mouths of wine products.
2. Mobile Homes, Residential Wall Panels. 3105 aluminium sheet is used as a wall, even in a very humid environment, such as an island, it can easily form a dense alumina protective film on the surface, which has strong corrosion resistance. If the film surface is scratched and damaged, new films can also be produced quickly.
3. Other Usages. Colour coated aluminium substrate, rain gear, lamp holder, shutters, etc. Anodized 3105 aluminium sheet, the surface can be coated with rich colours, so that the lighting fixtures, rain gear and other products have a rich design sense, and do not change colour for a long time.
Packing Detail of 3105 Aluminium Sheet
The standard export packaging, plastic film or craft paper covered at customers' requirements. Wooden case or wooden pallet is adopted to protect products from damage during the delivery.

3105 Aluminium Sheet Manufacturer and Supplier in China
As a professional aluminium sheet manufacturer and supplier in China, CHAL is one of the TOP5 aluminium sheet factories. We are one of the biggest Chinese aluminium sheet suppliers of 3105 aluminium sheet. We also produce aluminium slit coil, aluminium strip, coated aluminium coil, aluminium plate, aluminium sheet metal, anodized aluminium sheet, embossed aluminium sheet, etc.
CHAL Aluminium provides you with first-rate quality, attractive and reasonable prices. Excellent surface quality and package, fast delivery. If you are looking for a 3105 aluminium sheet supplier in China, CHAL is your best choice. We promise you the best price and excellent service. For more detailed information, please feel free to contact us directly.