5005 Aluminium Sheet
5005 aluminium sheet belongs to 5-series Al-Mg alloy, but the content of the main alloy Mg is less than that of other 5-series alloy sheets, so it has a slightly higher corrosion resistance than the 3-series alloy. Among them, the performance of 5005 aluminium alloy is similar to that of 3 series 3003 aluminium alloy, with moderate strength, good fusion, processing and formability, but its anodic oxidation effect is better than that of 3003 aluminium alloy, the oxide film is brighter, and can achieve the same color as that of 6063 alloy! Therefore, 5005 aluminium sheet is commonly used for high-end wide-format curtain wall panels, architectural ornaments, vehicle interior materials, instrument panel, oxidizing materials, cooking utensils, conductors and other aspects.
As a professional manufacturer and supplier of aluminum sheet, CHAL can provide you 5005-grade aluminium sheets, which are used in diverse industrial applications. We have reliable quality, reasonable prices and prompt delivery. Common specifications are in stock. Special sizes can be customized according to clients' requests.
Specifications of 5005 Aluminium Sheet
| | |
| --- | --- |
| Aluminium alloy | 5005 |
| Material temper | F, O, H12, H16, H19, H28, H32, H34, H36, H38, H111, H112, H114, H116, H321 |
| Thickness (mm) | 0.1-500 |
| Width (mm) | 20-2650 |
| Length (mm) | Customized |
| Delivery Terms | FOB, CFR, CIF |
Chemical Composition of 5005 Aluminium Sheet
| | | | | | | | | | |
| --- | --- | --- | --- | --- | --- | --- | --- | --- | --- |
| Elements | Mg | Mn | Zn | Cu | Si | Cr | Fe | Others | Al |
| Content | 0.5~1.1 | 0.2 | 0.2 | 0.2 | 0.3 | 0.1 | 0.7 | 0.05 | Remain |

The Features of 5005 Aluminum Sheet
1. Medium Intensity. Similarly, 5005 aluminum sheet is a non-heat-treated alloy that is cold-machined to improve its strength.
2. Good Formability. Under the condition of hardening or annealing in semi-cold working, the plasticity of 5005 aluminum alloy is good, but in cold working, the strength increases, and the plasticity is low.
3. Excellent Weather Resistance. The strength of the 5005 aluminum sheet, whose surface is treated by anodic oxidation, will not decrease with the decline of temperature. No low-temperature brittleness occurs.
4. Physical Properties. 5005 aluminum tensile strength σb(MPa) is 100~205, elongation δ110 (%) is 1~8.
Applications of 5005 Aluminium Sheet
5005 aluminium sheet can be used as a high-end wide-format curtain wall material, which has the advantage of an excellent anodic oxidation effect compared with the commonly used 3003 aluminium sheet for curtain wall. In addition, 5005 aluminium alloy is light, only one-fifth of the marble, one-third of the glass curtain wall, and can be perfectly combined with the glass and stone curtain wall material, presenting a fashion, trend, unique modern architectural style. It is worth mentioning that, the cost-effective price, as well as the low maintenance cost in the later period, make the architects more favor the 5005 aluminium sheet!
The Order Process of 5005 Aluminium Sheet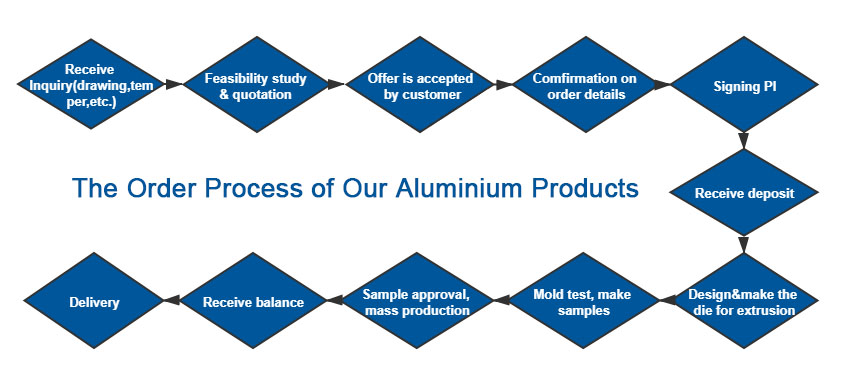 Packing Detail of 5005 Aluminium Sheet
Our products are packed and labeled according to the regulations and customer's requests. Great care is taken to avoid any damage which might be caused during storage or transportation. The standard export packaging, plastic film, or craft paper covered. Wooden case or wooden pallet is adopted to protect products from damage during the delivery. In addition, clear labels are tagged on the outside of the packages for easy identification of the product I. D. and quality information.

5005 Aluminium Sheet Manufacturer and Supplier in China
As a professional aluminium sheet manufacturer and supplier in China, CHAL is one of the TOP5 aluminium sheet factories. We are one of the biggest Chinese aluminium sheet suppliers of 5005 aluminium sheet. We also produce aluminium slit coil, aluminium strip, coated aluminium coil, aluminium plate, aluminium sheet metal, anodized aluminium sheet, embossed aluminium sheet, etc.
CHAL Aluminium provides you with first-rate quality, attractive and reasonable prices. Excellent surface quality and package, fast delivery. If you are looking for a 5005 aluminium sheet supplier in China, CHAL is your best choice. We promise you the best price and excellent service. For more detailed information, please feel free to contact us directly.