3104 Aluminium Sheet
3104 aluminium sheet for cans is a very popular use, belongs to the deformation of aluminium alloy, with a high tensile strength ≥275 Mpa, and up to 20% elongation, thus showing excellent deep impact and processing ductility. Besides, 3104 aluminium sheet is also a typical 3-series Al-Mg alloy. Due to the content of the main alloy Mg, 3104 aluminium alloy has very good corrosion resistance, excellent anodizing effect, no low-temperature brittleness, strong weather resistance, etc. It is also widely used in the manufacturing fields of colour coated aluminium substrate, oxidizing material, aluminium shutter, lamp holder, cell phone battery shell, automobile fuel tank and so on.
With decades of aluminum sheet production experience, CHAL is able to produce and supply high-quality 3014 aluminum sheet of different sizes and tempers.
Specifications of 3104 Aluminium Sheet
| | |
| --- | --- |
| Aluminium alloy | 3104 |
| Material temper | F, O, H12, H14, H16, H18, H19, H22, H24, H26, H28, H112, H114 |
| Thickness (mm) | 0.1-400 |
| Width (mm) | 100-2650 |
| Length (mm) | Customized |
| Typical Products | Cans, Beverage/ Beer cans, Color coated Aluminium substrate, Lamp cap material, Shutter material, Widescreen wall plate, Liquid crystal backing material, etc. |

Chemical Composition of 3104 Aluminium Sheet
| | | | | | | | | |
| --- | --- | --- | --- | --- | --- | --- | --- | --- |
| Elements | Si | Fe | Cu | Mn | Mg | Cr | Others | Al |
| Content | ≤0.50 | ≤0.70 | ≤0.10 | 0.9~1.5 | ≤0.30 | ≤0.10 | 0.05 | Remain |
The Features of 3104 Aluminum Sheet
1. Excellent Processing Ductility. 3104 aluminium sheet can be used for milling, boring, planning and other processing at the highest speed of most machine tools. It can also greatly reduce the thickness and stretch, good formability, and excellent deep punching effect.
2. Best Corrosion Resistance. 3104 aluminum alloy can well resist the corrosion of gasoline, neutral inorganic salt solution, organic acid, food, dilute acid or industrial environment.
3. Outstanding Anodic Oxidation. 3104 aluminum sheet is a typical colour coated substrate, the surface of which has been anodized or coated to present excellent results.

Applications of 3104 Aluminium Sheet
3104 Aluminium Sheet for Can Body
3104-h19 aluminium sheet has appropriate strength, excellent deep impact, formability, and ductility. In this way, 3104 aluminum sheet can be thinned and stretched better, which greatly reduces the consumption of canning materials and the purchase cost in batches. Besides, the cans made of the 3104-h19 aluminium sheet has the advantages of light texture, rich colour, sealing, shading, tasteless, non-toxic, high and low-temperature resistance, etc.
Other Usages
In addition, 3104 aluminium sheet is also frequently used colour coated aluminum substrate, oxidizing materials, and widely used in aluminium shutter, lamp cap materials, cell phone battery shell, car fuel tank and other manufacturing.
The Order Process of 3104 Aluminium Sheet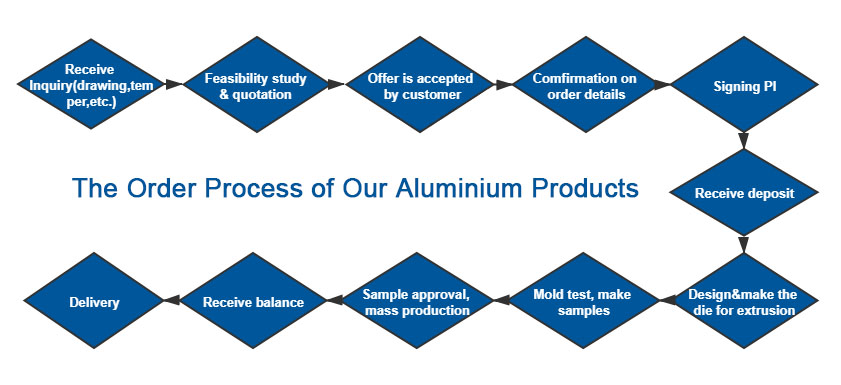 Packing Detail of 3104 Aluminium Sheet
The standard export packaging, plastic film or craft paper covered at customers' requirements. Wooden case or wooden pallet is adopted to protect products from damage during the delivery.

3104 Aluminium Sheet Manufacturer and Supplier in China
As a professional aluminium sheet manufacturer and supplier in China, CHAL is one of the TOP5 aluminium sheet factories. We are one of the biggest Chinese aluminium sheet suppliers of 3104 aluminium sheet. We also produce aluminium slit coil, aluminium strip, coated aluminium coil, aluminium plate, aluminium sheet metal, anodized aluminium sheet, embossed aluminium sheet, etc.
CHAL Aluminium provides you with first-rate quality, attractive and reasonable prices. Excellent surface quality and package, fast delivery. If you are looking for a 3104 aluminium sheet supplier in China, CHAL is your best choice. We promise you the best price and excellent service. For more detailed information, please feel free to contact us directly.