2014 Aluminium Sheet
2014 aluminium sheet due to the high content of the main alloy component Cu, so in the 2 series Al-Cu-Mg alloy, its strength is higher and the heat strengthening effect is obvious. Similarly, 2014 aluminium alloy is hard, but it is also a wrought aluminium alloy. Overall, 2014 aluminium properties showed good machinability, spot welding and roll welding effects, and extrusion effects. However, in the hot state, the plasticity of the 2014 aluminium sheet is slightly weaker, and the corrosion resistance is also weaker. The surface needs to be coated with aluminium to increase its corrosion resistance. At present, 2014 aluminium alloy is widely used in applications requiring high strength and hardness (including high temperature), such as heavy aircraft, forgings, thick plates and extruded materials, wheels and structural elements, truck frame and suspension system parts.
CHAL has decades of aluminium sheet production experience and can produce and supply high-quality 2014 aluminum sheet of different sizes and tempers.
The Order Process of 2014 Aluminium Sheet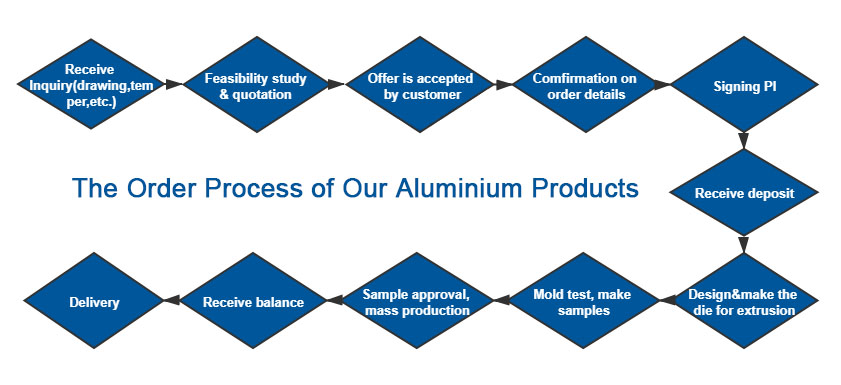 Specifications of 2014 Aluminium Sheet
| | |
| --- | --- |
| Thickness (mm) | 1.0-300 |
| Width (mm) | 300-2650 |
| Length (mm) | Customized |
| Temper | F, O, T3, T4, T351, H112 |
| Typical Products | Mold, High strength structural parts, Thick plate, Heavy forging, Extrusion materials, Truck hub, etc. |
Chemical Composition of 2014 Aluminium Sheet
| | | | | | | | | | |
| --- | --- | --- | --- | --- | --- | --- | --- | --- | --- |
| Elements | Cu | Mg | Zn | Mn | Ti | Ni | Fe | Others | Al |
| Content | 3.9~4.8 | 0.4~0.8 | ≤0.3 | 0.4~1 | ≤0.15 | ≤0.1 | 0~0.7 | 0.05 | Remain |
The Features of 2014 Aluminium Sheet
The contact welding, spot welding and roll welding of 2014 aluminum sheet are good, but arc welding and gas welding are not ideal.
Similarly, the 2014 aluminium alloy can perform turning, milling, boring, planning and other mechanical processing at the maximum speed that most machine tools can reach.
It is worth mentioning, 2014 aluminium sheet is one of the few plates in the 2 series alloy that has an extrusion effect. It is well extruded into various extruded materials and widely used.
Mechanical properties: 2014 aluminum alloy has tensile strength≥440MPa, elongation≥10 (%), which is under the AISI standard.

Applications of 2014 Aluminium Sheet:
General Usage
There are many general applications of 2014 aluminum sheet, including moulds, rivets, high-strength structural parts, thick plates, heavy forgings, extruded materials, truck wheels, truck frame and suspension system parts, multi-stage rocket first-stage fuel tank, aerospace parts, other occasions requiring high strength and hardness (including high temperature). Besides, it was also used in the fields of oxygen production equipment and shipbuilding, etc.
2014 Aluminium Sheet for Aircraft Manufacturing
2014 aluminium sheet, as 2 series aluminium for aerospace, is widely used in aircraft structure manufacturing, such as aircraft skins, skeletons, ribs, bulkheads, propeller elements and other aerospace equipment structural parts.
Packing Detail of 2014 Aluminium Sheet
The standard export packaging, plastic film or craft paper covered at customers' requirements. Wooden case or wooden pallet is adopted to protect products from damage during the delivery.

2014 Aluminium Sheet Manufacturer and Supplier in China
As a professional aluminum sheet manufacturer and supplier in China, CHAL is one of the TOP5 aluminium sheet factories. We are one of the biggest Chinese aluminium sheet suppliers of 2014 aluminium sheet. We also produce aluminium slit coil, aluminium strip, coated aluminium coil, aluminium plate, aluminium sheet metal, anodized aluminium sheet, embossed aluminium sheet, etc.
CHAL Aluminum provides you with first-rate quality, attractive and reasonable prices. Excellent surface quality and package, fast delivery. If you are looking for 2014 aluminum sheet supplier in China, CHAL is your best choice. We promise you the best price and excellent service. For more detailed information, please feel free to contact us directly.