5A05 Aluminium Sheet with Excellent Corrosion Resistance
The 5A05 aluminium sheet is an Al-Mg series rust-proof aluminium alloy (the magnesium content of 5B05 is slightly higher than 5A05). The alloy has a higher magnesium content and a lower strength, which is similar to that of 5A03 alloy. Anneal temper has high plasticity and moderate plasticity in semi-cold work hardening. 5A05 aluminium sheet with hydrogen atom welding, spot welding, gas welding, argon arc welding has good welding performance, high corrosion resistance, low machinability during annealing, good machinability during semi-hardening, and anodizing when manufacturing rivets.
With decades of aluminium sheet production experience, CHAL is able to produce and supply high-quality 5A05 aluminium sheet of different sizes and tempers.
The Order Process of 5A05 Aluminium Sheet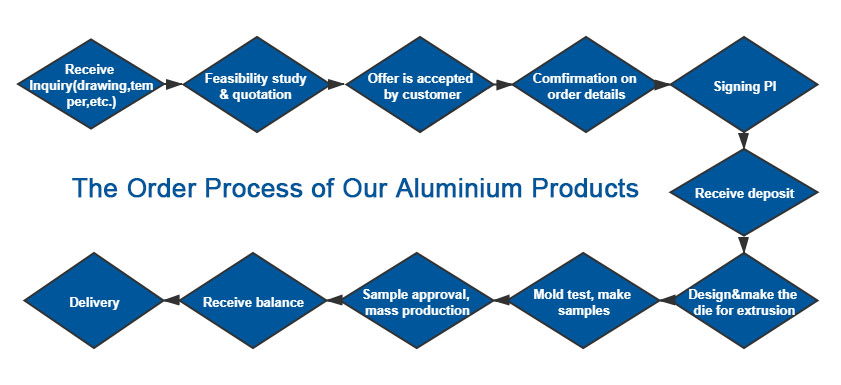 Specification of 5A05 Aluminium Sheet
| | |
| --- | --- |
| Aluminium Grade | 5A05 |
| Material temper | F, O, H12, H16, H19, H28, H32, H34, H36, H38, H111, H112, H114, H116, H321 |
| Thickness (mm) | 0.1-500 |
| Width (mm) | 20-2650 |
| Length (mm) | Customized |
| Delivery Terms | FOB, CFR, CIF |

Chemical Composition of 5A05 Aluminium Sheet
| | | | | | | | | |
| --- | --- | --- | --- | --- | --- | --- | --- | --- |
| Elements | Si | Fe | Cu | Mn | Mg | Zn | Others | Al |
| Content | 0.5 | 0.5 | 0.10 | 0.30-0.6 | 4.8-5.5 | 0.20 | x | Remains |
The Features of 5A05 Aluminium Sheet
Since the 5A05 aluminium sheet also belongs to 5 series alloy, its main characteristics are low density, high tensile strength and high elongation. The weight of aluminum-magnesium alloy is lower than other series under the same area.
High strength, especially anti-fatigue strength.
High corrosion resistance, can not be strengthened by heat treatment.
Plasticity is good during semi-cold work hardening, low plasticity when cold work hardening, good weldability, and can be polished.
It belongs to the hot-rolled aluminum sheet series, so it can be used for deep oxidation processing.
The machinability of 5A05 aluminum is relatively poor. If you want to process it without deformation, you can choose the 5052 aluminium sheet, 5083 aluminum sheet, 5A06 aluminum sheet, 5056 aluminum sheet, etc.

Applications of 5A05 Aluminium Sheet
It's mainly used for low load parts that require high plasticity and good weldabilities, such as fuel tanks (because they weigh less than other series aluminium alloys in the same area, it can also be used for aircraft fuel tanks), gasoline or lubricating oil pipes, various liquid containers and other small load parts made by deep drawing. The wire is used for welding rods and rivets (requires anodizing). In other countries, similar alloys of 5A05 aluminum sheet (such as 5456) are used to make armour plates and high-strength structural parts, storage tanks, pressure vessels, and marine components.
Packing Detail of 5A05 Aluminium Sheet
The standard export packaging, plastic film or craft paper covered at customers' requirements. Wooden case or wooden pallet is adopted to protect products from damage during the delivery.

5A05 Aluminium Sheet Manufacturer and Supplier in China
As a professional aluminium sheet manufacturer and supplier in China, CHAL is one of the TOP5 aluminium sheet factories. We are one of the biggest Chinese aluminium sheet suppliers of 5A05 aluminium sheet. We also produce aluminum slit coil, aluminium strip, coated aluminium coil, aluminium plate, aluminium sheet metal, anodized aluminium sheet, embossed aluminium sheet, etc.
CHAL Aluminium provides you with first-rate quality, attractive and reasonable prices. Excellent surface quality and package, fast delivery. If you are looking for a 5A05 aluminum sheet supplier in China, CHAL is your best choice. We promise you the best price and excellent service. For more detailed information, please feel free to contact us directly.