5A03 Aluminium Sheet For Construction Application
5A03 aluminium sheet is the most commonly used material in the construction field, and also belongs to 5 series Al-Mg anti-rust alloy. In terms of composition, the Mg content of 5A03 aluminium is slightly higher than that of 5754 aluminium alloy, so 5A03 aluminium sheet corrosion resistance and tensile strength are higher than those of 5754 alloys. And due to the addition of a small amount of Si, 5A03 aluminium alloy has better weldability than 5754 and 5A02 alloy. Besides, 5A03 aluminium plate is easy to process, easy to colour, strength is not affected by temperature and humidity, strong weather resistance, no low-temperature brittleness, and other characteristics, is widely used for the sound barrier of the expressway, elevated composite road, railway, urban light rail subway, and other traffic facilities.
With decades of aluminium sheet production experience, CHAL can produce and supply high-quality 5A03 aluminium sheet of different sizes and tempers.
The Order Process of 5A03 Aluminium Sheet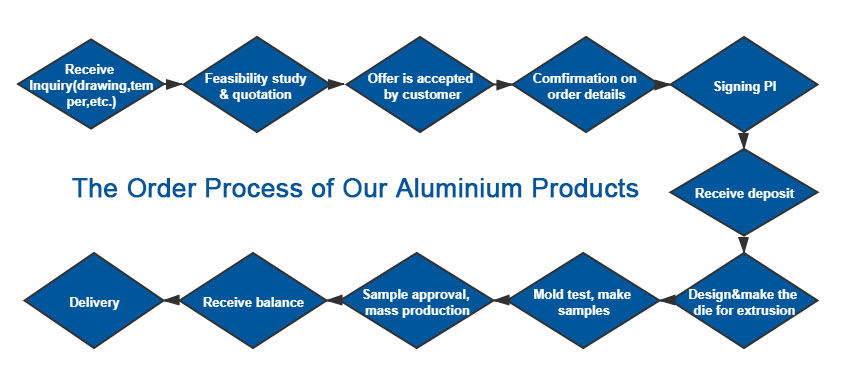 Specifications of 5A03 Aluminium Sheet
| | |
| --- | --- |
| Aluminium alloy | 5A03 |
| Material temper | F, O, H12, H16, H19, H28, H32, H34, H36, H38, H111, H112, H114, H116, H321 |
| Thickness (mm) | 0.2-500 |
| Width (mm) | 20-2650 |
| Length (mm) | Customized |
| Delivery Terms | FOB, CFR, CIF |
Chemical Composition of 5A03 Aluminium Sheet
| | | | | | | | | | |
| --- | --- | --- | --- | --- | --- | --- | --- | --- | --- |
| Elements | Mg | Si | Fe | Cu | Mn | Zn | Ti | Others | Al |
| Content | 3.2-3.8 | 0.50-0.8 | 0.5 | 0.1 | 0.3-0.6 | 0.2 | 0.15 | 0.05 | Remain |
The Features of 5A03 Aluminum Sheet
Significant Weldability. Due to the Si content, the 5A03 aluminium sheet has better weldability than 5754, 5A02 alloy, and is suitable for gas welding, argon arc welding, spot welding and roll welding, etc. At the same time, a small amount of Si also increases the strength between welds and reduces the crack tendency.
Strong Weather Resistance. Even below 0℃, 5A03 aluminum sheet strength won't decrease with the decline of temperature but will increase, with excellent fatigue strength. There's no low-temperature brittleness.
Mechanical Properties. 5A03 aluminium sheet tensile strength σb (MPa)≥172, elongation δ5 (%)≥12, conditional yield strength σ0.2 (MPa)≥81.

Applications of 5A03 Aluminum Sheet
5A03 Aluminium Sheet for Sound Barriers
5A03 aluminum sheet, 5754 aluminium sheet are the two main materials of the sound barrier of railway/high-speed/subway and another traffic road. As for the 5A03 aluminium sheet, it has slightly higher corrosion resistance, which can be used in traffic environments with higher requirements on corrosion resistance. In addition, the 5A03 aluminum alloy, with good reflectivity, sound insulation, weather resistance, no low-temperature brittleness, and anodic oxidation, maximizes the use of sound barrier sound insulation and noise reduction, and increases the service life!
Packing Detail of 5A03 Aluminium Sheet
The standard export packaging, plastic film or craft paper covered at customers' requirements. Wooden case or wooden pallet is adopted to protect products from damage during the delivery.

5A03 Aluminium Sheet Manufacturer and Supplier in China
As a professional aluminum sheet manufacturer and supplier in China, CHAL is one of the TOP5 aluminium sheet factories. We are one of the biggest Chinese aluminium sheet suppliers of 5A03 aluminium sheet. We also produce aluminium slit coil, aluminium strip, coated aluminium coil, aluminium plate, aluminium sheet metal, anodized aluminium sheet, embossed aluminum sheet, etc.
CHAL Aluminum provides you with first-rate quality, attractive and reasonable prices. Excellent surface quality and package, fast delivery. If you are looking for a 5A03 aluminum sheet supplier in China, CHAL is your best choice. We promise you the best price and excellent service. For more detailed information, please feel free to contact us directly.