The aluminum coil is a metal product that is subjected to flying shear after being rolled by a casting and rolling machine and processed by drawing and bending angles. Aluminum coils can be widely used in electronics, packaging, construction, machinery, transportation, heat transfer, insulation materials, etc. The following will introduce 9 different aluminum coils and their uses.
Color-Coated Aluminum Coil For Different Applications
After the aluminum coil is cleaned, chromized, roller coated, baked, etc., the surface of the aluminum coil is coated with various colors of paint, that is, a color-coated aluminum coil.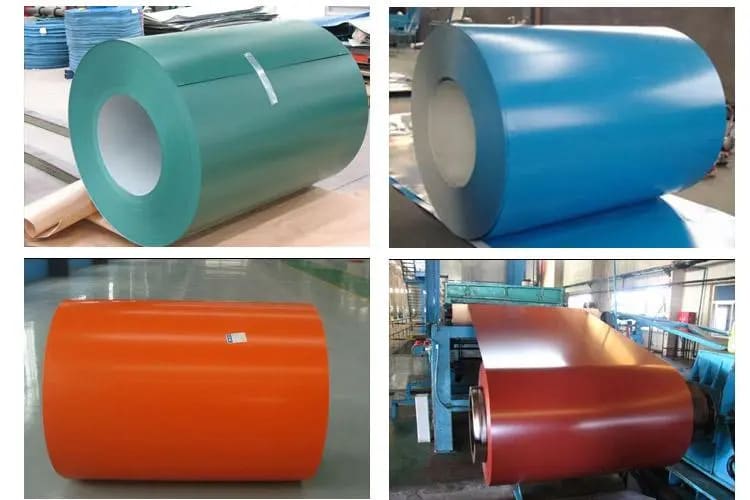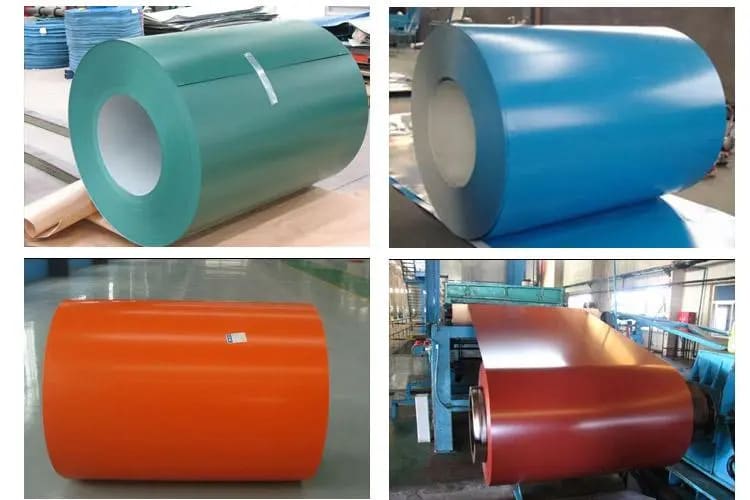 Colored aluminum is widely used in aluminum-plastic panels, honeycomb panels, insulation panels, aluminum curtain walls, shutters, roller shutters, aluminum-magnesium-manganese roofing systems, aluminum Ceilings, household appliances, down pipes, aluminum cans, and many other fields.
Coated aluminum coils can be simply divided into polyester (PE) coated aluminum coils and fluorocarbon (PVDF) coated aluminum coils due to different types of surface paint. Of course, there are also situations where one side is coated with fluorocarbon and the other side is coated with polyester; there are even cases where both sides are coated with fluorocarbon.
Aluminum coils are embossed, also known as embossed aluminum coils, with various patterns such as orange peel and diamond.
Because of different uses, it is also commonly called roofing material (aluminum-magnesium-manganese roofing system), ceiling material (for aluminum alloy ceiling), home appliance board (used for interior and exterior decoration of household appliances), food material (food-grade chromium and roller coating), brushed board (the surface has been brushed), etc.
Aluminum Magnesium Manganese Alloy Aluminum Coil
Aluminum-magnesium-manganese alloy aluminum coil, processed by fluorocarbon roller coating, is widely used in many landmark buildings such as aircraft terminals and railway stations all over the country. Because of its excellent quality, it is widely praised in the industry.
Typical alloy states are: 3004H24, 3004H26, 3003H24;
Typical thickness range: 0.6mm, 0.7mm, 0.8mm, 0.9mm, 1.0mm, 1.2mm;
Width: 500mm, 600mm width can be cut according to customer requirements;
Color: common sea blue, silver gray, large wall gray, and other colors.
Aluminum Coil For Aluminum Ceiling
Aluminum alloy ceilings (aluminum ceilings) are widely used in airports, station waiting halls, subway stations, commercial buildings, shopping malls, hotels, and other entertainment venues and home decoration. It is a more modern and ideal interior decoration material.
The surface of the aluminum alloy ceiling is treated with polyester roller coating, with rich colors, light texture, environmental protection, no pollution; fireproof, moisture-proof performance, no discoloration, easy to clean, and other characteristics. The product can be molded at one time and has many board shapes, smooth lines, easy assembly and disassembly, easy maintenance, and a good appearance.
Commonly used alloy states are: 1060H18, 1060H24, 3003H24, 3003H26, 3004H24, 3004H26
Common thickness: 0.6mm, 0.7mm, 0.8mm, 0.9mm, 1.0mm
Common width: any width between 200mm-1300mm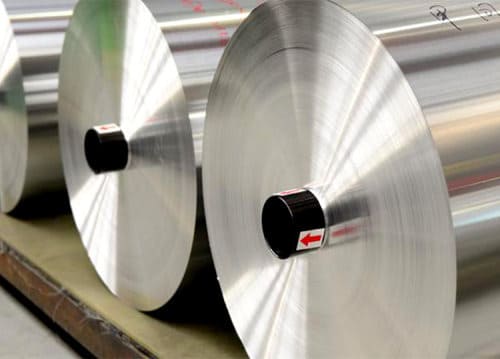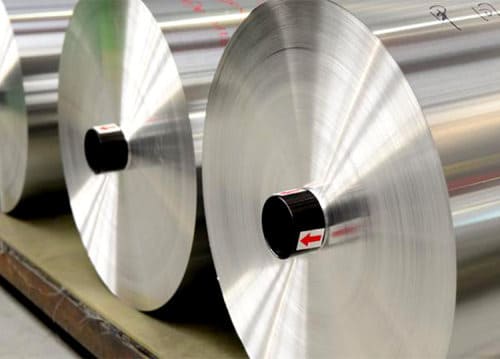 Aluminum Coil For Composite Sheet
Aluminum-plastic composite panel, referred to as aluminum-plastic panel, is a new type of material made of a surface-treated aluminum plate with a coating and baking paint as the surface, a polyethylene plastic plate as the core layer, and processed through a series of processes.
The aluminum corrugated composite panel is a kind of all-aluminum composite panel formed by vacuum compounding aluminum alloy panel, base plate, and aluminum corrugated core.
The inner and outer layers of aluminum alloy honeycomb panels are aluminum alloy sheets, and the middle interlayer is a regular hexagonal aluminum foil honeycomb core. The honeycomb core is bonded and compounded with structural adhesive and an aluminum alloy surface plate.
The surface layer of the metal exterior wall insulation board is a color-coated aluminum plate. The aluminum plate can choose the finish and color according to the design requirements. It mainly plays a decorative role. It also has good weather resistance, corrosion resistance, and self-cleaning properties; Foam, with excellent thermal insulation properties.
Aluminum Coil For Rolling Shutter Door
Aluminum shutter doors are very versatile, sturdy and durable, beautiful in appearance, high in strength, high in toughness, corrosion-resistant, impact-resistant, scratch-resistant, and more effective in safety protection.
Commonly used aluminum alloy grades: A3105H26, A3003H18; A3005H26, etc.
Conventional thickness: 0.22mm, 0.23mm, 0.25mm, 0.26mm, 0.27mm, 0.4mm, 0.45mm, etc.;
Conventional width: 127mm, 133mm, 138mm, 187mm, etc.
Aluminum Coils For Shutters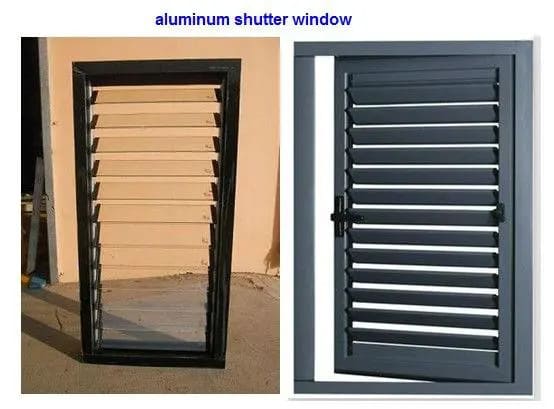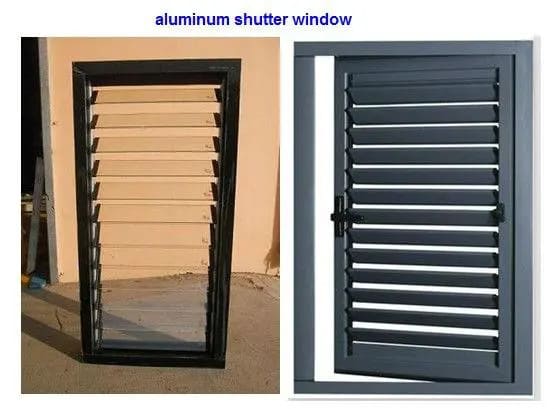 Aluminum alloy blinds series, the aluminum alloy curtains have a variety of styles and colors, and the width of the blades are 16mm, 25mm, and 50mm; there are also monochrome, mesh, thickened, and color sheets to choose from. The blinds have the advantages of a simple structure, good rainproof and windproof performance, lightweight, and convenient installation. The high-quality aluminum alloy blades and color-matching accessories are easy to match with various styles of interior decoration designs so that the blinds can be properly integrated into the indoor space. Among them, whether it is a residence, office building, public place, etc., it can be combined with the architectural style naturally and harmoniously.
Aluminum Coil For Aluminum Curtain Wall
Aluminum curtain wall panels are a new type of material for curtain walls. The main features are lightweight, fireproof, waterproof, mothproof, mildewproof, and crackproof. The construction is convenient and simple, and it is suitable for various indoor and outdoor decorative materials.
Aluminum Coil For Home Appliance Board
The high-end home appliance aluminum plate has the advantages of both organic polymers and sheet substrates. It not only has good colorability, formability, corrosion resistance, and decoration of organic polymers but also has high strength and easy processing of thin plates. It is easy to carry out deep processing such as blanking, bending, deep drawing, etc., so the products made of this material have excellent practicability and durability. At present, the new material is mainly produced by roller coating and film sticking process.
Aluminum Coil For Gutter Downspout
For the manufacture of aluminum alloy gutters and aluminum alloy downspouts, 3105H24 and 3003H24 aluminum alloys are used, both sides of the aluminum coil are coated with polyester paint, the thickness of the front film is 25-28 um, and the film thickness of the back is 15-18 um. The color is durable.
Due to their good mechanical properties, aluminum coils are easy to bend, weld, and rail-pressed during processing, making them ideal raw materials for manufacturers of aluminum alloy gutters and downspouts at home and abroad.
Related Products
Related Articles