3003 Aluminum Coil
3003 aluminum coil is the most widely used aluminum alloy. It is made up of aluminum, copper, iron, manganese, silicon, and zinc. It is commonly used because it has great resistance to corrosion and is moderately strong. The 3003 aluminum coil is 20% stronger than 1100-grade alloys because it is fused with manganese. The strength of this alloy can be increased by cold working.
Product Description of The 3003 Aluminum Coil  
It is commonly rolled and extruded, but typically not forged. As a wrought alloy, it is not used in casting. The most common applications for the 3003 aluminum coil are fuel tanks, sheet metal work, and other types of projects that need metal. It is also widely used in sheet metal applications such as HVAC, hinges, condensers, radiators, evaporators, heat shields, gutters, downspouts, and roofing and siding.
CHAL supplies large stocks of 3003 aluminium coil, competitive prices, and superior quality promised.
Chemical Composition of The 3003 Aluminum Coil  
| | | | | | | | |
| --- | --- | --- | --- | --- | --- | --- | --- |
| Elements | Si | Fe | Cu | Mn | Zn | Other | Al |
| Contents | 0.6 | 0.7 | 0.05-0.2 | 1-1.5 | 0.1 | 0.15 | rests |
Specifications of The 3003 Aluminum Coil  
Width (mm)
40-1600
Roll ID/OD (mm)
Customized
Clad material
We supply both aluminum bare material and aluminum clad material, the core material is 3003, and the clad material is 4043 alloy, 10% 4343+3003+10%4343
Typical applications
electronic products
aviation meal boxes
aluminum honeycomb core
Advantages of The The 3003 Aluminum Coil
The machinability of the 3003 aluminum is considered good for being an aluminum alloy. It is readily machined for different applications. It can either be formed using conventional hot working or cold working. It's also possible to use conventional welding methods to shape 3003 aluminum. It is sometimes welded to other aluminum alloys, like 6061, 5052, and 6062, which should have an AL 4043 filler rod.
Aluminum 3003 isn't heat treatable, but it can be forged with heat that's between 500 and 950 degrees Fahrenheit. When using heat in this range, the aluminum can be hot worked easily. However, it is readily cold-worked, which can be done using conventional methods. When annealing the alloy during or after using cold working techniques, it should be performed at 775 degrees Fahrenheit. This will give it enough time to thoroughly heat before being air-cooled. The only way to make this alloy hard is with the use of cold working. It can also be deep drawn, spun, or brazed.

Order Process of The The 3003 Aluminum Coil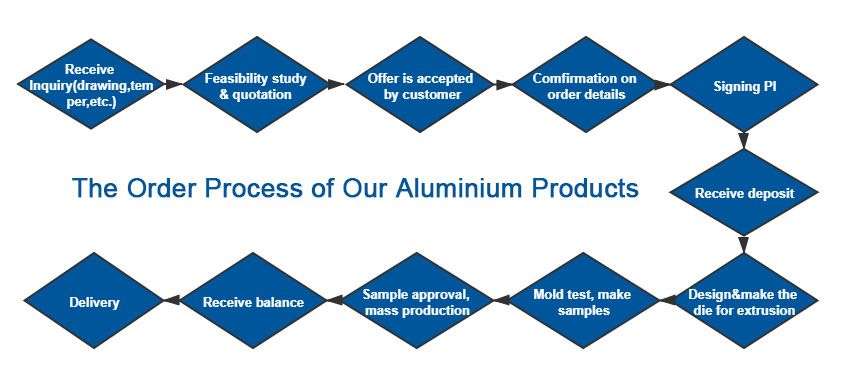 Packing of 3003 Aluminum Coil

Other Aluminum Product Recommendations