1100 Aluminum Coil
1100 aluminum coil is pure aluminum, with excellent forming characteristics. 1100 is a typical industrial pure aluminum (99.00% of aluminum), and cannot be heat treated. The 1100 aluminum coils are sensitive to high temperatures ranging between 200 and 250°C, but the strength of the coils can be increased at subzero temperatures. CHAL will supply superior quality 1100 aluminum coil at, a reasonable price with ASTM-B-209M, BS EN 485-2, BS EN 573-3, GB/T3880-2008 standard guaranteed.
Basic Introduction of The 1100 Aluminum Coil
The technology of the 1100 aluminum alloy coil is mature, it has good quality, is available at low prices, and has good corrosion resistance. Every kind of performance is much better. 1100 aluminum coil can be welded easily, it has high conductivity, thermal conductivity, and good plasticity, and it can easily take a variety of pressures. It gives high strength and very good cutting performance. 1100 aluminum coil is very soft as well as ductile in nature and also gives a very long-lasting performance.

Chemical Composition of The 1100 Aluminum Coil
| | | | | | |
| --- | --- | --- | --- | --- | --- |
| Elements | Si+Fe | Cu | Zn | Mn | Al |
| Contents | 0.95 | 0.05-0.2 | ≤0.1 | ≤0.05 | 99% |
Specifications of The 1100 Aluminum Coil
Temper
F, O, H14, H16, H18, H19, H22, H24, H26, H28
Thickness (mm)
0.014-0.4
Width (mm)
40-1600
Roll ID/OD (mm)
Customized
Typical applications
packaging materials
heat exchangers
electronics industry.
Applications of The 1100 Aluminum Coil
Applications of the aluminum 1100 coils are found in various industries from cooking utensils to industrial equipment, such as heat sinks, caps, printing coils, building materials, and heat exchanger components, it can also be used as deep-draw stamping products.
It can be widely used in the manufacture of heavy-duty structures requiring good corrosion resistance, truck and marine components, aircraft gun carriage, railroad cars, furniture, tank fittings, general structural and high-pressure applications, wire products, and pipelines.
Fin stock and heat exchanger fins are made using aluminum 1100 coils. Spun hollowware, dials, and nameplates are also manufactured with aluminum 1100 coils.
The Order Process of The 1100 Aluminum Coil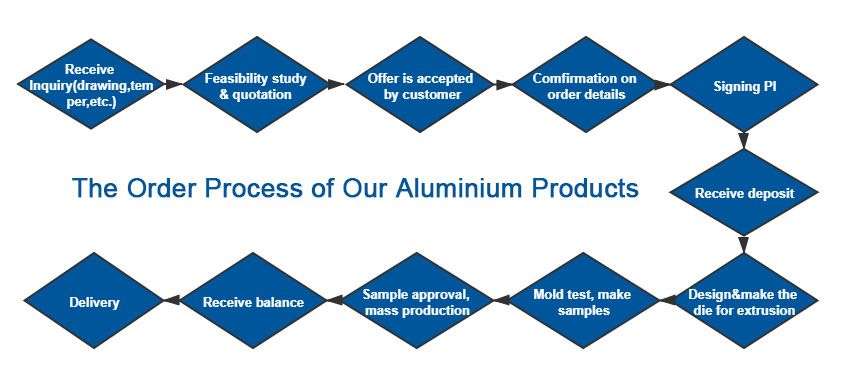 Packing of The 1100 Aluminum Coil
Aluminum coil of the packaging meets the export standard. Plastic film and brown paper can be covered to customers' needs. A wooden case or wooden pallet is adopted to protect products from damage during delivery.

Why Choose CHAL as Your Supplier For 1100 Aluminium Coils?
CHAL is one of the leading manufacturers & suppliers & wholesalers of aluminum 1100 coils in China.
Years of experience in manufacturing, stocking, and providing 1100 aluminum coils.
Best prices for alloy 1100 aluminum coils, provided worldwide with the shortest delivery and time.
Exporting ASTM, EN standard-compliant aluminum 1100 coils is our specialty.
We can handle the logistics for you. We can offer FOB, CFR, and CIF delivery to any port.
Complete tractability for aluminum 1100 coils. There will be complete marking on aluminum coils, and the details can be co-related to the test certificates.

CHAL Aluminium Corporation is a fully integrated aluminum company that supplies all kinds of aluminum products and technical solutions. We are committed to being the leading supplier of aluminum plates, aluminum sheets, aluminum strips, aluminum foil, aluminum circles, aluminum heat transfer material, aluminum profiles, precision aluminum tubes, aluminum machining parts, and stamping parts.
CHAL aluminum corporation is one of the biggest aluminum manufacturers in China. We have a large-scale plant, first-rate facilities, sufficient production capacity, fullest range of products. We have 6 manufacturing bases in five provinces. The headquarters base is located in Chongqing Xipeng aluminum industry town. We have 5 R&D centers, more than 4000 employees, including 600 R&D staff, more than 200 patents, and annual R&D investment exceeding 220,000,000RMB. The production capacity is about 320,000 tons.
To ensure quality, CHAL makes big investments in purchasing advanced equipment from abroad, including a melting-holding furnace, casting machines, pusher-type heating furnaces, 1+1+3 hot rolling mills, 1+5 hot rolling mills, stretching machines, roller hearth quenching furnaces,s and aging furnaces, 3-stand tandem cold rolling mill, 2-stand tandem cold rolling mill and single stand cold rolling mill, intelligent high bay storage, tension leveling line, trimming line, air-floating type quenching line, packaging line, and other finishing equipment.
Our high-end aluminum plate, sheet, strip, and foil are mainly applied in aerospace, shipbuilding, engineering, HAVC/AC, construction, packaging, transportation, tooling, mold, and electrical industries.
Other Aluminum Product Recommendations