3004 Aluminum Coil
3004 aluminum alloy is an alloy in the wrought aluminum-manganese family (3000 or 3xxx series). It is similar to the 3003 alloys, except for the addition of approximately 1% magnesium. It can be cold-worked (but not, unlike some other types of aluminum alloys, heat-treated) to produce tempers with higher strength, but a lower ductility. Like most other aluminum-manganese alloys, 3004 is a general-purpose alloy with moderate strength, good workability, and good corrosion resistance. It is commonly rolled and extruded (used in the making of beverage cans), but typically not forged. As a wrought alloy, it is not used in casting.
Chemical Composition of 3004 Aluminum Coil
| | | | | | | | |
| --- | --- | --- | --- | --- | --- | --- | --- |
| Elements | Si | Cu | Mg | Zn | Mn | Fe | Al |
| Contents | 0.3 | 0.25 | 0.8-1.3 | 0.25 | 1-1.5 | 0.7 | rests |
Specifications of 3004 Aluminum Coil  
| | |
| --- | --- |
| Temper | F, O, H14, H16, H18, H19, H22, H24, H26, H28 |
| Thickness (mm) | 0.014-8 |
| Width (mm) | 40-2600 |
| Roll ID/OD (mm) | Customized |
| Typical applications | AutomobileBus trunk board |
Features of 3004 Aluminum Coil
Good corrosion resistance
Good weldability
Good plasticity

Application of 3004 Aluminum Coil
3004 aluminum coil is mainly used for processing the component parts that need to have good formability, high solderability good resistance to corrosion, such as kitchen utensils and appliances, food and chemical products processing and storage devices, transport tanks, and tanks of liquid products.
3004 aluminum coil is mainly used in chemical production and storage equipment, plate processing, building materials, construction, cable pipes, sewer pipes, various parts of lamps and lanterns, cans, wave plate, building materials, color aluminum plates, and electric light heads.
3004 aluminum sheet is mainly used in processing pressure vessels, pipelines, utensils, cooling fins, radiators, makeup boards, copy machine rollers, ship materials.
Order Process of 3004 Aluminum Coil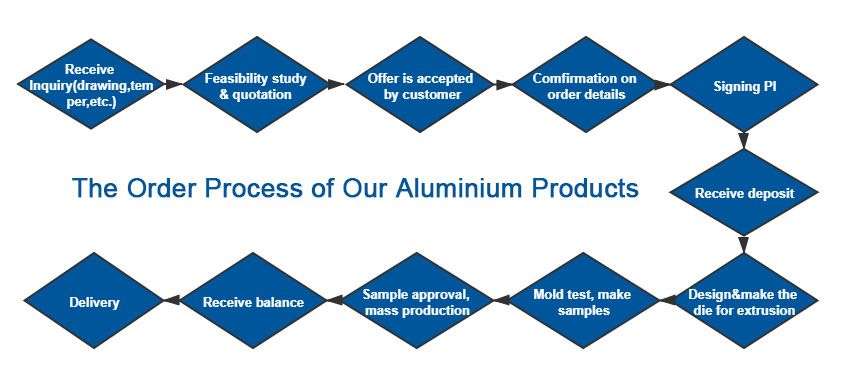 Packing Detail of 3004 Aluminum Coil  
Our products are packed and labeled according to the regulations and customer requests.
Great care is taken to avoid any damage which might be caused during storage or transportation.
The standard export packaging, plastic film, or craft paper is covered.
A wooden case or wooden pallet is adopted to protect products from damage during delivery.
Also, clear labels are tagged on the outside of the packages for easy identification of the products and quality information.

3004 Aluminum Coil Manufacturers  
As a professional aluminium coil supplier in China, CHAL is one of the TOP5 aluminium coil factories. We are one of the biggest Chinese aluminium coil suppliers of 3004 aluminium coil, and we also produce aluminium slit coil, aluminium strip, coated aluminium coil, aluminium plate, aluminium sheet metal, anodized aluminium sheet, embossed aluminium sheet, etc.
CHAL Aluminium provides you with first-rate quality, attractive and reasonable prices. Excellent surface quality and package, fast delivery. If you are looking for a 3004 aluminium coil supplier in China, CHAL is your best choice. We promise you the best price and excellent service. For more detailed information, please feel free to contact us directly.

Other Aluminum Product Recommendations