Although you may not have heard the specific term "telescopic tube" before, you may be familiar with its application, and many of us will use some of them every day. Just like the length of the seabed telescope to provide a better view, the telescopic tube can increase the function and versatility of various products. This versatility allows us to create an adjustable structure that is suitable for our needs.
In this guide, we will explore what is a telescopic tube, the type of telescopic tube, and telescopic tube functions. In addition, you will also understand the benefits of telescopic aluminum tubes.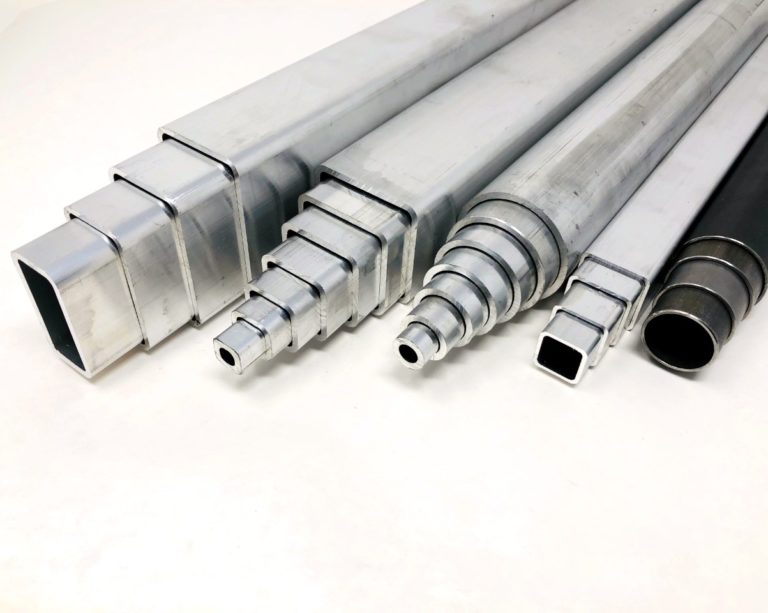 What is a telescopic tube?
The telescoping tube is a tube for loading a pipe into the interior and slides together in the tube to extend to a long tube. You can easily expand or retract the pipeline by simply pulling or pushing an external or internal pipeline, thereby changing the length of the entire component. Most of us are familiar with many applications of telescopic tubes.
The telescopic tube is very suitable for use in the need to be in need of different material parts or in the internal expansion of each other. Our telescopic tube series is very suitable for carts, camera brackets, adjustable racks, robot extensions, flagpole, sensor equipment, etc.
Not only can you customize telescopic tube size, but there are other methods to increase the availability and functionality of telescopic tubes.
Type of telescopic tube
The telescopic aluminum profile can be made into several different shapes as needed. The most common choices on the market are three types of telescopic tubes, round telescopic tubes, rectangular telescopic tubes and square telescopic tubes.


Round telescopic tube
The round telescopic tube is a hollow circular cylindrical shape. This steel tube is in the shape of affordable price to provide you need strength and durability. The round telescopic tube can be used in almost any application.
The round telescopic tube has a wide range of structures and construction applications. Unlike the pipeline, the pipe is measured by outer diameter and wall thickness. Some examples of round telescopic tube applications are car parts, railings and outdoor furniture.
Rectangular telescopic tube
This telescopic tube is designed for structural applications and manufacturing industries. It has higher strength and stiffness than other shapes, making it ideal for construction, construction, automotive and other fields.
The rectangular tube is formed by the coil and then passes through a series of molds. They are soldered from the interior to form their shape. Rectangular tubes are usually aluminum, stainless steel, hot rolled steel and cold rolled steel. It can be cut into your exact specifications.
Square telescopic tube
Square tube is formed by the coil and then passes through a series of molds. They are soldered from the interior to form their shape. Square tube is usually used for maintenance and structural purposes. Some application examples include construction, railings and road signs.
They measure through their external size and their wall thickness. This square telescopic tube shape can withstand extreme temperatures, pressure and various elements, which is ideal for business and industrial applications. It is often used in truck beds, trailer components and machine parts.
Advantages of telescopic aluminum tubes
There are a variety of options for the materials of the telescopic tube. However, for most applications, the most popular choices are aluminum. The telescopic aluminum tube is a common choice because aluminum has a unique advantage.
It is lightweight and has good thermal conductivity to make aluminum tubes into preferred materials for design and engineering applications.
Due to their physical properties, aluminum tubes are often used in hydraulic systems, aircraft fuselage, HVAC equipment and small appliances. Aluminum is very durable, which can better resist wear than other metals.
In fact, aluminum is highly corrosion-resistant, which means you don't have to deal with rust and other faults.
The telescopic aluminum tube is lightweight. No matter what size telescopic aluminum tube you choose, your finished product will be much lighter than the products produced with other metals. This is a great advantage, especially for items that need to carry with you or often move like a table, camera tripod or trade exhibition show.
Although the price of aluminum tubes is more expensive than other metals, the cost-effectiveness of its payment is much larger than other metals. Aluminum tubes have been approved and used by more and more manufacturers.
CHAL's telescopic aluminum tube
If your business needs aluminum tubes, then you've found the right place. Chal Aluminium Corporation focuses on various telescopic aluminum tubes, including square telescopic aluminum tubes, rectangular telescopic tubes and round telescopic tubes. Whether what telescopic aluminum you need, you can find a wide range of telescopic tubes suitable for any item, including large and small telescopic sizes, circular tube sizes, and rectangular tube sizes.
All of our telescopic aluminum tubes are made of highly durable high quality aluminum. Our knowledgeable customer service team has experienced rich experience in helping customers find the right aluminum tube they need, so we are willing to help solve any problems related to aluminum tube size, aluminum tube fittings. Contact us immediately to find your lack of aluminum tube.
Related Products