Aluminum Inner Grooved Tube (Internal Toothed Tube)
The aluminum inner grooved tube also called the internal toothed tube, is a lightweight and cost-reduction solution for air conditioning heat exchangers, representing an attractive alternative to copper tube. The inner grooves can be straight or helical. The height range of inner grooves varies from 0.05 to 0.3mm. The higher groove, the better the heat transfer performance. the Aluminum inner grooved tube is widely used in heat exchangers for household and commercial air conditioning systems.
Straight & Helical Inner Grooved Tube

Straight Inner-grooved Tube
Compared with traditional smooth bore tubes, aluminum straight inner-grooved tubes have better heat transfer performance, with higher efficiency and more internal grooves. Different grooves' depths and geometry satisfy the specific regional requirements and refrigerants in use. Additional zinc coating layers are available for increased corrosion resistance. This internally enhanced aluminum tube is mainly used for high-fin-density condensers and evaporators.
Helical Inner-grooved Tube
The inner grooves with helical teeth have been optimized to improve heat transfer. The improvement in the heat transfer coefficient of the tube is two times what can be achieved with traditional smooth bore tubes. The helical inner-grooved tubes greatly increase efficiency, which achieves a more compact design of the heat exchangers and gets a reduction in refrigerant load.
Key Features of Aluminum Inner Grooved Tube
High heat transfer efficiency
Easy to form and bend
Low cost and weight
Space-saving
The Specifications of Aluminum Inner Grooved Tube
SpecificationsOD:
Bottom Wall Thickness (mm)
Groove Height (mm)
Tooth Number
Helix angle (degree)
Groove top angle (degree)
Weight per meter
Φ5.0 ~ Φ15.88 mm
0.35-1
0.05-0.3
20-70
0 ~ 25
30 ~ 135
φ5mm
0.35-0.5
0.05-0.25
40-50
18°
50°
23±3
φ7mm
0.4-0.5
0.05-0.25
40-50
18°
50°
28±3
Φ7.94mm
0.4-0.5
0.05-0.25
40-50
18°
50°
40±3
Φ9.52mm
0.45-0.55
0.05-0.25
45-55
18°
50°
45±3
Aluminium Alloy:1060, 3003, 3103, AA3003H, etc.
Why Choose Aluminum Inner Grooved Tube With Zinc Coating?
Heat exchangers work in harsh environments. Our experts strongly recommend the aluminium tube with the addition of a zinc coating. This clad layer provides the tubes with 150% increased corrosion protection and a prolonged lifetime compared to that equivalent bare tube.
This zinc coating is available for smooth bore tubes and straight inner grooved tubes.
CHAL Order Process of the Aluminum Inner Grooved Tube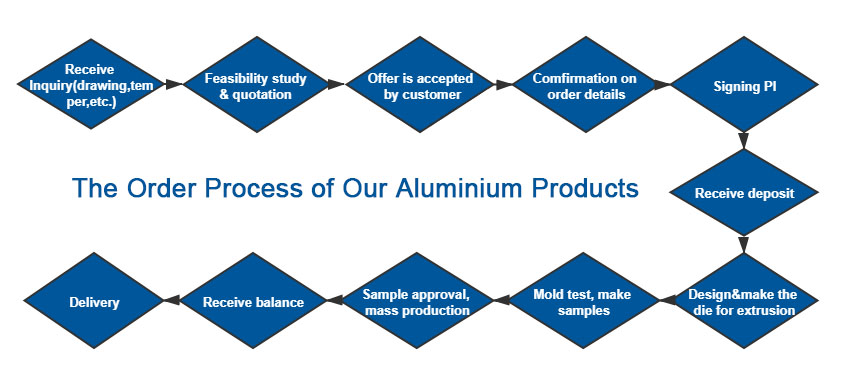 Why Choose CHAL As Your Aluminum Tube Supplier?
CHAL Aluminium Corporation focuses on the research and development of aluminum, and we cooperate with famous academic institutions and industry associations. Our researchers and academic partners are involved in the business and technology development of aluminum product processing and production. We develop and design solutions to improve the performance of aluminum technically and economically. CHAL Aluminium Group has 5 R&D centers in China.
High-quality production: CHAL has always been a team of professional quality engineers who conduct strict inspections on our products. The qualified rate of products reaches more than 95%. You don't have to worry about receiving low-quality products because quality is CHAL's life.
Customized composite aluminum tube service: Customize composite aluminum tubes to meet your specifications.
The true ex-factory price: Strong internal manufacturing capabilities can control all cost consumption. From raw materials to transportation, all steps are under our control. Years of manufacturing network construction can obtain real quotations from the factory.
On-time delivery: CHAL knows how to reduce production time according to the production cycle required by customers.
Exporting ASTM, EN, and DIN standards-compliant aluminum tubes is our specialty.
Regardless of your demand, we will provide specific high-quality aluminum tube products that suit your needs. Whether it is aesthetic changes or excellent mechanical properties, we will provide you with precise aluminum tubes! Contact us now to learn more about our aluminum tubes.
As a fully integrated aluminum products supplier, CHAL provides various aluminum products and technical solutions. In addition to an extensive selection of aluminum tubes, CHAL also offers a wide range of aluminum sheets/plates, circles, foil, strips, coils, and wire. And tube laser processing, CNC stamping, and machining assure that materials meet your precise specifications for a range of industrial uses.
Other Aluminum Tube Recommendations