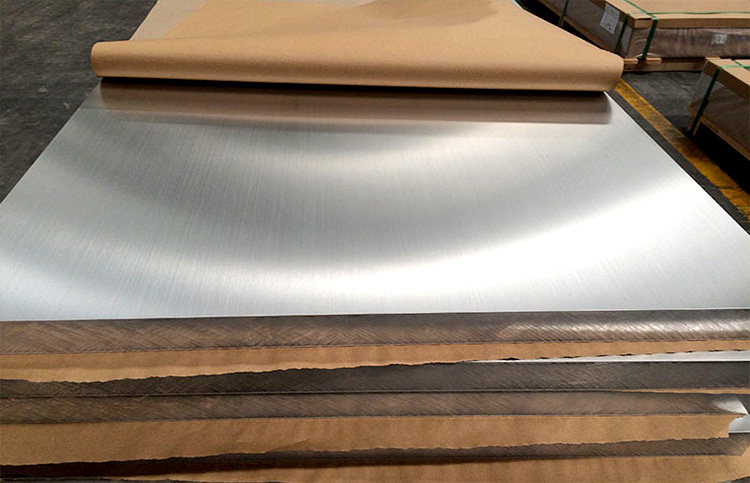 5A83 Aluminium Cast Plate For Mold
CHAL 5A83 Fine Milled Aluminium Cast Plate, also known as aluminium cast tooling plate, aluminum cast mould plate and cast aluminum tool & jig plate, is an improved alloy of 5083, which developed exclusively by CHAL and introduced in 2012, CHAL 5A83 is a vertical cast, stress-relieved, an extraordinarily dense, dimension stable, high strength (without heat treatment) machined plate providing sound dimensional stability with minimal or no distortion even after extensive machining operations.
CHAL 5A83 Fine Milled Aluminium Cast Plate
CHAL 5A83 cast aluminium plates have precision machined surface for superior flatness, flat within 0.3mm, and +/- 0.1mm thickness tolerance, and are protected with PVC plastic on two sides. Cast aluminum plate typically has a surface roughness of 0.4µm Ra or better. CHAL5083 has a tensile strength of 41KSI, a Hardness of 70HB and a Yield Strength of 18 KSI.
CHAL aluminum cast plate has outstanding machinability and responds very well in today's high-speed cutting environments. CHAL5A83 plate is the preferred choice for engineers that require a dimensionally stable product that has great strength to weight ratio. The cast plate designed especially for the growing high-temp plastic and mould & tool industries.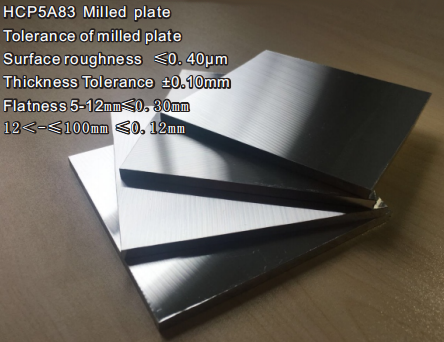 The Reasons for Choosing 5A83 Aluminium Cast Plate as Mold & Tool & Jig Material
The CHAL 5A83 aluminium cast plate is more cost-effective than wrought aluminum plate and tool steel.
Aluminium cast plate lowers real-time production costs through machinability advantages.
Compared with aluminum mould/ tool plate, tool steels are too hard.
Compared with cast aluminium plate, wrought alloys are too soft and gummy.
Compared with rolled plate, CHAL 5A83 precision-milled aluminium cast plate has finer and homogeneous grain structure, with a specific state of stress-relieving, which makes there is almost no deformation after the high speed of machining and cutting. However, the rolled plate has a directional structure, striped grain distributes along the processing direction. They're always showing some deformations after machining.
Steels and wrought alloys increase tool costs and machine time, except CHAL5A83 cast mould plates.
CHAL5A83 aluminum plate has exceptional corrosion resistance properties and weldability.
The World Trade Names of 5A83 Cast Aluminium Plate for Mold & Tooling & Jig
Our quality standard is one of the highest standards in the industry
Similar products are known by various trade names in the world:
Mic 6® (a registered trademark of Aloca Inc)
5052-H112-high precision(Kobe Steel)
Alimex ACP5080
Alpase K100-S® (a registered trademark of TST, Inc)
Alca 5™ (a trademark of PCP Canada)
Vista Metals ATP 5™ (a trademark of Vista Metals Corp.)
Alimex 5083
Vista Metals ATP-5™
8 Characteristics of 5A83 Fine Milled Aluminium Cast Plate
Almost no deformation for machining, excellent formability and weldability.
Easy to processing, good effect of surface treatment.
High strength, good corrosion resistance and oxidation resistance.
Isotropic homogeneity, excellent dimension stability.
Fine milling surface as a requirement. Good surface quality.
Double-sided filmed.
High-temperature performance is excellent.
The internal performance of the plate is the same as the external.
Applications of 5A83 Fine Milled Aluminium Cast Plate
CHAL aluminum cast mould & tooling plate applications to include, but are not limited to, Computer & Electronics, Pharmaceuticals, Machining Fixtures, Drill Jigs, Index Tables, Semi-Conductor, Automotive Molds, CNC circuit board, various instruments, tools electronic equipment, food machinery, plastic injection mould, PV industry, medical instruments, packaging machinery and model, pharmaceutical machinery, printing machine, robot, decorative material, a detection device, optical equipment, ship, subway, aviation industry, ship, subway, aviation industry, etc.


Performance and Parameters of 5A83 Fine Milled Aluminium Cast Plate
Aluminium Alloy
5A83 (improved grade 5083)
Material feature: casting, homogeneity
Type: precision-milled or band sawed cut
Material Properties
Machinability: very good
Weldability (TIC, MIG): good
Anodic oxidation properties: good, not decorative
Polishability: very good
Corrosion resistance: very good
WEDN machining: good
Typical Mechanical Properties
Tensile strength (Rm): 240-290MPa (N/mm²)
0.2% Yield strength (Rp0.2): 110-130MPa (N/mm²)
Breaking elongation (A 5%): 12
Brinell hardness HBW: 70
Typical Physical Properties
Density: 2.69g/cm³
Thermal conductivity: 110-140W/ (mK)
Electrical conductivity: 16-19MS/m (m/ Ωmm²)
Elastic modulus: ~ 70, 000N/mm²
Coefficient of thermal expansion: 24.2*10-6/K
Sizes and Thickness Range
Cast plate thickness: 5mm -100mm
Standard pre-cut sizes:
Thickness*max. Width* max. Length*
≥5mm x 1320mm x 3020mm
≥5mm x 1520mm x 3020mm
≥10mm x 1570mm x 3670mm
≥15m x 1860mm x 4000mm
Other dimensions available for inquiring
Tolerance
Surface roughness (precision milled): Ra < 0.4µm
Thickness tolerance: +/-0. 05mm
Flatness:
(6mm-12mm)≤0. 30mm
(12mm- 100mm)≤0.12mm
Width tolerance: 0/+10 mm
Length tolerance: 0/+15
Finely milled aluminium cast plate and precision sawed cast aluminum plate are available. Tinted oxidation is also an option for customers, our cast aluminium plate can be produced in custom widths and lengths with a very short lead-time.
As a leading aluminium company in China, CHAL Precision Aluminium Corporation has a variety of aluminum plates, rolled and cast. There are multiple choices of aluminum plate for mould and machinery, such as 2024-T351, 6061-T651, 5052-O/H111/H112, 6063-T651, 5A83, 5083 O/H111/H112,7075-T651, 6082-T651. At the same time, we constantly develop new products to meet the needs of customers. we specially developed high precision aluminum cast plate for mould and tooling, there are two kinds of cast plate, fine-milled aluminum cast plate and precision sawed cast aluminum plate.
CHAL Order Process