8006 Aluminium Foil
8006 aluminium foil with high strength, good formability & ductility, and good corrosion resistance, it is more and more widely used for food and housed hold packing foil, beer industry foil, pharmaceutical industry foil, adhesive tape foil, etc.
8006 aluminium foil is a special aluminium alloy for container foil products. CHAL 8006 aluminium foil adopts hot rolling method and its tensile strength is between 123-135 Mpa. 8006 aluminium foil product reaches the brushing water grade A. The surface is very flat, clean and free of oil. CHAL 8006 aluminium foil is especially suitable for aerospace wrinkle-free lunch boxes. After stamping, the edges could be free of wrinkles and the appearance is smooth and smooth.
The Order Process of 8006 Aluminium Foil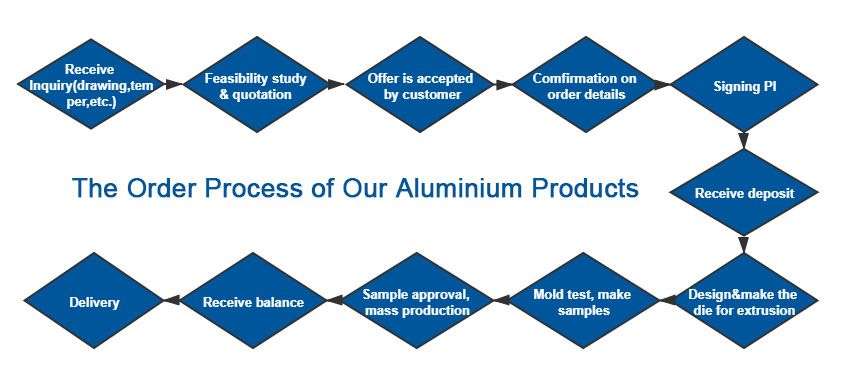 Technical Parameter of 8006 Aluminium Foil
Ingredient
Cu
Mg
Mn
Fe
Si
Zn
Cr
Other
Al
Content
≤0.30
≤0.10
0.30~1.0
1.2~2.0
≤0.40
≤0.10
–
0.15
Margin
Alloy Type
>8006 aluminium foil
Alloy State
>O, H14, H16, H18, H19, H22, H24, H26, H28
Thickness (mm)
>0.014-0.2
Width (mm)
>100-1500
Length
>Jumbo roll
Strength of CHAL Aluminum
Technologies: Top polishing technology guarantees good luster and smooth surface.
Markets: Obtain market sharing all over the world.
Equipment: Advanced cutting line to provide a wide range of specifications.
Responsibility: Engaged in charity donation and provide eco-friendly products.
The difference between 8006 aluminium foil and 3003 aluminium foil, 8011 aluminium foil:
1. 8006 lunch box aluminum foil has higher strength; Material is hot rolled.
2. Both 3003 aluminum foil and 8011 aluminium foil have low strength and the material is cold cast.
3. The elongation and cup convex value of 8006 aluminum foil is higher than 8011, 3003 lunch box aluminium foil.
4. The tensile strength of the 8006 container foil is 10 MPa higher than that of the 8011 aluminum foil, which is slightly lower than that of the 3003 aluminum foil.
Company Introduction
As a professional aluminium sheet manufacturer and aluminium sheet supplier in China, CHAL is one of TOP5 aluminum foil factories. We are one of the biggest Chinese aluminium sheet supplier of 8006 aluminium foil, and we also produce aluminium slit coil, aluminium strip, coated aluminium coil, aluminium plate, aluminium sheet metal, anodized aluminium sheet, embossed aluminum sheet, etc.
CHAL Aluminium provides you with first-rate quality, attractive and reasonable prices. Excellent surface quality and package, fast delivery. If you want to find an 8006 aluminium foil supplier in China, CHAL is your best choice, we promise you the best price and excellent service. For more details, please feel free to contact us directly.