Aluminum Foil Food Containers
Aluminum foil food containers, also called aluminum foil lunch boxes, began to replace plastic packaging boxes and are frequently used in our daily food packaging.
The thickness of aluminium foil containers is generally between 0.03 mm and 0.20 mm, which can be divided into two types: wrinkle-free and wrinkled. It can also be categorized into one-off use and repeated use. It is cold-rolled or hot-rolled into an aluminum foil roll with uniform thickness, smooth surface, no pinholes, no dust particles, and no peculiar smell. The production process of one-time automatic cold stamping forming with special equipment and molds.
PDF Download
Features of Aluminum Foil Food Containers
Insulating heat & keeping flavor
Functionality is the primary mission of packaging, and maintaining the taste of food is the core.
The aluminium foil food container has high-temperature resistance (up to 121 degrees), good oil resistance, and outstanding fragrance retention performance.
Harmless to the human body
The popular plastic lunch boxes on the market are extremely harmful to human health. When disposable foamed plastic tableware is filled with hot food or boiled water above 65 degrees, the toxic substances contained in the tableware will easily penetrate into the food. If the concentration of this harmful substance exceeds the standard, the poisoning will be even greater.
There is a dense oxide layer on the surface of the aluminum foil. The chemical properties of this oxide layer are relatively very stable. As long as it is not in a strong acid environment, aluminium ions will not be precipitated.
The composition of the aluminium foil food container is aluminum. The recycling rate of aluminum is high. aluminum can be recycled up to 25 times. It meets the national food hygiene standards, is easy to recycle, and does not produce harmful substances during processing.
Compared with the geological pollution caused by plastic products, aluminum foil containers can be weathered after being placed in the soil for two to three years, and will not cause continuous damage to the land and implanted nature changes.
Aluminium has a physical property, that is, ductility. Compared with other metals, aluminum of the same quality can be used to process a larger surface area and pack more things.
Specification of Aluminum Foil Food Containers
Note: Please refer to our product lists for more information.
| | |
| --- | --- |
| Thickness | >0.05mm |
| Size | W 30-600mm, L 30-600mm, H ≤120mm; Ø 30-350mm |
| Surface treatment | aluminium natural color (no treatment), printing, coloring, coating, laminating |
| Surface embossing | Wrinkled; no wrinkles (smooth) |
| Customization | Generally customized according to samples or drawings |
| Packaging | 100-2000 pcs/carton, according to usage or single package size |
| Packaging solutions | Carton |
Aluminum Foil Food Containers Process
The aluminium foil container production can be divided into six steps: unrolling material → oiling → feeding → stamping forming → blanking → inspection. During production, the punching force of aluminum foil is as high as 40~80t, the punching frequency is 1~2 seconds, and the average production volume is 20,000 pieces/day.
Pressing oil plays a very important role in the production of aluminum foil containers, including heat dissipation, cooling, protection of the aluminum foil surface, protection of stamping equipment and molds, rust prevention, corrosion prevention, and prevention of aluminum foil surface adhesion. According to the special lubrication requirements of the aluminum foil container industry, Chal Aluminium selects refined hydrotreated narrow distillate base oil as raw material and environment-friendly lubricants and pressure agents to develop special pressing oil for our foil containers. It has good lubricating performance, and load-bearing performance and enables the product to obtain a better finish. Due to the high pressure and high-temperature process, finished aluminum foil containers have excellent pressure resistance and high-temperature resistance.
Production Line of Aluminum Foil Food Containers
1. Automatic aluminum foil container production line

2. Equipment Description of Aluminum Foil Food Containers:
Speed: 60 strokes/minute
Machine power: 11 kilowatts
Machine size: 5 * 3 * 4 meters
Machine weight: 8000 kg
It is used to make aluminium foil containers, aluminum lids and aluminum paper lids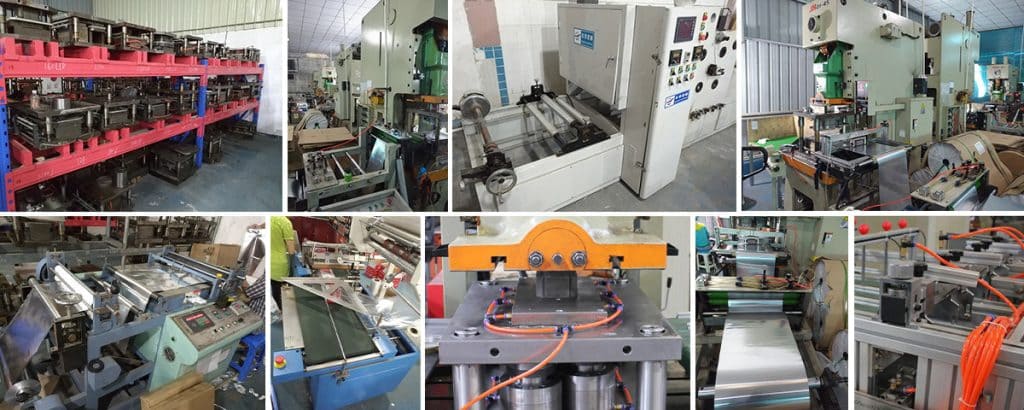 3. Aluminum foil container mould
Processing mainly adopts vertical machining centers, CNC copy milling, CNC EDM, CNC fast and slow wire cutting and other mold production equipment imported from the United States, Japan, Western Europe, and other countries; mold design uses mold auxiliary design production system (PRE /CAD/CAE/CAM). Various aluminum foil stamping dies can be produced or processed according to user requirements.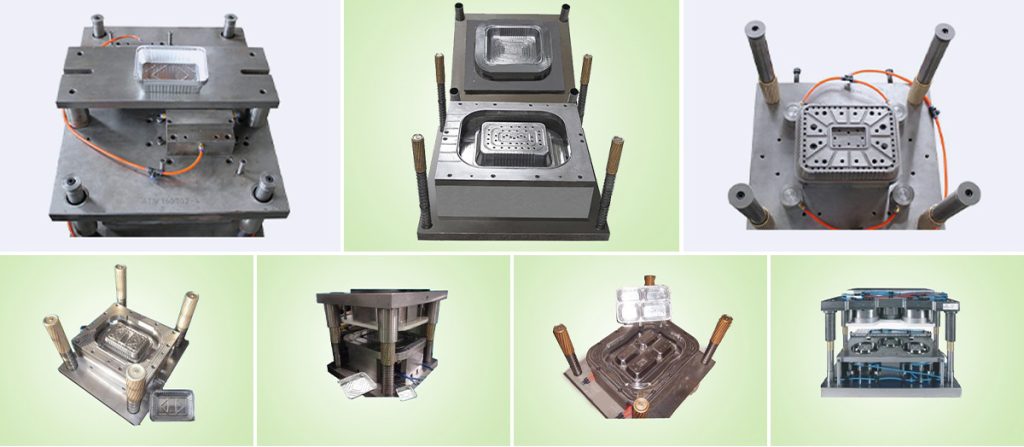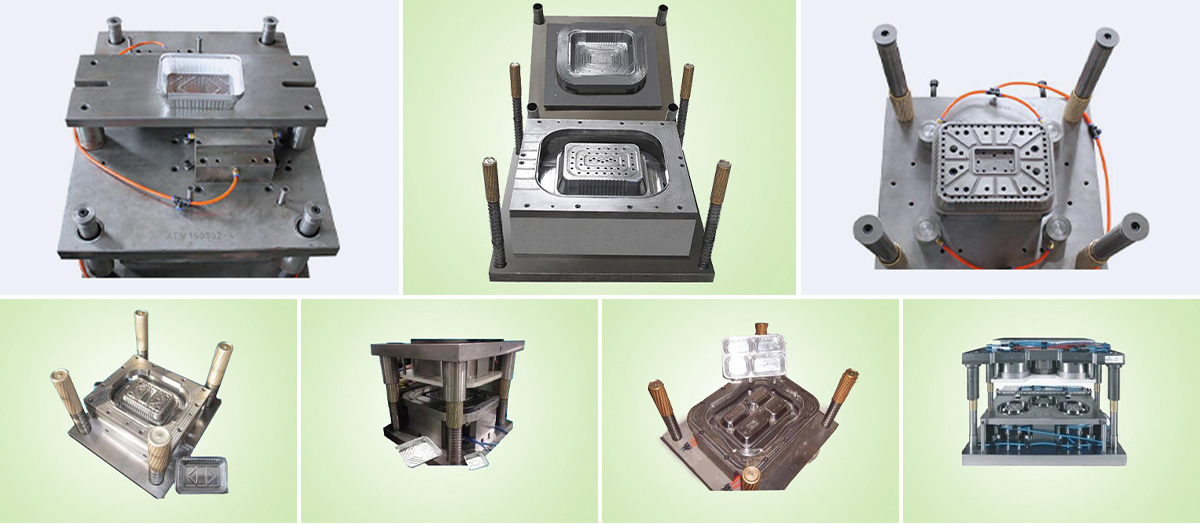 Usage of Aluminum Foil Food Containers
Aluminum foil lunch boxes used in microwave ovens
Aluminium foil lunch box: good and even heat transfer, can be used in traditional ovens and microwave ovens; can protect food from scorching; suitable for packaging of refrigerated, frozen and fresh food; can be heated on the original packaging; safe, hygienic, no harmful substances spilled to contaminate food when containers heated at high temperatures.
Note:
The container must be filled with food. If it is not full, there is a danger of scorching.
Remove the lid of the aluminium foil lunch box, otherwise, the food will not be heated. If food must be covered, use a plate or cover with film.
Remember that metal and metal can't touch each other. The container can neither touch the furnace wall, door, or bottom, nor other metal parts. Otherwise, the arc may cause damage to the microwave oven. At the same time, do not use plate with gold and silver trims.
The aluminium foil container should always be kept at a distance of 2 cm from the furnace wall or other aluminum foil containers. For example, the aluminum foil container can be placed on a porcelain plate.
Increase cooking and heating time by about 10%, because the food absorbs microwaves from above.
Do not use bent or damaged aluminium foil containers, and do not reuse aluminium foil containers.
How to start Order Aluminum Foil Food Containers?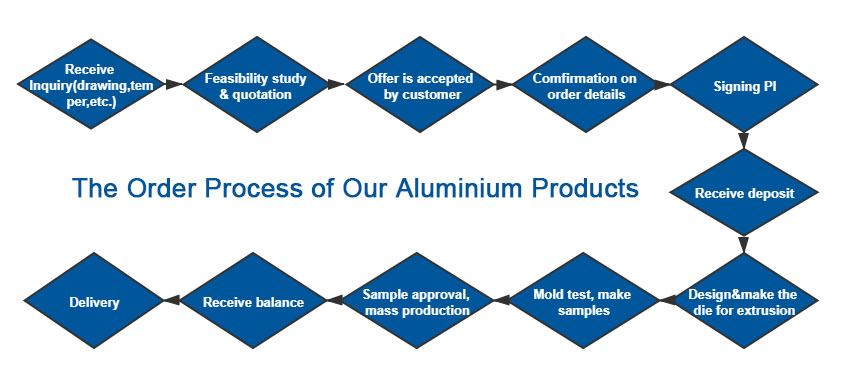 FAQ
Q1. How can I contact you to get a quotation?
A: Please leave the detailed information of the product you need for quotation:
aluminium foil lunch box: shape, size, weight, whether logo is required
Household aluminum foil rolls: thickness, width, length and packaging information
Q2. Can I have samples?
A Yes, a small number of samples can be provided free of charge for customers to test, but customers need to pay for shipping.
Q3. Do you provide customized services?
A: Yes, materials, equipment, molds, products, and packaging can be customized.
Q4. How long does your delivery time take?
A: It usually takes 3-5 working days for stock products and 15-30 working days for new products.
Q5. Why choose us?
A: We are a manufacturer of aluminum foil products. We control the entire process from materials, equipment to finished products to ensure quality and maximize profits to customers. We provide the best quality at the same price, and we provide the best price for the same quality.
Other Products Recommendation