3003 Aluminum Foil
3003 aluminium foil is a common product of Al-Mn series alloys. Because of the addition of alloy Mn element, it has excellent rust resistance, weldability and corrosion resistance. Similarly, 3003 aluminum foil is also a non-heat treated alloy, so a cold working method is used to improve its mechanical properties, but 3003 aluminium foil with medium strength is 10% stronger than 1 series alloy aluminum foil. In addition, the plasticity and welding performance of 3003 aluminium foil is also very good. So, It is a good choice for aluminum foil for electrolytic capacitor, lunch box container, and aluminum honeycomb core material.
Products Description of 3003 Aluminum Foil
AL 3003 is an alloy with very good corrosion resistance and moderate strength. It does not heat treatable and develops strengthening from cold working only. Main tempers for aluminum foil 3003 include H18, H22, H24, and other tempers upon request. This alloy provides a better heating and cooling environment so that widely used in household applications.
CHAL Al. is a leading aluminum Chinese manufacturer mainly in foil, container foil, packaging foil as well as electronic foil, and so on.
Technical Parameter of 3003 aluminum foil
Element
Si
Fe
Cu
Mn
Zn
Other
Al
Ingredient
0.6
0.7
0.05-0.2
1-1.5
0.1
0.15
Margin
Alloy type
3003 aluminium foil
Alloy state
F, O, H14, H16, H18, H19, H22, H24, H26, H28
Thickness (mm)
0.014-0.2
Width (mm)
100-1600
Length
Coil
Features and Applications of 3003 Aluminum Foil
AL 3003 alloy is readily machined and is considered as having good machinability for aluminum alloys. Typically, alloy 3003 is used in a number of industries. For instance, aluminum alloy 3003 is easily found in home appliances. From cooking utensils, and bakery molds to office equipment it has many applications that you would find in your everyday lives.
CHAL currently supplies 3003 aluminum foils from 0.014 to 0.20mm. Our plant is equipped with a flatness control system to ensure the precious of our foil.
CHAL is a large-scale 3003 aluminium foil manufacturer, the 3003-H18 aluminum foil, 3003-O aluminum foil, 3003 – H24 aluminium foil and other 3003 aluminum foil products have multiple advantages such as food grade, clean degreasing, fewer pinholes, good plate shape, non-deformation in cutting, and easy to peel off, etc., and they are exported globally at an affordable price. You can rest assured to purchase!
Order Process of 3003 Aluminum Foil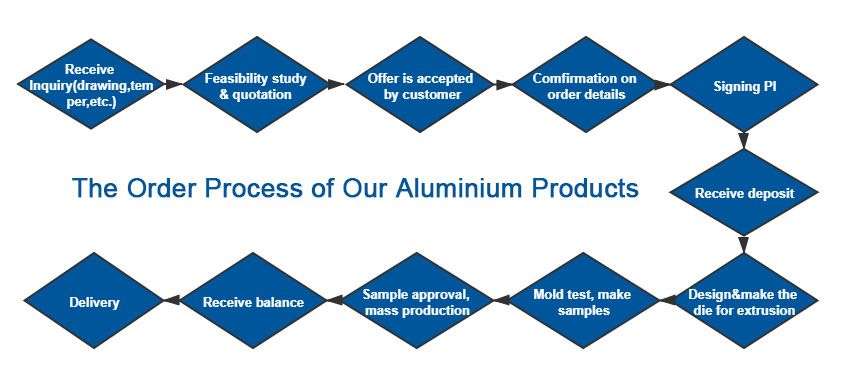 Packing Detail of 3003 Aluminum Foil
Our products are packed and labeled according to the regulations and customer requests. Great care is taken to avoid any damage which might be caused during storage or transportation. The standard export packaging, plastic film, or craft paper is covered. A wooden case or wooden pallet is adopted to protect products from damage during delivery. Also, clear labels are tagged on the outside of the packages for easy identification of the products and quality information.
As a professional manufacturer and supplier of aluminum foil, CHAL can provide you with 3003 aluminum foil, which is used in diverse industrial applications. We have reliable quality, reasonable prices, and prompt delivery. Common specifications are in stock. Special sizes can be customized according to the client's requests. Please contact us if you have any questions. We will be glad to serve you.
Other Products Recommendation