Household Aluminum Foil Roll
Aluminium foil is a thin sheet with a thickness of less than 0.2mm, it is produced by rolling sheet ingots cast from molten billet aluminum, then re-rolling on sheet and foil rolling mills to the desired thickness, or by continuously casting and cold rolling. Most of the aluminum foil paper is shiny on one side and matte on the other. It is mainly used for packaging food, medicine, cosmetics, and other chemical products.
Household aluminum foil roll is normally made of 8011/1235 aluminum alloy, its performance is better than pure aluminum foil. It can be used to wrap refrigerated food to keep the food fresh. It is also commonly used for baking food, baking cakes in the oven, roasting chicken, etc.
Specification of Household Aluminum Foil Roll
| | |
| --- | --- |
| Material | Aluminum Foil |
| Alloy Grade | 8011/1235 |
| Shape | Roll |
| Temper | Soft/O |
| Treatment | Silvery |
| Surface | Single Light Aluminum Foil |
| Thickness | 10-30Mic |
| Width | 30mm |
| Length | 3m-50m |
| Core ID | 28mm 32mm 35mm 38mm |
| Customization | Available |
| Quality Tolerance | ±3% |
| Certificate | ISO9001:2000, SGS |
| Package | Colour box & customized |
| Export Packaging | Carton |
| Payment | T/T |
Characteristics of Household Aluminum Foil Roll
Water-proof, oil-proof, anti-sticky, high-temperature resistance, strong plasticity, fast heat conduction, uniform heating, shading and sealing, retaining the nutrients and moisture of the food, health and harmless, multiple uses.
Production Process

Applications of Household Aluminum Foil Roll
Packaging
Insulation
Cooking & Baking
Decoration
Photos of Household Aluminum Foil Roll


The Order Process of Household Aluminium Foil Roll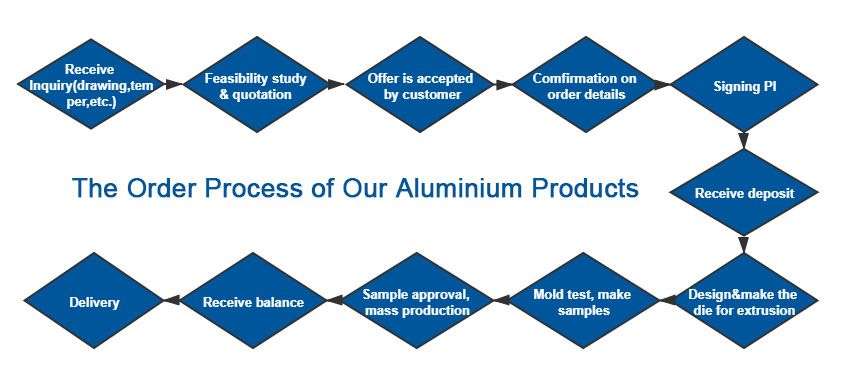 Packaging of Household Aluminum Foil Roll



Tin Foil vs Aluminum Foil
Tin is the fourth precious metal behind platinum, gold and silver. Pure tin is shiny, non-toxic, not easy to oxidize and discolor, and has good sterilization, purification, and preservation effects. The chemical properties of tin are very stable, and it is not easily oxidized by oxygen at room temperature, so it often maintains a shiny silver luster.
However, the tin foil is softer than aluminum foil, and the food wrapped will have a tint smell. At the same time, the tin foil cannot be heated due to its low melting point, or the heating temperature is high—if it is above 160°C, it will become brittle—which limits its use in food packaging. For the use of aspects, if you need to grill food, you cannot use tin foil when baking food. Since the aluminum foil paper has a higher melting point, it starts to melt when heated to above 660°C. It can be applied to ordinary barbecued foods, baked goods, and even traditional chicken chickens wrapped in aluminum foil for baking. It is clean and hygienic while maintaining the original flavor. Therefore, after the price of aluminum fell, aluminum foil replaced tin foil in daily life.
Specification of Aluminum Foil
Classification
Alloy
Temper
Size(mm)
Classification
Alloy
Temper
Thickness
Width
I. D.
Max O. D.
Cable foil
1050 1145
O
0.1-0.2
200-600
76.2
800
Cable foil
1050 1145
O
Medical foil
1235 8011 8111
H18 H19
0.018-0.022
400-600
76.2
600
Medical foil
1235 8011 8111
H18 H19
Air-condition foil
1100 8011 3102
H22 H24 H26 H19
0.07-0.2
400-1310
150 200 505
1450
Air-condition foil
1100 8011 3102
H22 H24 H26 H19
Cigarette foil
1235
O
0.006-0.007
460-1320
76.2
400
Cigarette foil
1235
O
Further fabricating foil
8011
O H22 H24 H26 H18
0.012-0.06
300-1300
76.2
1300
Further fabricating foil
8011
O H22 H24 H26 H18
Electronic foil
1A99 1A97
H19
0.09-0.15
500-1000
76.2
1450
Electronic foil
1A99 1A97
H19
3003 3001
0.02-0.05
3003 3001
PS foil
1050
H18
0.14-0.15
600-1470
150 200
1200
PS foil
1050
H18
Decoration foil
1100 3003
H18
0.026-0.15
1240-1400
150 200
1200
Decoration foil
1100 3003
H18
Other Products Recommendation