Aluminum Foil Tape
Aluminum foil tape is designed to cover all key application areas where high-temperature resistance and electrical or thermal conductivity are required. Applications include insulation and duct sealing in the heating, ventilation, and air conditioning market, and electromagnetic protection in the electronic industry.
CHAL can provide high standard aluminium foil tape which is made of first-class aluminum foil, aggressive acrylic adhesive, synthetic rubber, and release liner. CHAL enjoys a high reputation with superior quality products, the most competitive prices and professional customer service.
Specifications of Aluminum Foil Tape
| | |
| --- | --- |
| Typical alloy | 1050, 1060, 1070, 1100, 3003, 8011, 8021, 8079 |
| Temper | O, H14, H16, H18, H19, H22, H24 |
| Thickness (mm) | 0.015-0.2 |
| Width (mm) | 100-1600 |
| Length (mm) | Coil |
| Treatment | mill finish |
| Standard | ISO SGS ASTM ENAW |
| Price terms | LC/TT/DA/DP |
| Packaging | Standard seaworthy export packaging. Wooden pallets with plastic protection for the coil and sheet. |
Features of Aluminum Foil Tape
1. Thermally conductive
2. Moisture and solvent resistant
3. Heat and light reflective
4. Flame resistant
5. Outdoor weathering and UV resistant
6. Excellent peel adhesion and permanent bonding
7. Higher tensile strength
8. Good resistance to water and corrosion
Applications of Aluminum Foil Tape
1. Mainly used for the connection of pipelines such as the pipelines of computer monitors, computer peripherals wire and transformer manufacturing, central air conditioning pipe, smoke machine, refrigerator, water heater, etc.
2. Isolated electromagnetic interference during the transmission of wire, cable, precision electronic products, computer equipment, and other high-frequency equipment.
3. To prevent high-temperature spontaneous combustion. Besides, it has a positive effect on electrostatic discharge after the ground.
4. Heat transfer of electronic industry, aerospace and automotive manufacturing industry, refrigerator industry, air duct wrap, and duct seal, for the electronics industry, refrigerator and other refrigeration industry, cold steam pipe wrap and duct sealing.
Why Choose CHAL Aluminum Foil Tape?
1. Extreme cold and heat temperature versatility
CHAL foil tape works in temperatures ranging from 248°F to -22°F and can be applied in temperatures ranging from 14°F to 104°F. Most tapes do not perform well in cold temperatures. Severe cold hardens the adhesive and diminishes the sticking power of the tape. If you are applying the tape under cold conditions, it may not stick at all. Conversely, excessive heat can melt the adhesive on some tapes, rendering it useless.
2. Made with an acrylic adhesive
CHAL all-weather aluminum foil tape is coated with a superior performance flame-retardant solvent acrylic adhesive, working equally well in extreme hot and cold weather conditions.
3. A great alternative to mastic
CHAL aluminum foil tape products are not messy (the biggest drawback of mastic), and they use less equipment (no need for old clothes, eye protection, gloves, paint brushes, drop cloths, etc.). It doesn't need additional fasteners such as sheet metal screws, scrap metal, and drywall mesh to seal large areas and it can be used to seal holes in a furnace or air handler.
4. Professional Service
CHAL aluminium foil tape provides OEM service available with 100% inspection for product appearance before shipment, competitive price, fast delivery, and professional certification guaranteed, such as BS, ISO, GMC.
Order Process of Aluminum Foil Tape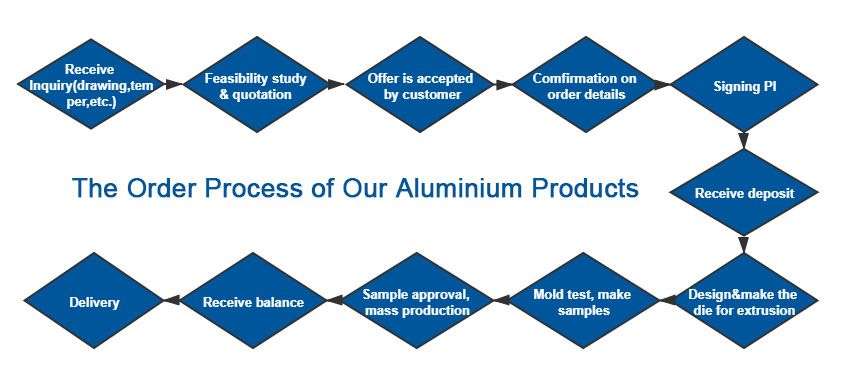 Other Products Recommendation