As aluminum T-Slot Systems are popularly used in buildings, this article will introduce the applications of Aluminum extruded T-slot systems, the advantages of Aluminum extruded T-slot systems, and why choose 80/20 Aluminum T-slot profiles in the building.
Applications of Aluminum extruded T-slot systems
Aluminum T-slots can function in countless different ways in numerous industries and businesses. It can be assembled to construct carts, safety enclosures, worktables, test engineering frames, shelving, office furniture, and point-of-purchase display frames. It's also used in packaging and automation, for safety guards and saw guides, and in lean manufacturing. CHAL T-slotted aluminum extrusions are easy to maintain and clean and are the perfect, durable addition to any project.
Some projects built with aluminum T-slot systems include:
Custom desks
Hanging shelves
CNC machines and routers
Hot and cold aisle containment
Robotics and automation systems
Lift tables
Benches
3D printers
Other engineering and manufacturing systems
Garage and workshop organization
Cornhole and other yard games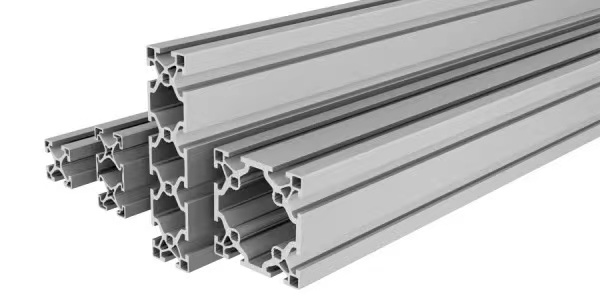 Advantages of Aluminum T_Slot systems
There are many advantages to selecting aluminum as your material of choice for your building material needs. The options are truly endless when it comes to building with T-slot systems.
Features of CHAL Aluminum T-Slot systems
CHAL manufactures and supplies aluminum T-slot, T-slot framing, and T-slot systems. The T-slot erector sets of aluminum T-Slot systems are available in numerous widths and lengths, which come in a standard satin or clear anodized finish. CHAL aluminum T-slot is attractive, durable, and easy to install. All aluminum T-slot systems are non-magnetic, have a high resistance to corrosion, and are easy to machine, cut, form, or weld. The options are endless when it comes to building with Aluminum T-Slot systems.
Features of Aluminum T-slot systems compared to Steel
There are many advantages to using aluminum extrusions over its heavier counterpart, steel. Aluminum is easier to work with and is strong enough to handle almost any kind of manufacturing or assembly application. Aluminum T-slots have become a welcome replacement for builders and engineers. Aluminum extrusions are an excellent choice since it blends seamlessly into almost any project. The other feature of the aluminum T-slot system are the following:
Non-magnetic
Lightweight but strong, which makes it ideal for manufacturing
Extremely durable for rapid and repetitive movements
Rust and corrosion resistant
Modern, clean, and sleek style
Able to be formed into complex, seamless shapes.
Welded steel fabrications can be awkward and heavy.
Aluminum T-slot system Increase the speed of assembly
As you know, anodized aluminum looks clean and modern. It doesn't need to be painted or primed since anodizing provides a durable finish and never corrodes. To increase the speed of assembly, you can use Using an aluminum T-slot. Because frames can be put together by using connecting fasteners. If you use an aluminum T-slot system, you have no welded joints which allow you to adjust or move the extrusions to exact locations.
In addition, an aluminum T-slot extrusion is when the pieces or members are fastened with nuts and screws. Aluminum T-slots are modular, with all four sides having the ability to attach or fasten something to them. Therefore, holes aren't needed, and aluminum T-slots provide a seamless design and can increase the speed of assembly.
Why Choose 80/20 Aluminum T-slot profiles?
Many factors go into choosing what T-slot system and parts are best for your project. T-slot systems, t-bars, and t-tracks all offer unique characteristics that will influence how they will be of better use in production and manufacturing. At CHAL, we offer T-slot aluminum profiles which offer great solutions to manufacturers and design engineers for all types of projects.
80/20 T-slot profiles and parts are ideal for every skill level. Aluminum T-slot systems make it a straightforward process for any type of project. Whether it is a home improvement project or a more intricate engineering design, T-slot systems help cut down on build time and make the assembly process more efficient than other methods.
CHAL has over 30 years of experience working with aluminum and has an extensive catalog detailing all of the different T-slots available along with all of their technical specifications. We specialize in quality standard and custom aluminum extrusions. Start building your next T-slot with CHAL today.
Related Products
Related Articles