Aluminium Coil
Aluminium coil is a rolled product, produced in a coiled form of a continuous strip, and has an inner diameter and outer diameter. ID from50mm to 1000mm. Aluminium alloy grade including 1xxx, 2xxx, 3xxx, 4xxx, 5xxx, 6xxx, 7xxx, 8xxx. But the most common is 1050, 3003, 6061 and 5251 aluminum coil. Thickness from 0.045-80mm, width from 60-2650mm. Common widths of aluminum coil is 800mm,1000mm, 1250mm,1450mm and 1500mm.
| | |
| --- | --- |
| Size (mm) | Theoretical mass (kg/running m) |
| 1000 × 0.5 | 1.36 |
| 1250 × 0.5 | 1.69 |
| 1000 × 0.7 | 1.90 |
| 1250 × 0.7 | 2.37 |
| 1000 × 0.9 | 2.44 |
| 1250 × 0.9 | 3.05 |
| 1000 × 1.2 | 3.25 |
| 1250 × 1.2 | 4.04 |

Multiple industries rely on aluminium coils for a variety of applications, such as automotive, construction, heat transfer, pharmaceutical, electrical, and food industry. Compared to other materials, aluminum is a far superior material in many instances. Aluminum coil can be supplied with standard mill finish, or it can be brushed, checkered, color coated, satin-finished and anodized. Aluminium sheet or aluminium foil can be cut into coils as per client's requirements.
CHAL Aluminium Corporation is a fully integrated aluminum manufacturer and supplier that provides all kinds of aluminum products and technical solutions. We are committed to being the leading supplier of aluminum plate, cast tooling aluminium plate, aluminium sheet (clad or bare), aluminium foil (clad or bare), aluminium strip (slit coil), aluminium circle, aluminum coil. As for CHAL aluminum coil, we supply aluminum sheet coil and aluminum foil coil in a wide variety of alloys and thicknesses.
Typical Products of Aluminium Coil
Order Process of Aluminium Coil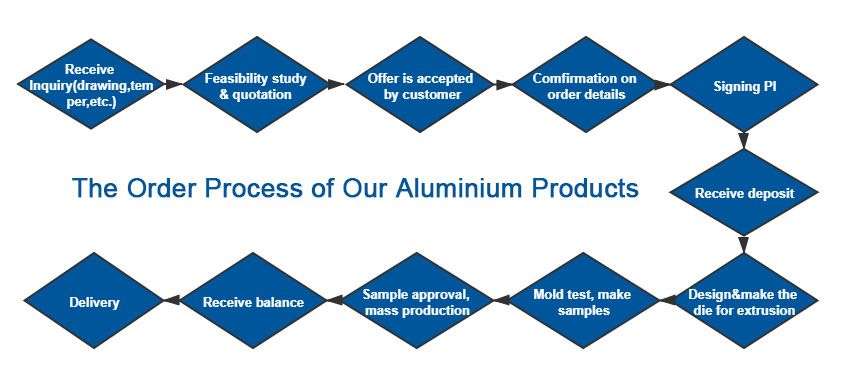 Specifications of Aluminium Coil
Products Name
Aluminium Coil
Alloy/Grade
1050, 1060, 1070, 1100, 1200, 2024, 3003, 3104, 3105, 3005, 5052, 5754, 5083, 5251, 6061, 6063, 6082, 7075, 8011, 8079, 8021
Temper
F, O, H
MOQ
5T for customized, 2T for stock
Thickness
0.014mm-20mm
Packaging
Wooden Pallet for Strip & Coil
Width
60mm-2650mm
Delivery
15-25days for production
Material
CC & DC route
ID
76/89/152/300/405/508/790/800mm
Type
Strip, Coil
Origin
China
Standard
GB/T, ASTM, EN
Loading Port
Any port of China, Shanghai & Ningbo & Qingdao
Surface
Mill Finish, Anodized, Color coated PE Film Available
Delivery Methods
1. By sea: Any port in China 2. By train: Chongqing(Yiwu) International Railway to Middle Asia-Europe
Aluminium Alloy Grade
| | | |
| --- | --- | --- |
| Alloy Series | Typical Alloy | Introduction |
| 1000 Series | 1050 1060 1070 1100 | Industrial Pure Aluminium. In all series, 1000 series belongs to the series with the largest aluminum content. The purity can reach over 99.00%. |
| 2000 Series | 2024(2A12), LY12, LY11, 2A11, 2A14(LD10), 2017, 2A17 | Aluminium-copper Alloys. 2000 series is characterized by high hardness, in which the content of copper is the highest, about 3-5%. |
| 3000 Series | 3A21, 3003, 3103, 3004, 3005, 3105 | Aluminium-manganese Alloys. 3000 series aluminum sheet is mainly composed of manganese. The manganese content ranges from 1.0% to 1.5%. It is a series with a better rust-proof function. |
| 4000 Series | 4A03, 4A11, 4A13, 4A17, 4004, 4032, 4043, 4043A, 4047, 4047A | Al-Si Alloys. Usually, the silicon content is between 4.5 and 6.0%. It belongs to building materials, mechanical parts, forging materials, welding materials, low melting point, and good corrosion resistance. |
| 5000 Series | 5052, 5083, 5754, 5005, 5086,5182 | Al-Mg Alloys. 5000 series aluminium alloy belongs to the more commonly used alloy aluminum series, the main element is magnesium, the magnesium content is between 3-5%. The main characteristics are low density, high tensile strength and high elongation. |
| 6000 Series | 6063, 6061, 6060, 6351, 6070, 6181, 6082, 6A02 | Aluminium Magnesium Silicon Alloys. The representative 6061 mainly contains magnesium and silicon, so it concentrates the advantages of 4000 series and 5000 Series. 6061 is a cold-treated aluminium forging product, which is suitable for applications requiring high corrosion resistance and oxidation resistance. |
| 7000 Series | 7075, 7A04, 7A09, 7A52, 7A05 | Aluminium, Zinc, Magnesium and Copper Alloys. The representative 7075 mainly contains zinc. It is heat-treatable alloy, belongs to super-hard aluminium alloy, and has good wear resistance. 7075 aluminum plate is stress-relieved and will not deform or warp after processing. |
Features of Aluminium Coil
1. Good temperature resistance
The melting point of aluminum is 660 degrees, and the general temperature does not reach its melting point.
2. Excellent Corrosion resistance
Because of its tight surface oxide film, it has strong adhesion, oxidation resistance, acid resistance, alkali resistance, corrosion resistance, decay resistance and UV resistance.
3. Color uniform, long-lasting, even and delicate
Soft and colorful, avoiding the individual chromatic aberration of traditional spraying, no matter how large the ceiling, its color and color are consistent, lasting and new.
4. Rigid joint, extremely high strength of board
Rigid and tough combination, free to cut, slit, arc, balance, drilling, joint fixation and edge compression moulding.
5. Environmental protection
Not easy to turn yellow, using chromium-free treatment liquid to make up for the defects of easy discoloration of the laminating board; the roller paint contains active chemical molecules, which promote the formation of a protective layer on the surface of the material. Active chemical molecules are stable and easy to recycle, meeting environmental requirements.
Applications of Aluminium Coil
Aluminium coil can be used for a wide range of applications from truck bodies in the transport industry to clad aluminum coil for heat transfer and insulation material for the building industry.
Further making utensils.
Automobile application.
Heat transfer (fin material, tube material).
Solar reflective film.
The appearance of the building.
Interior decorating: ceilings, walls, etc.
Furniture cabinets.
Elevator decoration.
Signs, nameplate, bags making.
Decorated inside and outside the car.
Household appliances: refrigerators, microwave ovens, audio equipment, etc.
The consumer electronics: mobile phones, digital cameras, MP3, U disk, etc.
Processing of Aluminium Coil
Aluminium Ingot/Master Alloys — Melting Furnace — Holding Furnace — Slab — Hot Rolling — Cold Rolling — Slitting machine (vertical cutting to narrow width) — Annealing Furnace (unwinding) — Final Inspection — Packing — Delivery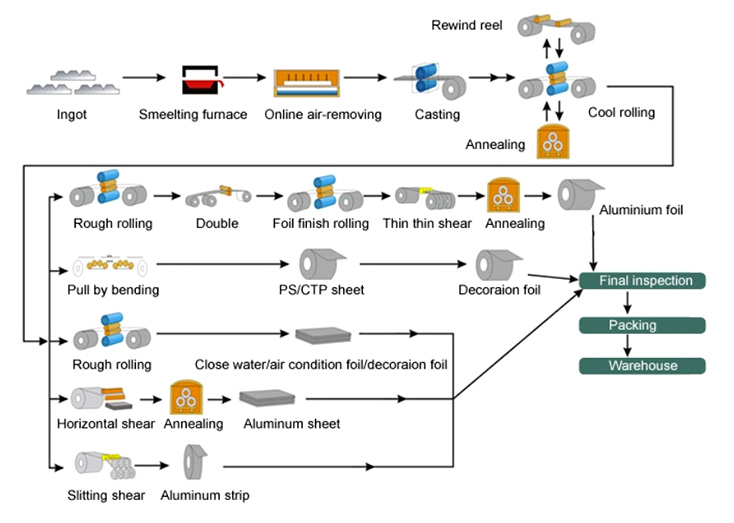 How To Choose Aluminium Coil?
When we choose aluminium coil, it is important to note that choosing the right alloy for the aluminium coil is directly dependent on the properties and the specific using scenario. Before you purchase aluminum coil, it is vital to pay attention to flowing properties:
Tensile Strength
Thermal conductivity
Weldability
Formability
Corrosion Resistance

Surface Coating For Aluminium Coil
1. Fluorocarbon coated color coated aluminium coil (PVDF)
The fluorocarbon coating is a coating of PVDF resin mainly referring to a vinylidene fluoride homopolymer or a copolymer of vinylidene fluoride and other small amounts of the fluorine-containing vinyl monomer. A fluorine/carbon bond combines the chemical structure of the fluoric acid base. This chemical structural stability and firmness make the physical properties of fluorocarbon coatings different from conventional coatings. In addition to the abrasion resistance in terms of mechanical properties, impact resistance has excellent performance, especially in harsh weather and environment, showing long-lasting resistance to fading and UV. After the high-temperature barbecue is formed into a film, the molecular structure in the coating is tight and has excellent weather resistance. It is especially suitable for the decoration and display of indoor, outdoor decoration, commercial chains, exhibition advertisements, etc.
2. Polyester coated aluminum coil (PE)
The polyester coating formed by multiple baking of the surface of the aluminium plate can create a solid film adhered to have a protective decorative property. It is an anti-UV ultraviolet coating. The polyester resin uses a polymer containing an ester bond in the main chain as a monomer, and an alkyd resin is added. The ultraviolet absorber can be divided into a matt and a high-gloss series according to the gloss. It can give rich color to color aluminium products, and has good shine and smoothness, as well as superior texture and hand feeling, and can also add layering and three-dimensionality. It can protect objects from ultraviolet radiation, wind, rain, frost and snow; the coating can protect due to temperature differences, freeze-thaw cycles, corrosive gases and microorganisms. Especially suitable for interior decoration and advertising panels.
About Company
CHAL Aluminium Corporation is a fully integrated aluminum company that provides all kinds of aluminum products and technical solutions. We are committed to being the leading supplier of aluminium plate, aluminum sheet, aluminium strip, aluminium foil, aluminium circle, aluminium heat transfer material, aluminum profile, precision aluminium tube, aluminium machining parts and stamping parts. CHAL Aluminium Corporation is one of the biggest aluminium manufacturers in China. We have a large-scale plant, first-rate facilities, sufficient production capacity, fullest range of products. We have 6 manufacturing bases in five provinces. Headquarter base located in Chongqing Xipeng aluminum industry town. We have 5 R&D Centers, more than 4000 employees, including 600 R&D staff, and more than 200 patents, Annual R&D investment exceeds 220,000,000RMB, the production capacity of 320,000 tons.
To ensure the quality, CHAL makes big investment to purchase advanced equipment from abroad, including a melting-holding furnace, casting machine, pusher-type heating furnace, 1+1+3 hot rolling mill, 1+5 hot rolling mill, stretching machine, roller hearth quenching furnace and ageing furnace, 3-stand tandem cold rolling mill, 2-stand tandem cold rolling mill and single stand cold rolling mill, intelligent high bay storage, tension leveling line, trimming line, air-floating type quenching line, packaging line, and other finishing equipment.

Our Advantages
Pure primary ingot
Accurate dimensions and tolerance
Meet anodizing and deep drawing requirement
High-quality surface: the surface is free from defects, oil stains, waves, scratches, roll mark
High flatness
Tension-leveling, oil-washing
Mill finish/ETD lubricant surface
With decades of production experience
Supply Ability
2000/Tons Per Month
Packaging
Our products are packed and labelled according to the regulations and customers' requests. Great care is taken to avoid any damage which might be caused during storage or transportation. The standard export packaging, plastic film or craft paper covered. Wooden case or wooden pallet is adopted to protect products from damage during delivery. In addition, clear labels are tagged on the outside of the packages for easy identification of the products and quality information.

FAQ