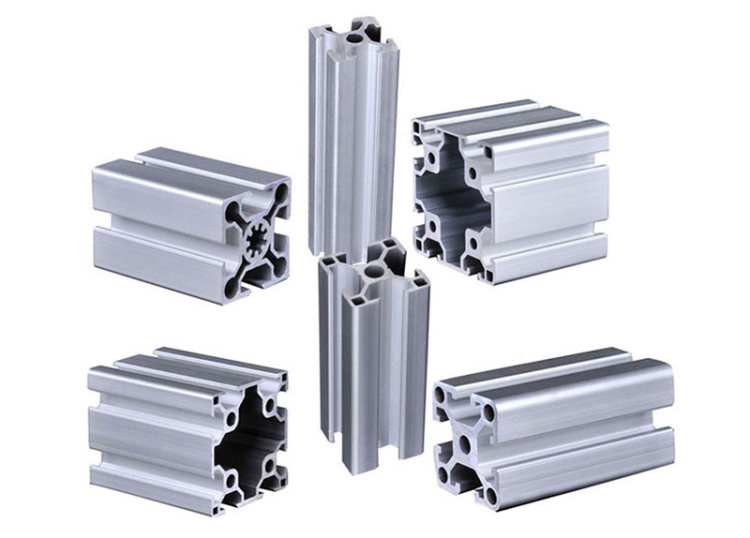 T Slot Aluminium Extrusion
T slot aluminium extrusions are extremely useful for a wide range of framing applications. T-slots can be used for any number of structural applications, and require no welding or special tools for assembly. Frames built from aluminum instead of steel also benefit from the aesthetics of the metal, which needs no finishing and is attractive in its natural state. The T-slot Aluminium Profile System has significant product advantage from construction to maintenance, it can choose different models according to the different structure and use of the precision assembly. Industrial aluminum frame structure's design must be combined with the physical properties of the raw materials products, selecting the corresponding industrial aluminum profile, to ensure the physical properties of the T-slot Aluminium Profile System has a strong degree and safe.
CHAL provides the most complete, flexible, and easy-to-use T slot aluminium framing system. Our unique product has proven itself in many sectors of industry through reliability and flexibility at the most reasonable prices.
Product Detail of T Slot Aluminium Extrusion
Alloy
1100, 3003, 6005, 6061, 6063
Finishing
Anodized, powder coating, electrophoretic, PVDF and wood grain
Colours
Diversified available
Temper
O/F/H/T5/T6
Standard
ASTM /GM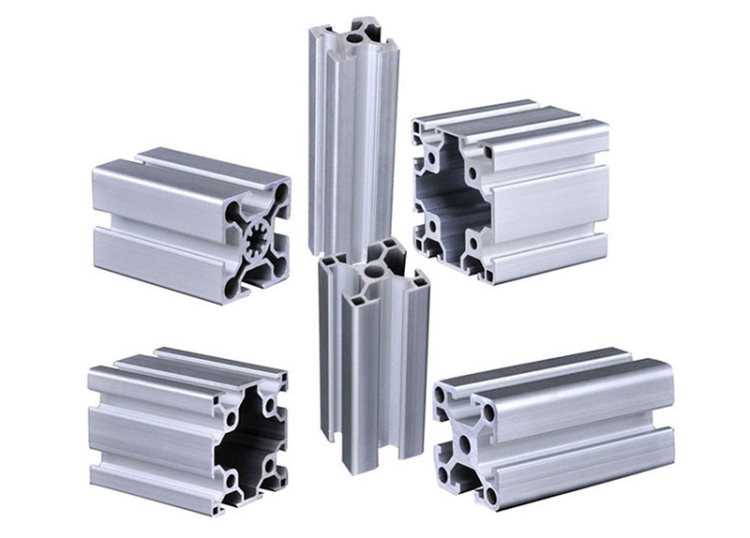 Specifications
As per the customer's drawing, for stock specifications, please contact us to get the product list.
90 Series
It is usually used for safety-guarding, testing and inspection services to workbenches, machine-frames, conveyor, CNC and linear systems.
Weight: 6.20 kg/m.
Mass of Inertia: lx: 172.14 cm4 ly: 172.14 cm4.
Section Modulus: zx: 40.76 cm3 zy: 40.76 cm3.
T-slot width: 10.2 mm, T-slot height: 12.3 mm, Section size: 90 mm × 90 mm, Hole: φ10.2 mm, Wall thickness: 2.0 mm.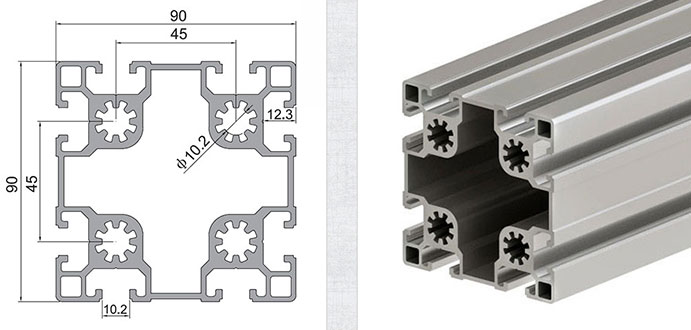 100 series
T-slot of S10-100100 profile is 10.2 mm, ideal for heavy-duty applications where added strength and additional T-slot are a must, when choosing accessories or fasteners, M10 is suitable. In addition, it can be connected with 50 series profiles and other parts such as handle, end connector, and caster, etc. It is widely used for building blocks, clean rooms, conveyors, CNC and other frameworks.
Weight: 11.48 kg/m
Mass of Inertia: lx: 397.83 cm4 ly: 397.83 cm4
Section Modulus: zx: 81.36 cm3 zy: 81.36 cm3
T-Slot width: 10.2 mm
T-slot height: 12.3 mm
Section size: 100 mm × 100 mm
Hole: φ10.2 mm
Wall thickness: 6.0 mm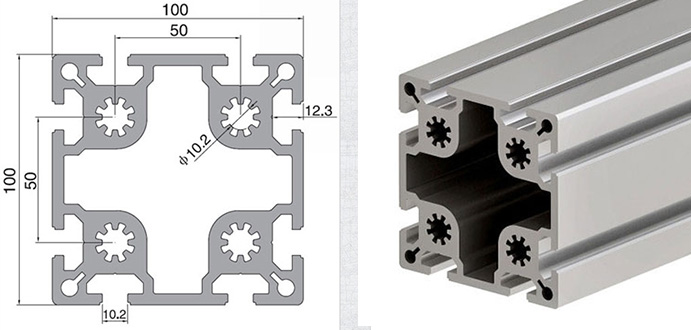 160 Series
Usually, it would be chosen to make an equipment rack or large-scale machine beams. It can connect with 80 Series aluminum extrusion profiles.
Weight: 18.69 kg/m
Mass of Inertia: lx: 1988.54 cm4 ly: 1988.54 cm4
Section Modulus: zx: 257.13 cm3 zy: 257.13 cm3
T-slot Width: 8.2 mm, T-slot height: 12.3 mm, section size: 160 mm × 160 mm, 4 marginal holes: φ6.8 mm. Wall thickness: 4.5 mm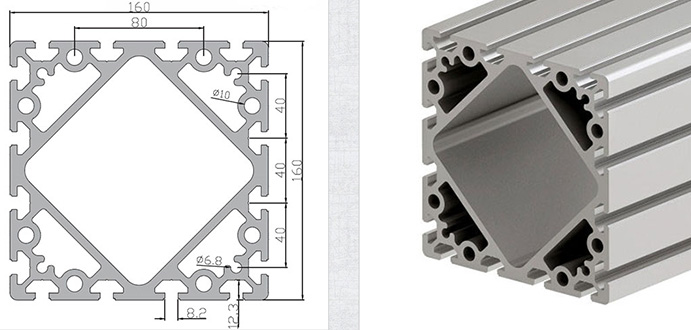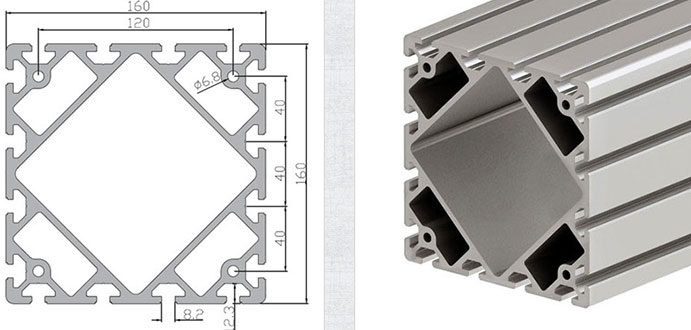 The Order Process of T Slot Aluminum Extrusion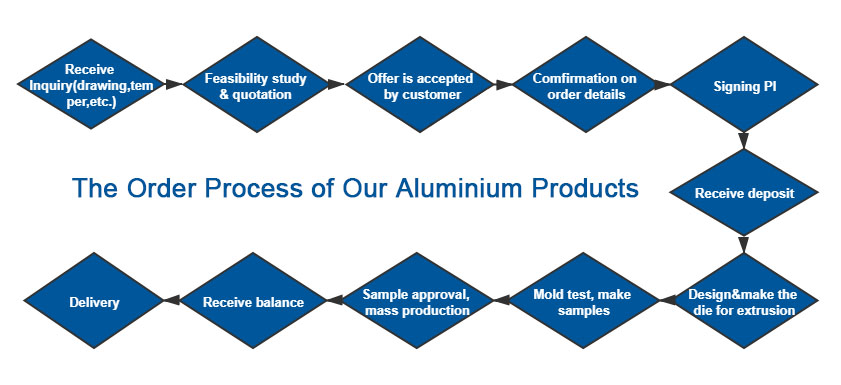 The Benefits of CHAL T Slot Aluminium Extrusion
Convenience
T-slot Aluminium Profile System has a very convenient and superior performance, mainly because of easy assembling and later-stage maintenance, no wedding, and directly with the same specifications of bolts and nuts.
Stronger Plasticity
The industrial aluminium profile has unique grooves, which are used for assembly framework. CHAL Aluminium Frame System can assemble the difficult frame structure according to customer demand, which is convenient for construction and maintenance.
Corrosion Resistance
Industrial aluminium framework with super corrosion resistance is because whose raw material is treated by anodizing, and anodizing film on the surface can protect the product from corrosion by air and water.
To Facilitate Maintenance
Industrial aluminium materials have a unique T-slot, which is adapted to assemble frames using T bolt and nuts. It is very easy to assemble frame structure with different requirements. And more, it's very convenient for maintenance and change of product structure.
Attractive Appearance
Compared with the traditional steel structure framework, the industrial aluminium frame has an exquisite appearance, there is silver and black colour for you optional.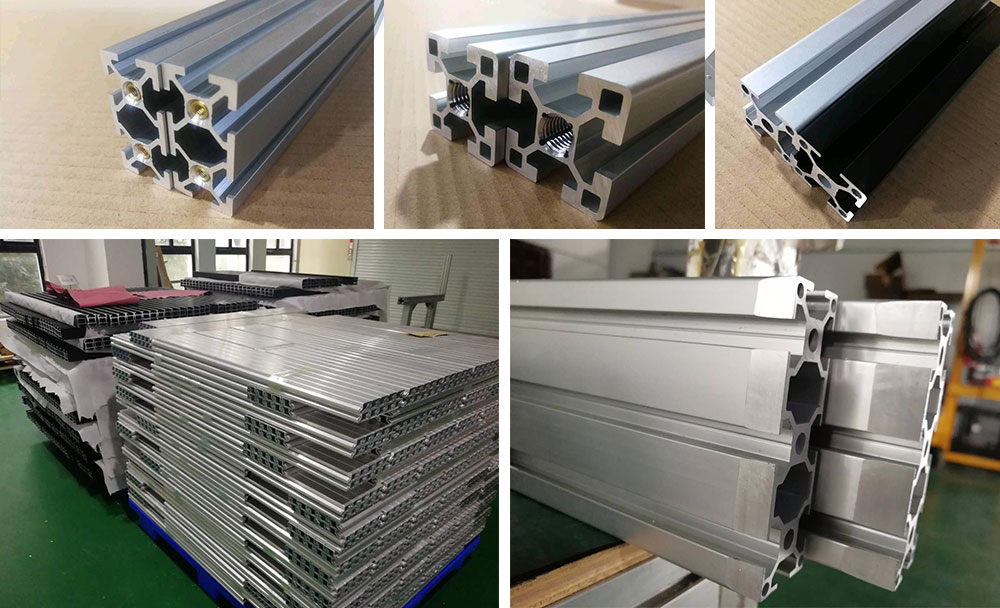 Applications of T Slot Aluminium Extrusion
Aluminium T-slot profiles are ideal for framing in many different industries and can accommodate nearly any load. Common applications include workstations, assembly line, working table, installing the frame, machine bases and enclosures, medical manufacturing, material handling carts, stairs and platforms, to name a few. T-slots help create safe, comfortable and attractive workplace environments, and can be used to attach panels, wire mesh, screens, etc. They can also be used to hold wiring (similar to conduit) or to hang containers or tools.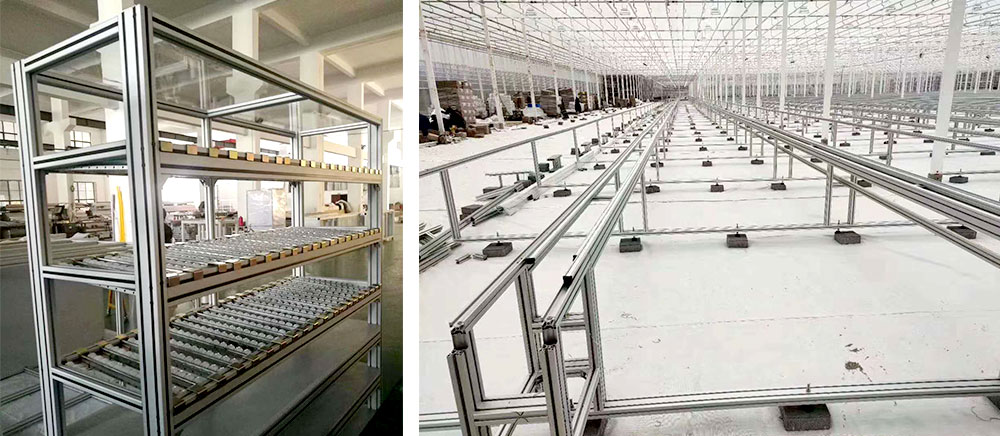 Why Choose CHAL Industrial PROFILE T-slot Aluminium?
Profile Systems:
Building blocks with standard aluminium profiles, fasteners, and accessories, connect without machining the profile and it's very easy to cut to length and assembly.
Cost optimization. Low-cost standard connector and profile, a no-drill connector for processing cost, no design costs, but the universal connector for versatile strength.
Fixing slots on one side, two sides, three sides and all sides and flexible connectors & accessories. From the simplest of framework or mechanisms to high precision machine building with X, Y and Z axes, a wide range of automation products are available.
Shapes Catalog: Stock Dies
If you need slotted aluminium profile extrusions, our catalog of 50 stock dies may contain the profile you're looking for. If not, a custom die can be created to suit your needs at a nominal cost. These extrusions are generally made from 6063-T5 or T6 aluminium and clear or black anodized, but you can select other alloy and finish options as well. Browse our catalog to see the standard shapes we offer and see if they meet your requirements.
CHAL Provides You A Full Range of Aluminium Profile Extrusion
CHAL Extrusion is an advanced soft alloy aluminium extruder, offering the industry's most comprehensive product line. Our products are available in standard and custom shapes (solid, semi-hollow, and hollows), in a complete range of structural angles, T slots, tubes channels, tees, zees, H-beams and I-beams, and seamless and structural aluminium pipe and tube.
Contact CHAL to Get Aluminium Slotted Extrusion!