Aluminum Alloy CNG/H2 Gas Cylinder
Large volume aluminum alloy liner high pressure composite gas cylinder. The large-volume aluminum alloy liner high-pressure composite gas cylinder is made of aluminum alloy liner manufactured by strong spinning combined with closing spinning, integrally formed around carbon fiber. It is a key product for gas storage and transportation of trucks, buses, and gas transport vehicles in European and American countries.

Aluminum Alloy CNG/H2 Gas Cylinder Introduction
Relying on the domestic first-class R&D and production capacity of spinning super-long/ultra-thin/large-diameter spinning forming technology, aiming at the fields of aerospace defense and new energy storage and transportation, based on aluminum alloy spinning gas cylinder tubes, gas cylinder liner, etc. Existing industrial projects, cultivate new projects such as CNG gas cylinders, high-pressure hydrogen storage cylinders, and transportation gas cylinders, and build an industry-leading research and industrialization base for energy storage and transportation equipment.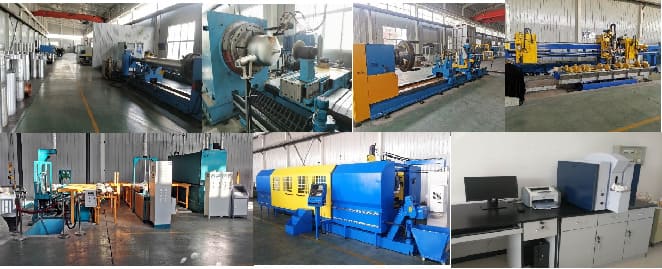 Completed or under-construction production line
5 export gas cylinder tube production lines, theoretical annual output of 24,000 standard gas cylinder tubes.
2 export gas cylinder liner production lines, theoretical annual output of 8,000 standard gas cylinder liners, products are exported to Europe and supplied in large quantities to many domestic mainstream gas cylinder companies;
1 fuel gas cylinder development line, theoretical annual output of 2,000 standard gas cylinders, undertaking the R&D tasks of gas cylinders and storage tanks;
1 intelligent production line of 1000-1500L hydrogen energy storage/luck bottle, which can be used to produce large-volume aluminum alloy liner wound hydrogen storage bottles with a pressure of 35-90MPa, with a theoretical annual production capacity of 6,000 pieces.
Main Features
Aluminum alloy liner high-pressure composite winding gas cylinder, maximum diameter 850mm, volume 200-3500L, usage pressure 20-90MPa, meeting CNG、H2、high purity industrial gas transportation.
Technical Foundation
Equipped with the overall precision spinning forming technology for ultra-long aluminum alloy gas cylinder tubes, with a length of up to 10m; with a diameter ①550mm or more large-volume aluminum alloy gas cylinder liner closing and spinning technology; Winding technology, test analysis technology and complete production technology of gas cylinder tube, inner liner and winding gas cylinder; using infrared thermal imaging technology and image recognition technology to develop multiple sets of special automation equipment, greatly improving product production efficiency and product quality.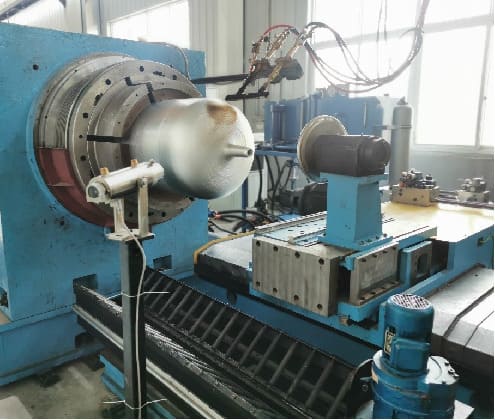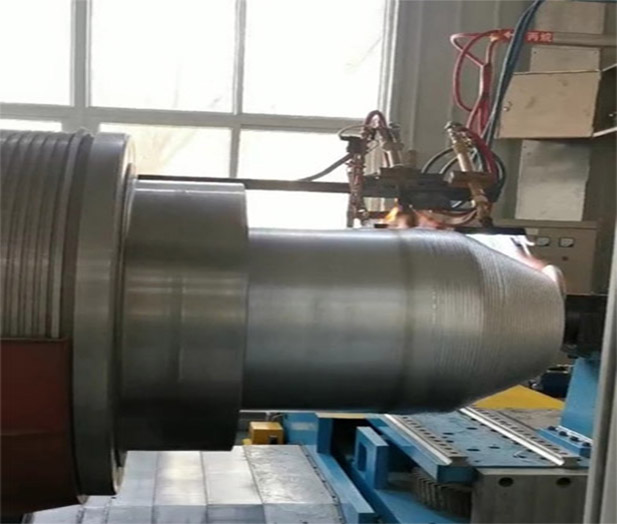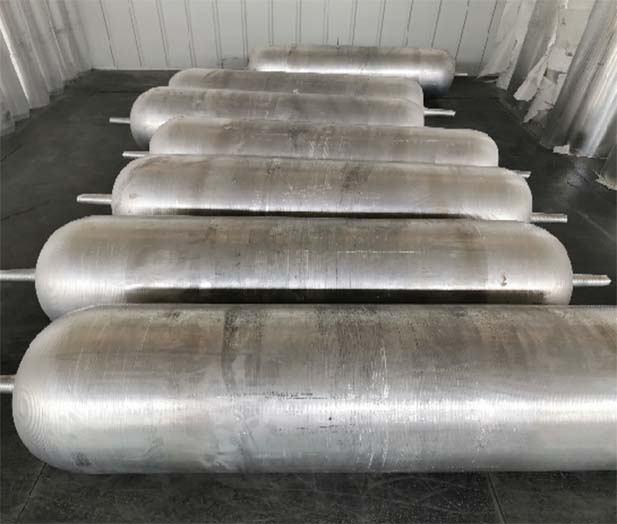 It has completed the development of 600-700L large-diameter aluminum alloy gas cylinder liners and overall gas cylinders, which is currently the largest domestic gas cylinder liners for fuel gas cylinders. Products are exported to Italy and Poland. And exclusively supply large-diameter and super-long gas cylinder liners for many domestic well-known gas cylinder companies.
Advanced Technology
It has taken the lead in developing the technology and equipment for the overall spinning forming of ultra-long, high-precision cylinders with a length of up to 10m in China.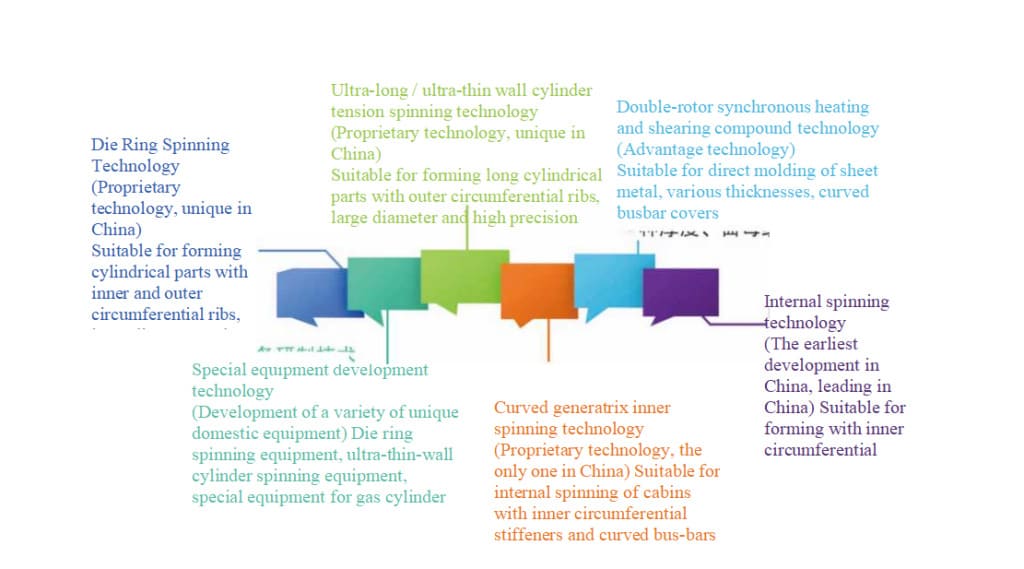 Product Series
| | | | | | |
| --- | --- | --- | --- | --- | --- |
| Model | Medium | Capacity(L) | Length(mm) | Work Pressure(MPa) | Application |
| CNG3-402-199-20-S | GAS | 199 | 2050 | 20 | CNG heavy truck/bus |
| CNG3-665-510-20-S (The first in China) | GAS | 510 | 2050 | 20 | CNG heavy truck/bus |
| CNG3-510-365-20-S | GAS | 365 | 2270 | 20 | CNG heavy truck/bus |
| CHG3-460-260-35-S | Hydrogen | 260 | 1880 | 35 | Hydrogen fuel battery bus/heavy truck etc. |
| CHG3-530-385-35-S | Hydrogen | 385 | 2130 | 35 | Hydrogen fuel battery bus/heavy truck etc. |
| HJHG Ⅲ-40-0.35-42-T (The first in China) | Hydrogen | 0.35 | 380 | 42 | Winter Olympic Torch |
| CHG3-533-1095-52-S (Unique) | Hydrogen | 1095L | 5700 | 52 | Hydrogen energy transportation, hydrogen refueling station, etc. |
Product Display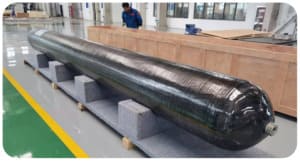 Long Tube Trailer Full Winding Composite Gas Cylinder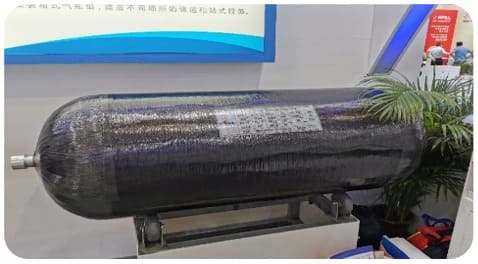 Vehicle-mounted Full Winding Composite Gas Cylinder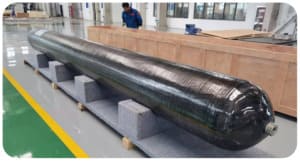 Super-high Temperature Gas Cylinder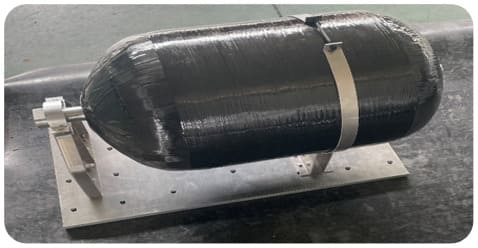 Super-lightweight composite Gas Cylinder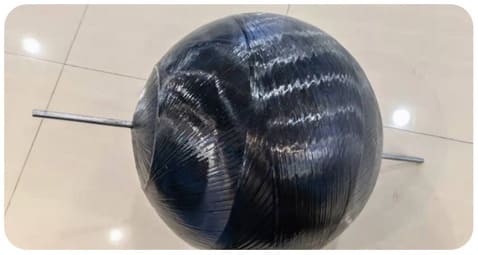 Spherical cylinder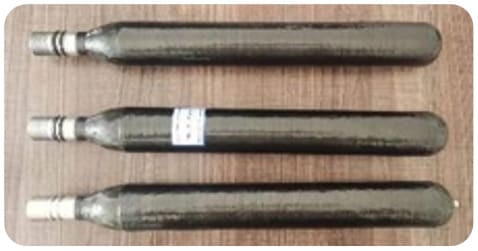 Ultra-small Gas Cylinder
Typical Application
Hydrogen Energy/CNG Supply/Storage and Transportation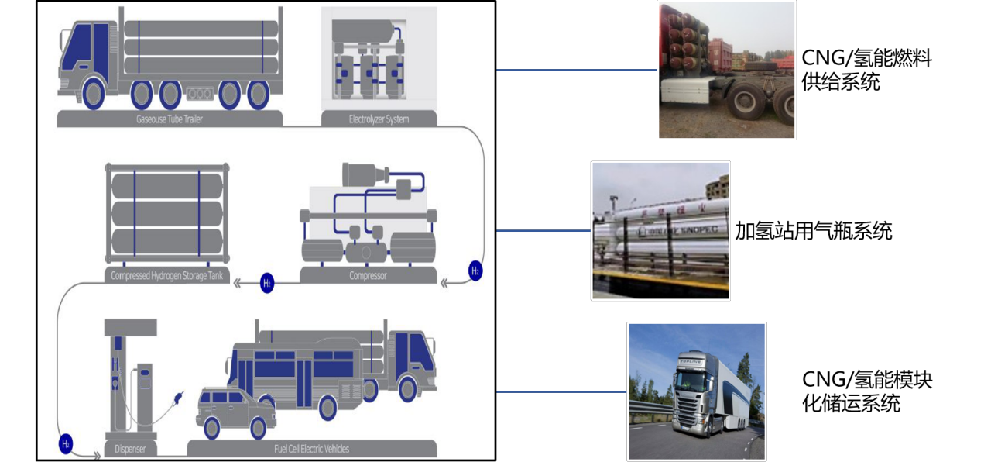 1) CNG/Hydrogen fuel supply system
2) Gas cylinder system for a hydrogen refueling station
3) CNG/Hydrogen modular storage system