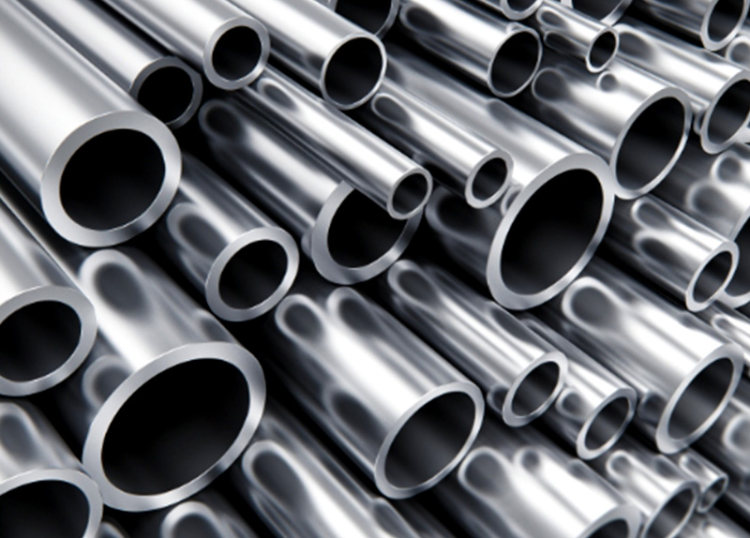 Seamless Aluminium Tube
At CHAL Aluminum Corporation, we adopt various operations of value-added steps to produce the highest quality seamless aluminium tube to meet customers' requirements. Seamless aluminium tubes can be produced in a variety of different sizes and shapes from a wide range of aluminum alloys.
What is Seamless Aluminium Tube/Pipe?
An extruded tube is brought to final dimensions by the hot extrusion process and can be seamless or non-seamless (structural tube). Compared to a slit tube(structural tube), an seamless aluminium tube/pipe is a tube that does not have any welding seam.
Our specialized process for seamless tubing manufacturing begins with either an extruded hollow tube or a solid bar drilled to our exacting specifications. CHAL seamless tubes are produced using two methods. One method pushes a hollow aluminium billet through a die and mandrel press with tremendous force at high temperatures. The other method pushes a solid billet through a piercer press and then a mandrel pierces and extrudes the billet in a second forward stroke. Regardless of the method used, the tube will have no weld or seam, making it ideal for anodizing and other finishing procedures.
Furthermore, CHAL also provides drawn aluminium tube, a seamless extruded tube is brought to the final size by drawing through a die. Higher precision tolerances and thinner wall thicknesses than that of the extruded tube are available.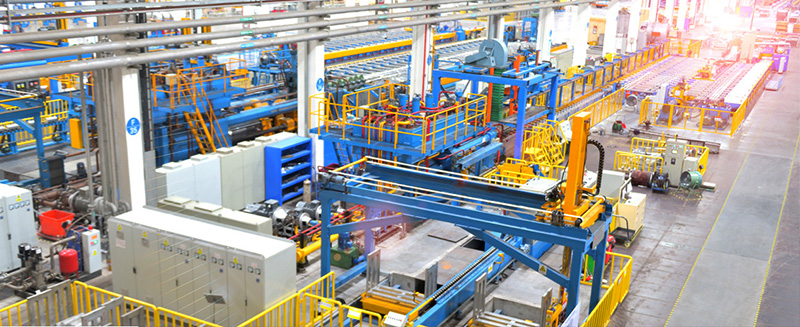 CHAL Aluminium Corporation is the leading manufacturer in seamless aluminum tubes, structural aluminium tubes, aluminium welded tubes, aluminum drawn tubes and aluminum extrusion profiles.
Three Kinds of Seamless Aluminium Tube
Processing consists of extruded seamless aluminium tube, cold drawn precision seamless aluminium tube and rolling seamless aluminium tube. Among them, the cold drawing precision of a seamless aluminum tube with high precision has good surface quality. We provide customized services of raw material and surface treatment.
Specifications of Seamless Aluminium Tube/Pipe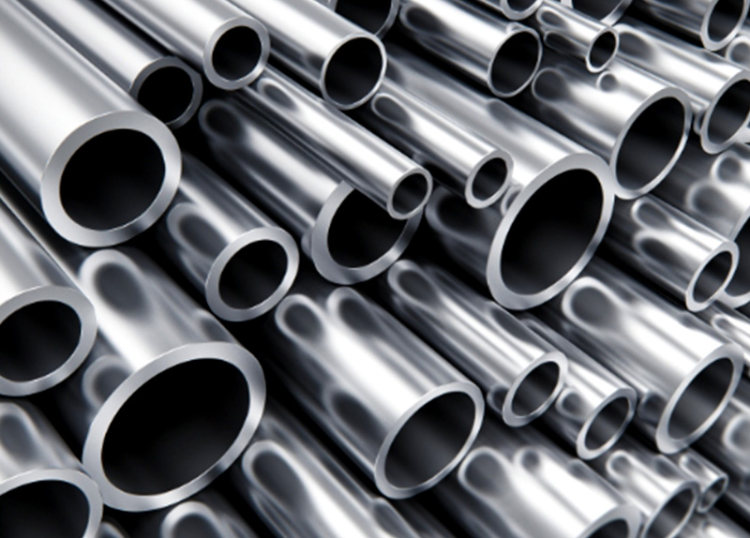 Products Name
Seamless Aluminum Tube/Pipe
(extruded seamless tube and drawn seamless tube)
Outer Diameter
8~ Φ280mm
Wall Thickness
0.1~ 20mm
Alloy Grade
2011, 2024, 3003, 5052, 6061, 6063, 7075, etc.
Surface Treatment
1) Mill finished
2) Anodizing: shiny anodized, frosty anodized
3) Electrophoretic coating: shiny electrophoretic, frosty electrophoretic
4) Electrophoretic colour powder coating: normal colour, special colour
5) Fluorocarbon powder spraying: normal colour, special paper
6) Polished
Extruded Seamless Aluminum Tube Specifications
6061 Extruded Seamless Round Tube
AMS QQ-A-200/8, ASTM B221
12′ Lengths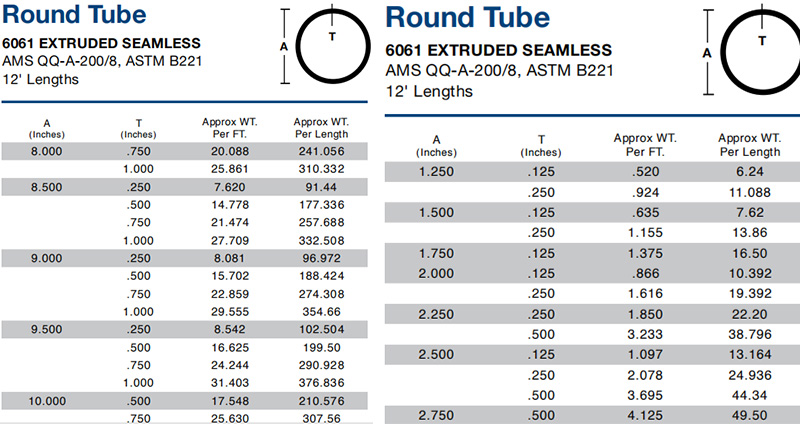 Drawn Seamless Aluminium Tube Specifications
6061 Drawn Seamless Round Tube
ASTM B210, WW-T-700/6,
AMS-QQ-A-225/8, ASTM B221,
AMS 4082
12′ Lengths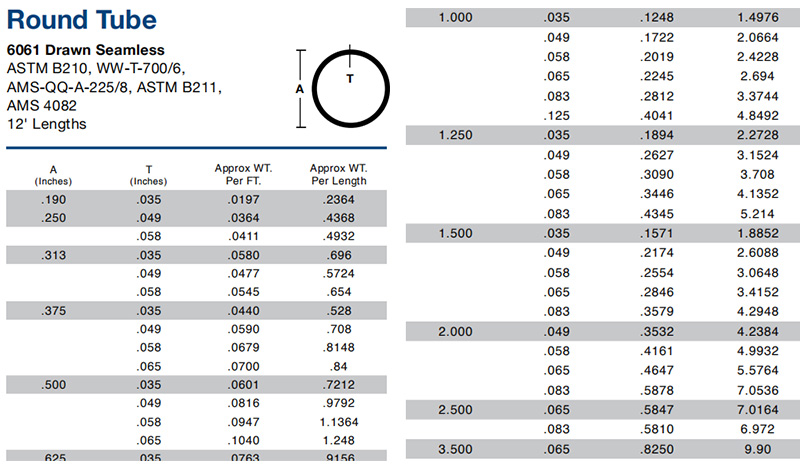 You are welcome to contact us for a more detailed specification list.
The Order Process of Seamless Aluminium Tube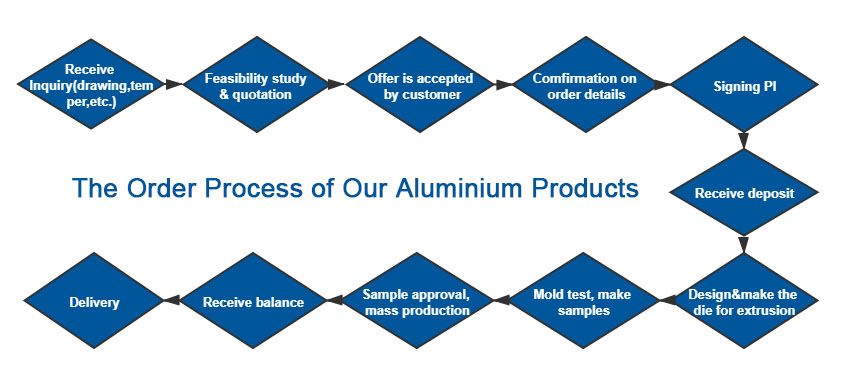 Advantages of Seamless Aluminium Tube/Pipe
Without any weld seams, preferred for pressure vessels
More uniform anodizing appearance, especially on heavier wall sections
No weld seams that could split informing operation
Increased structural integrity
Good mechanical properties
Good corrosion resistance and oxidation resistance
The Difference Between Seamless Tube and Structural Tube(Slit Tube)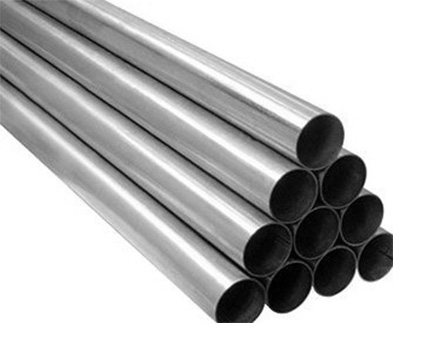 ● Different tooling: the seamless tube is extruded over a mandrel utilizing a hollow billet and is the only tubular product recommended for pressure applications. The structural tube is extruded over a bridge or porthole die.
● Seamless tube without any welding joint, the structural tube with an indistinguishable weld seam.
● Compared to a seamless tube, a structural tube is more able to use multi-hole dies for smaller diameter sizes to improve productivity and decrease costs.
● There's a little difference in appearance. For seamless tubing, the seamless tube's inner and outer walls are smooth and clean-burning or cracking on the surface; The appearance of the slit tube is generally smooth.
The Production Process of Seamless Aluminium Tube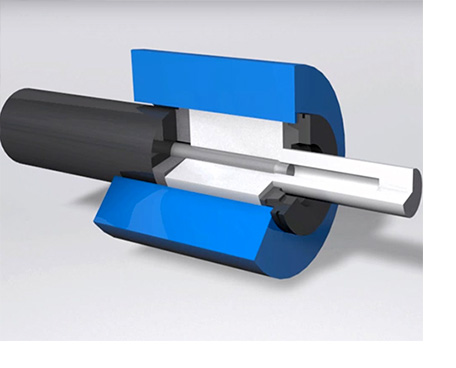 Creating an extrusion without seams along its length. This is done by pushing the mandrel from the back into the blank. The tip of the mandrel (at the other end of the die) passes almost all the way through the blank and is very short from the extrusion die. This leaves a small gap between the mandrel and the mould through which the metal can pass.
After the spindle is locked in place, the plunger of the extruder acts on the blank. As the pressure increases, the material is forced to pass through the gap and an extrusion tube appears on the other side.
Aluminum is a good choice for seamless extrusion because it is a very tough material. By heating the billet to a point slightly below its melting point, ductility is further improved and the pressure load is reduced. Most grades of aluminum can be extruded, but some are easy to work hardening, which reduces the maximum extrusion speed. Therefore, the most common extrusion grades are 6061 and 6063, which do not harden.
After extrusion, the heat pipe is cooled and often stretched to improve straightness when a higher quality tube, a thinner wall, or a more uniform size is necessary after the drawing process.
6061 Seamless Aluminium Tube
Grade 6061 seamless aluminium tube has good corrosion resistance, formability, and processability.
An alphanumeric suffix attached to an alloy, such as 6061-T6, indicates tampering or hardness. Taking 6061-T6 as an example, "T6" means that it has undergone solution heat treatment and artificial ageing treatment.
6061 is still the most popular. It is famous for having a good appearance after the tube has been anodized.
6063 Aluminium VS. 6061 Aluminium
Similarly, 6061 aluminum is usually compared with 6063 aluminiium, because these two grades are usually used to manufacture structural parts. Although the two materials are very similar and often have negligible differences in application, 6061 provides significantly higher yield strength for parts requiring special forces.
Regardless of your choice, 6061 or 6063 aluminum will provide high weldability and formability for your project.
| | | |
| --- | --- | --- |
| Material | Yield Str. (PSI) | Ultimate Str. (PSI) |
| 6063-T52 AL | 21,000 (2) | 27,000 (2) |
| 6061-T6 AL | 40,000 (1) | 45,000 (1) |
| 7075-T6 AL | 73,000 (1) | 83,000 (1) |
| ASTM A53 Pipe | 30,000 (7) | 48,000 (7) |