Round Aluminium Drawn Tube (Aluminium Smooth Tube)
For aluminium drawn tube, which can be drawn to round tube, flat oval tube, or other shapes of the tube as customer's requirement. Generally, the tube shape is round. It is used in different fields according to different diameters and thicknesses, widely used in a variety of heat exchangers, also called aluminum smooth tubes. The high precision drawing tube is made by extruding and drawing.
Applications of Round Aluminium Drawn Tube
Aluminum round drawn tube for parallel flow heat-exchanger, water tank, radiator.
Billet of condenser header pipe and condenser drier, such as specifications: OD: φ20~φ50, thickness: 8~1.2.
Connecting tubing for auto, we provide bending service.
Can be used as a large air-cooling tube, such as 1050 aluminum drawn tube φ25*0.6~1.5, φ28*0.8~1.5.
The high anti-corrosion alloy drawn tube for solar thermal.
Specifications of Round Aluminium Drawn Tube
The tube can be cut into fixed-length or delivered with the coil.

① Specifications of round tube
| | |
| --- | --- |
| Outer Diameter | Φ4.0 ~ Φ60 mm |
| Wall Thickness | 0.2 ~ 2.5 mm |
| Aluminum Alloy | 1050/1060/3003/3103/3A21/5049, 5086/6063, etc. |
② Specifications of round coil
| | |
| --- | --- |
| Outer Diameter | Φ4.0 ~ Φ15.88 mm |
| Wall Thickness | 0.22 ~ 1.5 mm |
| Aluminium Alloy | 1060/1070/1100/3003/6063 |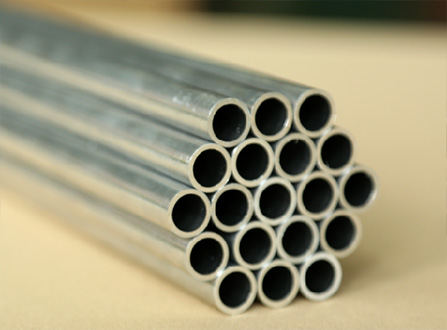 The Order Process of Round Aluminum Drawn Tube