1100 Aluminium Sheet
1100 aluminium sheet is one of the representatives of 1 series pure aluminium sheet, which is used for industry, its strength is relatively low, and it has excellent ductility, formability, weldability and corrosion resistance; after anodizing, it can further improve the corrosion resistance and at the same time obtain a beautiful surface; but can not be strengthened by heat treatment. Meanwhile, with the addition of a small part of the alloy component Cu, the processability and surface processing of 1100 aluminium sheet and other alloy characteristics are enhanced, which can be better used for large storage tanks, food and chemical handling and storage equipment, sheet metal products, welding assemblies, reflectors, nameplates, and more.
The pure aluminium sheet series determines the minimum aluminium content of this series according to the last two Arabic numerals. For example, the last two Arabic numerals of the 1100 series are 00. According to the international brand naming principle, the aluminium content must reach 99.00% or more as a qualified product. My country's aluminium alloy technical standard (GB/T3880-2012) also clearly stipulates that the aluminium content of 1100 reaches 99.0%.
CHAL has decades of aluminium sheet production experience and is able to produce and supply high-quality 1100 aluminium sheet of different sizes and tempers, the tempers including O (annealed), H12, H14, H16, H18, H26, etc. In addition, other 1xxx series aluminium sheet.
The Order Process of 1100 Aluminium Sheet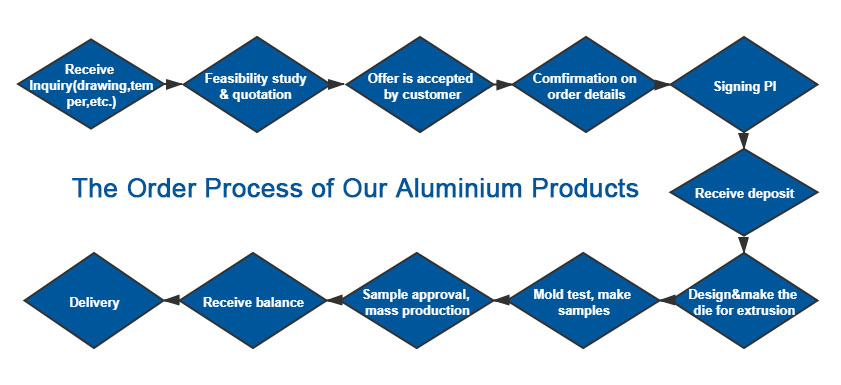 Specification of 1100 Aluminium Sheet
| | |
| --- | --- |
| Thickness (mm) | 0.2-350 |
| Width (mm) | 100-2600 |
| Length (mm) | Customized |
| Temper | O, H12, H14, H16, H18, H19, H22, H24, H26, H28, H32, H34, H36, H38 |
| Typical Products | Kitchen utensils, building materials, heat exchangers, etc. |
Chemical Composition of 1100 Aluminium Sheet
| | | | | | | | | | | |
| --- | --- | --- | --- | --- | --- | --- | --- | --- | --- | --- |
| Elements | Si | Fe | Cu | Mn | Mg | Cr | Zn | Ti | Others | Al |
| Content (max) | 0.95 | 0.40 | 0.05 | 0.05 | 0.05 | – | 0.10 | – | 0.15 | 99.95 |

The Features of 1100 Aluminium Sheet
1. Excellent corrosion resistance. 1100 aluminum sheet has good resistance to atmospheric corrosion and water corrosion. In addition, it can resist the corrosion of most acids and organics.
2. Good welding performance, it can braze with other materials.
3. Good ductility and machinable.1100 aluminium sheet can produce various aluminum materials through pressure processing, which can adapt to the larger speed of most machine tools for turning, milling, boring, planning, and other mechanical processing. Moreover, the good moulding of 1100 aluminium sheet enables it to be rolled into sheet and foil, or pulled into pipes and wires, etc.
4. There is no low-temperature brittleness, if the temperature below 0℃, and the temperature decreases, its strength and moulding will not reduce, but increase.
5. The strength of 1100 aluminum sheets is low, it cannot be strengthened by heat treatment.
Applications of 1100 Aluminium Sheet
1100 aluminum sheet is the industrial pure aluminium, which is usually used for parts requiring good forming and machining performance, high corrosion resistance and no high strength requirement, such as the transportation and storage equipment of chemical products, metal sheet products, the processing of drawing spinning hollow goods, welding key combination, reflector, etc.
It is widely used in various fields from cooking utensils to industrial equipment, such as heat sinks, caps, printing sheets, building materials, heat exchanger components, storage tanks, food industrial installations, deep blanking, bottle caps, wide curtain walls, engine boards, decoration, heat sink, hardware, etc.
It can also be used as deep-draw stamping products, especially, CHAL 1100-H24 aluminium sheet widely applied to doors and bus bodies.
Packing Detail of 1100 Aluminium Sheet
The standard export packaging, plastic film or craft paper covered at customers' requirements. Wooden case or wooden pallet is adopted to protect products from damage during the delivery.

1100 Aluminium Sheet Manufacturer and Supplier in China
As a professional aluminium sheet manufacturer and supplier in China, CHAL is one of the TOP5 aluminium sheet factories. We are one of the biggest Chinese aluminium sheet suppliers of 1100 aluminium sheet. We also produce aluminium slit coil, aluminium strip, coated aluminum coil, aluminium plate, aluminium sheet metal, anodized aluminium sheet, embossed aluminium sheet, etc.
CHAL Aluminium provides you with first-rate quality, attractive and reasonable prices. Excellent surface quality and package, fast delivery. If you are looking for an 1100 aluminum sheet supplier in China, CHAL is your best choice. We promise you the best price and excellent service. For more detailed information, please feel free to contact us directly.