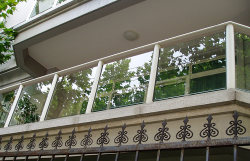 Aluminium Handrail
Aluminum handrail increases safety for your stair rail.
The aluminum handrail matches your superior vinyl railing color and enhances safety without compromising the visual appeal of your rail. This rail installs easily without welding, and there's no need to paint. It is an important addition when installing railing on any staircase, ramp, or walkway whether residential or commercial applications.
Designed by a team of expert engineers, the CHAL Aluminium handrail combines elegance, versatility, easy installation, and code compliance for every type of construction, will meet various requirements of different customers by providing a smooth, continuous, and graspable surface, professionally certificated, the wholesale price and fast delivery promised.
---
Product Description of The Aluminium Handrail
Surface finish: wood grain, anodizing, electrophoresis, powder coating, and fluorocarbon coating make it decorative and protective, luxurious, and super-endurable.
The unique surface treatment gives the rails an exquisite look and enables them to stand rough weather without fading and cracking.
Applied in yards, balconies, and corridors.
Customized size, same as drawings or samples.
Strong, stylish, durable, and corrosion-resistant.

Advantages of The Aluminium Handrail
Costs: One of the leading reasons many invest in aluminum handrail installation is because of how affordable it is. If you need a way to secure your property that won't put a huge dent in your wallet, aluminum fencing is ideal.
Durability: Unlike other handrail options, such as wrought iron and steel, aluminum fencing is rust-resistant and can last for many years if properly cared for. It's also low maintenance and can be recycled, making it environmentally friendly.
Security: If you're concerned about unwanted visitors wandering onto your property, installing aluminum fencing can be a great way to prevent such a slat fence. Such a handrail will also help protect pets or small children playing in the yard.
Versatility: Many prefer aluminum handrails to other materials because installation is much easier. If you have a property with hills and dips, an aluminum handrail is a great option for your yard.
Appearance: Aluminum handrail can give your property an elegance that other types of fencing simply can't; it provides a classic look without blocking your view of the surrounding landscape.
Why Choose CHAL As Your Trustworthy Supplier for Aluminium Handrail
Over 10 years of aluminum industrial experience and a strong team.
Complete production processing line, from melting, extrusion, powder coating, anodizing, and wood grain, also with deep processing capacity.
CHAL provides custom design and strength tests.
Factory price with excellent quality.
CHAL offers earnest after-sales services.

The Order Process of The Aluminum Handrail